With countless details and thousands of steps involved in building a home, you need someone you can trust. David Weekley Homes has over three decades of experience building quality homes and a great reputation to back it up. You can count on David Weekley Homes to make the process of building your new home easy.
Designing Your New Home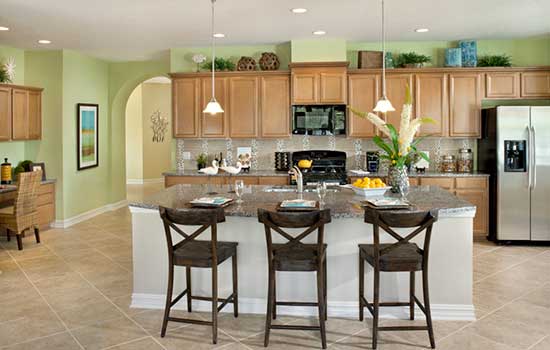 Designing Your New Home
From the ideal floor plan to the color of your gourmet kitchen, we're here to help you design a wonderful home to fit your style and budget.
Floor Plan Selection
We know it can be overwhelming to choose the right floor plan. At David Weekley Homes, our Build on Your Lot experts know the ins and outs of our hundreds of award-winning plans. Want a pre-wired media room in place of the fourth bedroom? Our floor plans give you the flexibility to make this change and add features. We are here to help you choose and customize a floor plan to fit the way you live.
Plan Customization
The ability to personalize makes your house a home. Your dedicated David Weekley Homes Build on Your Lot professional will work with you to take one of our floor plans and customize it to fit your individual needs. Nothing is more important to us than Customer Satisfaction, and nothing makes us happier than seeing a Homebuyer's dream home become reality with a few design changes.
See for Yourself - Tour a Model Home
With David Weekley's Build on Your Lot program, you have the opportunity to walk through our many model homes in various communities around Panama City Beach. Unlike other custom builders who only offer blueprints and renderings to view, we have actual homes built for you to touch, feel and experience all the things that make us unique.
David Weekley's Design Center
David Weekley Homes Design Center in Panama City Beach is a one-stop-shop for ways to personalize your new home. From flooring, cabinetry and wall colors to countertops, appliances and more, our Design Center gives you seemingly endless Custom Choices™ to make your new home your own. And, you won't have to sift through all these options alone. Our talented Design Consultants will give you all the help you need to make the right design choices for your home.
Preparing to Build Your New Home
From simple to complex, building a new home has many stages. We'll walk you through the process one step at a time.
Soil Testing
Not all soils are created equal. Soil quality is critical to building a strong foundation for any home. At David Weekley Homes, we know it's important to give your homesite a valid soil test and inspection prior to building your dream home.
Land Survey
Good plans have great boundaries. Before starting the home building process, your homesite is surveyed to account for the relative positions or locations of terrain features and real property boundaries. A professional survey of your land will determine property limits, as well as the location of the house, garage and other features.
Preparing to Build Your New Home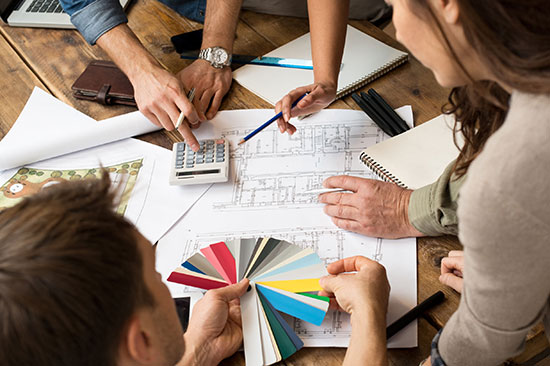 Tree Survey
We perform a tree survey with the goal of providing useful information about the existing trees on your property. Items such as the species, physical measurement, ages, overall health and life expectancy of the trees are examined. This helps our experts make informed decisions about which trees we can keep and which ones are potential problems.
Existing Structure Demolition
If your homesite has an existing structure that needs removal, we can take care of that for you! From securing the necessary permits to debris removal, David Weekley Homes Build on Your Lot program offers demolition services of an existing structure.
HVAC Design
Depending on your situation, region and needs, you can choose from heating systems running on either gas or oil as fuel, or a hybrid packaged system that can use both fuel types. Our HVAC suppliers have the answers to those questions and are experts in equipping your home with the right unit.
Fixed Pricing at Construction Start
Fixed pricing from the start means there isn't any question about how much you will pay to close on your new home. We explain the total cost before you sign on the dotted line, eliminating any unforeseen "oh no!" moments later.
Building Your Home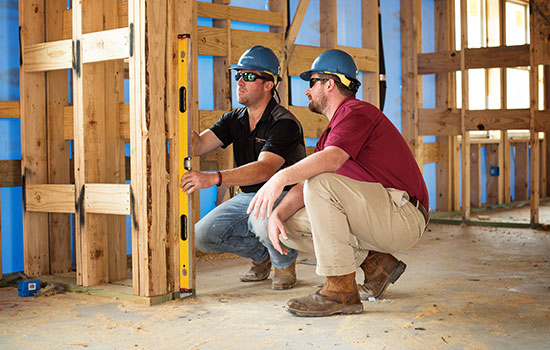 Building Your Home
It's time to make your dream home a reality! From foundation to final inspection, we want you to enjoy the process of building your new home.
Personal Builder
Your Personal Builder℠ is dedicated to keeping you informed throughout the building process. Depending on the construction stage of your Build on Your Lot home, you'll meet up to four times with your Personal Builder: at foundation, framing, drywall and final walk-through. When you have questions, your Personal Builder has answers. It's just another way we personalize the home building experience and offer great Customer Service to you.
MyDWHome.com
When you sign your contract, you will gain access to your buyer website, MyDWHome.com.  This helpful website gives you the ability to access valuable information about your new home anytime.
Inspections
Your home must pass inspections from the city to progress to the next building stage, but it has to pass our third-party inspectors first. David Weekley Homes has professional, third-party inspections performed on the foundation, framing and mechanical systems, all plumbing systems and all energy components to ensure that your home has met all the necessary standards. In addition, our energy-efficient EnergySaver™ homes undergo even more inspections, specifically designed and monitored by Environments For Living®.
Utility Hookups
Moving in to your new home is hard work – the last thing you want to worry about is if the shower works. Rest assured that when the moving trucks leave, your new home will be ready. We take care of your utility hookups as part of our standard home-building process, saving you time and effort.
Landscaping
Building a beautiful home is only half of the equation; we think it is important to accent your new home with flowers, bushes, trees and maybe even a water feature to enhance your home's beauty. David Weekley Homes offers landscaping services to round out your home's curb appeal.
Plat of New Home on Property
We provide each and every new David Weekley Homeowner with a home location survey plat. In addition to understanding where your home will be placed on your land, this survey is required for many zoning approvals, and shows all property lines and existing structures on your land drawn to scale.
Swift Construction and Delivery
Keeping our promises is important, which is why we take communication seriously. Our commitment is to keep you informed during each step of the building process. Your Personal Builder will contact you regularly to update you on progress, while MyDWHome.com will allow you to check in on the building process at anytime.
Living in Your New Home
The most important part of our relationship with Homebuyers comes after they've moved in.
In-home Warranty Service
If you can't depend on us to stand behind our work, we'll never have another opportunity to work with you. That's why we've dedicated an entire department to our industry-leading, multi-level, in-house warranty program. Our skilled Warranty Service Team is available to help you resolve construction or maintenance issues that might arise.
During the first year you're covered by our one-year limited warranty, plus the appliance manufacturers' warranties. Our two-year mechanical systems warranty covers plumbing, electrical, central air conditioning and heating systems. Your peace of mind is what matters most - with David Weekley, you're not forgotten after construction is finsihed.
Living in Your New Home