Designing a Hobby Room
Author Phyllis McGinley once wrote, "A hobby a day keeps the doldrums away." Taking time for yourself to pursue hobbies can help you combat stress, more efficiently structure your free time, and gives you an area to call your own. Creating a hobby room in your home defines a special space that's just for your creative pursuits, and with a few simple updates any room can work for your needs!
Feel the Rhythm
It can be incredibly relaxing to get lost in the rhythm of a song, but the rest of the household may not be as keen on hearing your sweet beats. If you're looking to create a music room, whether it's a space for playing an instrument or just for listening to your favorite tunes, soundproofing is an important step. If your hobby room has hard floors, layer a large area rug over a rug pad to absorb vibrations and sound – especially if you're on an upper floor of your home.
To lessen the noise that escapes through the walls, you can purchase sound-absorbing panels online, or take a DIY approach. For an inexpensive and less time-consuming option, cut egg crate foam into panels and mount them around the room. If you're looking to spend a little more time and money, you can frame and mount fabric-covered panels of rigid fiberglass. Be sure to wear a face mask, work gloves and eye protection when working with the fiberglass, which is dangerous when inhaled and can irritate skin.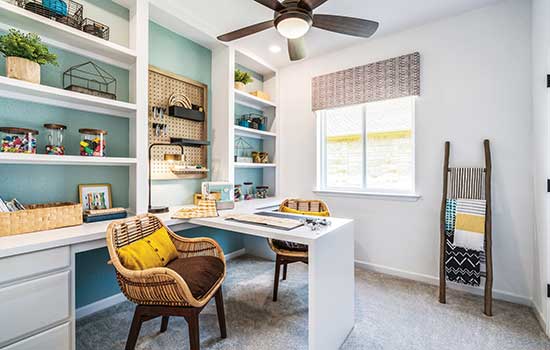 Sew Much Storage
If your hobbies lean more toward sewing, quilting, knitting or crocheting, storage space is an important consideration when deciding how to set up the room. While dressers offer adequate space, fabrics and yarn are best stored where the options are visible so you can easily choose what you need for a project and don't end up purchasing something you already have. If you prefer your fabric or yarn stacked, open cube shelves or bookshelves are a great storage option, and you may already have one or two around the house you can repurpose.
If you're working with a smaller space, you may decide to hang your fabrics in the closet using clip hangers. You can also use valuable closet space to store yarn with a hanging closet organizer – just sort by color in each compartment, using multiple organizers as necessary.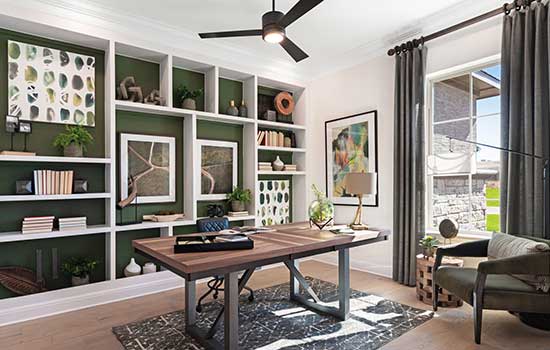 Book Nook
If reading is your hobby, a home library is a must-have. Depending on whether you're a traditionalist or an e-reader, you may need several shelves for book storage. Whatever your reading method, a cozy sit-down space is non-negotiable – preferably by a window to soak in plenty of natural light.
You may also want to consider creating a coffee or tea bar to up the ambiance. Be sure to place a lamp near your cushy armchair to ensure you won't strain your eyes as you stay up for that late night "just one more chapter!"
Whatever your hobby, with just a little brainstorming and set-up time, you can craft a personalized space in your home where you can escape for a little "you" time every day of the year!
---