Make a Splash in the Kitchen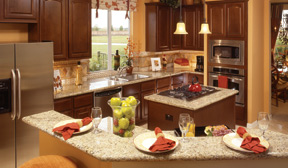 The key ingredients in kitchen design for 2011 are adding multifunctional elements that can do more for you and your family. After all, the kitchen is the heart of the home… it's where meals are made and eaten, homework is completed, e-mail and Facebook statuses are updated and inevitably where the party ends up!
Function, function, function
The key is to design a more open and flexible kitchen so you can create the ultimate gathering space. To mirror the way family activities are evolving in the kitchen, try to find appliances, furniture and products that can do more… innovative products that give added value. For example, a kitchen cart is valuable because it provides extra workspace and shelving. Adding a pullout or pull-down function, different spray modes and a pause button to a stylish faucet easily gives it added value.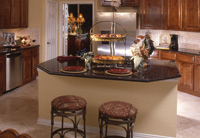 Cooking stations allowing for multiple chefs in the kitchen are becoming more common; as are work areas for laptops and homework, charging station for mobile devices, and casual seating for hanging out. Seamless, integrated kitchen appliances are another key design trend. Top-quality performance is vital, but artistic appeal still plays a key role in the selection of appliances, particularly in open kitchen floor plans.
Green in the kitchen
And we're not just talking about your veggies! It's easy to see the impact you can make on the environment and your utility bills by making a few simple changes like using water-saving kitchen fixtures. Low-flow faucets and touchless faucets help prevent waste by dispensing only what's needed. Also, there are many energy-saving appliances available to help reduce energy consumption as well. When lighting your kitchen, use CFL (Compact Fluorescent Lamp) or LED (Light-emitting Diodes) bulbs. Both use less energy and last much longer than incandescent bulbs.
It's easy to transform your kitchen into a useable, workable space for the entire family! We all know the needs and lifestyles are different from family to family, but the one constant is that everyone is looking for a kitchen design and products that are efficient, convenient, durable and stylish.