See What's Trending in 2016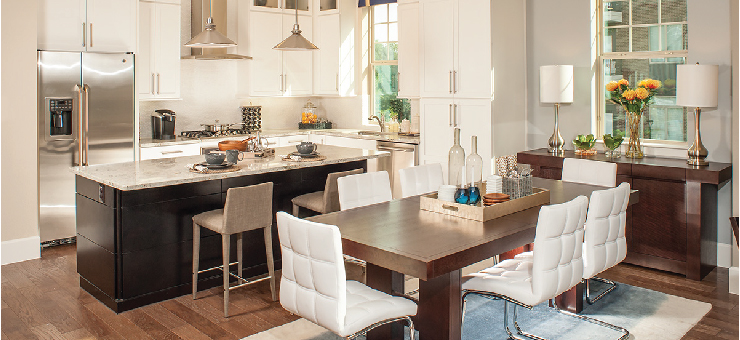 If you're ready to freshen up your decor and want to incorporate a few of the latest looks into your home, take a look at the design trends expected to be popular this popular this year.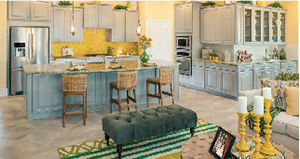 Oversized Tile
Extra-large tile is quickly gaining popularity with many homeowners because it makes a dramatic statement. While rectangular tile has been popular for the last few years, this new style takes it to a whole new level with tile that's anywhere from 12-inch by 48-inch to 32-inch by 32-inch in size. With oversized tile you'll have the bonus of fewer grout lines, which can make a space seem larger. The key for successfully integrating this look into your home is to select a tile with very little pattern and choose a grout color that coordinates with the actual color of the tile to create a seamless transition.
Stainless Steel… Reimagined
If you're ready for a new look in your kitchen, black stainless steel appliances may be the choice you've been searching for! This new finish provides a streamlined look that's a softer, warmer alternative to traditional stainless steel. When coordinated with white or light color cabinetry, it provides a nice contrast and makes a bold statement.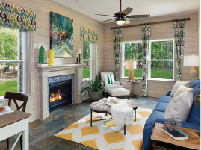 Hearth of the Home
The latest fireplace trend is all about technology. Electric or no-vent gas products that don't require a chimney or flue are definitely heating up interest with homeowners because it allows cozying up next to the fire without the smell or hassle of a traditional wood-burning fireplace. And, an added bonus is that many units even allow you to control your fireplace with a smartphone or tablet!
Colorful Cabinets
Add a pop of color and fun into your kitchen by pairing white or neutral color upper cabinets with deeper colors or different wood tones on the lower cabinets. By doing this, you will create a big impact by complementing a traditional look with a contrasting color/style. This is an excellent way to create a focal point on an island or ground an airy space by adding dark cabinets as an anchor to light color cabinets.
Storage Space
We all know that you can never have too much cabinet space. That's why it's not surprising that most homeowners rank storage as a top priority in the kitchen. Topping the list as must-haves are organizing options to help make life easier, including deep drawer kitchen cabinets that can to spices.
By adding a few of these new ideas into your home, you'll be on the cutting edge of design and you'll have a home that reflects the latest trends!