Staging Your Home:
The Difference Between For Sale and SOLD!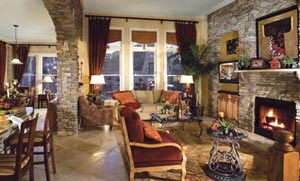 Staging your home properly can be the difference between getting an offer on your home versus someone moving on to the next house. With proper staging, you can be on the right path to selling your current home and one step closer to your David Weekley dream home.
Here are a few tips to get you started:
Reduce clutter: The aim is to create space. If you don't use it, lose it!
Clean is king: Help potential Homebuyers focus on buying your home and not what needs to be done to it if they decide to buy.
Depersonalize: Homebuyers are trying to picture themselves in your home. Having too many personal touches can hinder this.
Keep it light: Clean windows, pull back draperies and open blinds. Lighten areas not touched by natural light.
Grow the space: Homebuyers are looking for space so remove unnecessary furniture if possible.
With your home properly staged, you will feel more confident about showing and selling your home. Remember, you are not only getting your home ready to show - you are preparing to move as well.