Subtlety is Key
Subtlety is Key
If you want to stand apart from the crowd, skip selecting a chevron print, which was one of the most overused trends of 2014, according to Zillow. Put the chevron down and consider switching to solid-colored, textured fabrics for a subtler sophistication. Pieced animal hides also add large patches of color and texture to complement just about any color scheme in your home.
Dark, heavy drapery has been out of style for a while. Instead of swinging to the minimalist extreme of having nothing on your windows, enhance your home's natural light while providing privacy with sheer or light-weight window treatments. If embracing curtain rods again just isn't for you, consider a window shade instead that leaves the windows open when desired, but can also provide privacy.
Kitchen Must-not-haves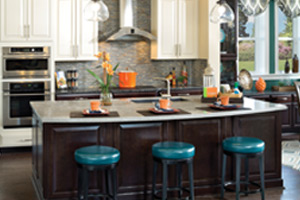 Kitchen Must-not-haves
According to Houzz, one of the most popular kitchen counter surfaces for 2014 was tile. It's affordable and comes in a variety of colors and shapes, but think twice about adopting this recent trend due to the extra time involved in cleaning your newly-tiled countertop. Tile is held in place by grout, and no matter how tight the grout lines are, keeping your grout clean and stain-free will be a chore! Instead, opt for the trendy countertop surface of 2015: quartz slab.
While you're updating the kitchen, change out the cabinet and drawer hardware for an instant facelift. If you're still rocking brass hardware, switch out your cabinet pulls and fixtures for brushed or satin nickel to pull your kitchen into 2015.
Armed with these tips and tricks, your home's décor will receive a fresh makeover quickly.