Interior Decorating Tips Putting it All Together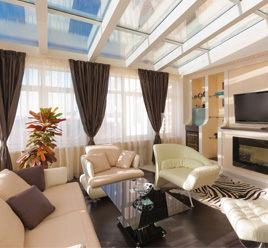 We've all done it at one time or another… saw that knickknack or picture or piece of furniture we just couldn't live without! The issue is what to do with it when we get home. More often than not, that attempt to "mix and match" just clutters up a room. Here are a few interior decorating tips to help!
Getting crazy with color
You want your rooms to offer a soothing and stimulating ambiance, not loud and obnoxious. This is easily achieved (or not) with wall colors. When choosing paint colors, stick with a subtle variety of colors or tones, such as coordinating shades of brown or beige or green to create a balanced feel. 
Matching set?
Just because it comes together, doesn't mean you have to buy it all! A store will showcase four or five matching pieces of furniture because it looks good together. Consider leaving out the coffee table and buying an over-sized ottoman to take its place. This way, you will not only mix and match colors, but fabrics and patterns will be changed up as well. 
Overwhelming accents
We've all heard it time and time again, "too much of a good thing can be bad!" The same holds true with interior decorating… too much plaid or stripes can make a room look more like an amusement park than your living area. It's great to throw in a pattern or animal print, but do it in small quantities with throw pillows, a cushioned bench or a lamp shade. 
Not knowing when to quit
Know when enough artwork or furniture in one room is enough. When you or your guests have to turn sideways to maneuver through your living room, chances are it's time to de-clutter. Choose a few of your strongest pieces of furniture and artwork, and let them make their own statements. 
There you have it. You too can decorate like a pro!