How to Build Your Home Buying Reputation
A lot of people want to buy a new home, but not everyone is prepared to buy a new home. Failure to prepare for the home buying process can reflect poorly on a buyer and affect the service they receive in the future. To get the most out of the process, you'll need to build your reputation as a buyer. Don't worry, it's not as difficult as it might sound. Here's how you can build a reputation that will make the process go as smoothly as possible.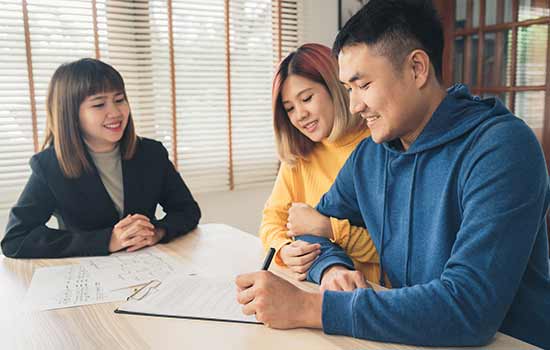 Increase Credit Score
Before you set your sights on a home, you'll need to solidify your credit score. The good news is you don't need a perfect score to qualify for a home loan. A credit score in the 500s will qualify some for a mortgage, but we recommend building to a score in the 600s or higher. A higher score will give you better terms on your loan and a wider selection of homes in your budget. You can increase your credit score by consistently paying bills on time and paying off debt.
Get Pre-approved for a Home Loan
The pre-approval process requires that you provide information to a potential lender, including a variety of income records, asset records and legal identification. Once these have been compiled, along with your credit score, the lender will decide if you are capable of making mortgage payments on a home. If you're pre-approved, you'll receive a pre-approval letter from the lender. The pre-approval letter shows the seller that you're serious and capable of purchasing their home.
Stay Within Your Budget
It can be fun to browse through homes that are out of your budget, but don't get attached to a home you can't afford. A low offer can sometimes be the right strategic move, but if you don't have the flexibility to offer more, you're likely wasting the seller's time. You'll also want to make sure you aren't forgetting about other costs associated with homeownership when budgeting.
Communicate Clearly
Communication is perhaps the most important part of building your reputation as a reliable buyer. Whether it's with the lender, agent or seller, clearly communicating will limit headaches and misunderstandings. That doesn't mean badgering them with long emails, constant calls or texts – it means listening, considering and replying with purpose. Clear communication shows everyone in the process that you're organized and serious about buying.
Work with the Best Agents
Your choice of Real Estate Agent says a lot about you, and the seller will certainly take notice. If your agent is not well-regarded in the area, sellers will be more hesitant to work with you for fear of a sloppy or unfair process. Do your research, and look for an agent that has your best interests at heart. Ask friends and family in the area for recommendations, or use online reviews as a guide to make a list of potential agents.
We're proud to work with the best agents in some of the top markets in the country at David Weekley Homes. If you're confident in your reputation as a buyer, we'd love to get to know you and your housing needs. Contact the David Weekley Homes office in your area to get the home buying process started today!
---
Recommended
---
Stay In Touch
---
Get the Latest from David Weekley Homes
Sign up to receive our email updates, and be the first to know what's happening in your area!
×
Get the Latest from David Weekley Homes
Sign up for our Newsletter and you'll discover..
Current Sales and Promotions
DIY Projects
Home Design Trends
Maintenance Advice
Seasonal Tips
Homebuyer Incentives
---