5 Home Improvement Projects to Save You Money
As a Homeowner, costs can add up quickly, but you can help reduce your maintenance costs over time with proper care. Here are five home improvement tips that can help you save money in the long run.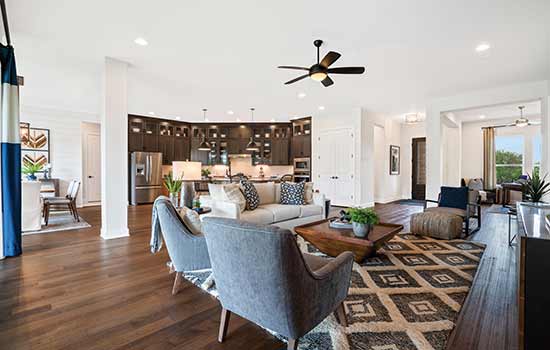 Fans in High Places
A quick and easy fix to your home is to install ceiling fans in rooms with higher ceilings. Ceiling fans can help lower your cooling costs through the warmer months of the year. Thankfully, fans come in various sizes, so you can indeed find one fitted to any room, large or small. Keep in mind that a larger ceiling fan will be more effective at cooling and circulating air throughout your home. Plus, your ceiling fan doesn't have to gather dust in the winter: Reverse the direction of the blades to push warm air back down and stay cozier without cranking up the heat.
Throw in Shade
Planting shade-bearing trees is not only aesthetically pleasing but can also help to lower energy costs. When planted strategically, trees can help provide a cooling effect inside your home, too, especially during the warmer months.
When it comes time to pick out the perfect shade trees for your home, you'll want to do some research about the climate in your area. Keep in mind the size of your tree and plant tall trees away from your roof. You'll also want to bear in mind that some trees can have foundation-damaging roots, especially if they are planted too close to your home.
Conserve Water, Save Money
Toilets and showers are used frequently throughout the day in all homes. The Environmental Protection Agency (EPA) states that we use 1.2 trillion gallons of water annually to shower in the United States. Thankfully, there are low-flow alternatives for showerheads and toilets, which can help reduce your family's water consumption.
Safe and Secure
Adding a security system can provide you with peace of mind by keeping your family safe. But, did you know it can also keep more money in your wallet, too? That's because homes with security systems tend to have fewer break-ins, resulting in a lower risk which translates to reduced premiums for Homeowner's insurance. In addition to the cost savings, you'll also be keeping your family and home safe from any intruders.
Fix That Drip
Anytime you think there may be a leak inside your home – from a leaky faucet to a running toilet – be sure to get it fixed as quickly as possible. Although it may be a small leak, water usage can add up quickly. Additionally, those minor leaks can turn into a more significant issue if not addressed. Rather than risk it, call in a professional plumber.
With these five easy home updates, you can potentially save money on routine maintenance around your home. After all, you home is a big investment and you'll want to keep it in tip-top shape for years to come.
---
Recommended
---
Stay In Touch
---
Get the Latest from David Weekley Homes
Sign up to receive our email updates, and be the first to know what's happening in your area!
×
Get the Latest from David Weekley Homes
Sign up for our Newsletter and you'll discover..
Current Sales and Promotions
DIY Projects
Home Design Trends
Maintenance Advice
Seasonal Tips
Homebuyer Incentives
---