Published May 25, 2023
A Guide to Living in Charleston, SC
This guide to living in Charleston offers a great place to start if you're relocating to this beautiful South Carolina city.
Charleston Overview
Charleston is a noteworthy travel destination for its historic buildings, world-famous cuisine, religious diversity, remarkable beaches and scenic neighborhoods. And for those looking to relocate, the thriving local job market and affordable real estate in Charleston, SC, makes it a great location to start your next chapter!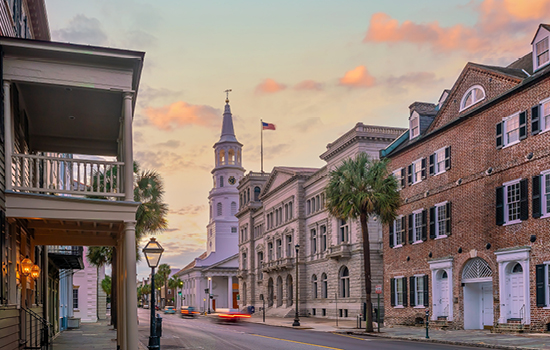 Culture in Charleston
Living in Charleston, SC, means there's always something fun to do around town! Whether you're into big events, the performing or culinary arts, spiritual fulfillment, or history, there's always something great happening nearby.
The annual Spoleto Festival sees local and international artists perform hundreds of shows in a variety of disciplines for 17 days each spring. Many venues play host to specific performances, including The Dock Street Theatre, College of Charleston Sottile Theatre, Queen Street Playhouse, Festival Hall and the Charleston Gaillard Center.
Charleston is also home to three major culinary festivals: the Charleston Food and Wine Festival, The Lowcountry Oyster Festival and The Taste of Charleston. Other major events include the MOJA Arts Festival, Charleston International Film Festival, Charleston Fashion Week, the Charleston Antiques Show and The Charleston Marathon.
Charleston is famous for its religious diversity, being home to major regional Anglican, African Methodist Episcopal and Catholic churches. Additionally, the city is home to two historically significant Jewish congregations and the only independent Huguenot church in the United States.
These churches and temples display a great diversity of architecture, from the neo-gothic acoustics of Cathedral of St. Luke and St. Paul to the Gothic Revival grandeur of Emanuel African Methodist Episcopal Church and Greek Revival timelessness of Kahal Kadosh Beth Elohim. These edifices provide just a sample of what Charleston has to offer.
Founded in 1773, the Charleston Museum is the oldest museum in the United States and showcases historic furniture, textiles, ceramics, flora and fauna, and archived records of the region. Other attractions include the Halsey Institute of Contemporary Art, the Avery Research Center for African American History and Culture, and a splendid selection of things to do in the Charleston Historic District.
Seafood and southern cuisine fans will find classic delicacies and new fusions in abundance, as well as restaurants with menus offering great food from around the globe. Local seafood favorites include oysters, she-crab soup, shrimp and grits, purloo and frogmore stew. Other tasty delights include boiled peanuts, South Carolina BBQ, fried green tomatoes, okra soup, hopping john and, of course, classic iced sweet tea.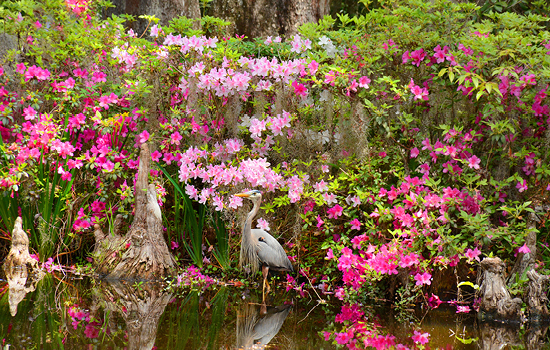 Outdoor Activities in Charleston
Charleston's weather offers year-round opportunities to go outside and enjoy the sights. The city rarely sees snow and has 209 sunny days per year on average. The system of rivers and islands means there's always water sports and beach days to look forward to when you make your home in Charleston.
For many, the word "Charleston" conjures images of huge oaks draped in Spanish moss, like those found in abundance in White Point Garden, Middleton Place, and Magnolia Plantation & Gardens. Others think of the scenic Cypress swamps, like those you can explore at the Caw Caw Interpretive Center and Francis Beidler Audubon Forest. Other great parks include Angel Oak Park, Riley Waterfront Park and James Island County Park.
Brookgreen Gardens is a 9-acre floral garden and sculpture museum that may be found between Charleston and Myrtle Beach. When it comes to American figurative sculpture, it has the country's biggest and most extensive collection. Guests choose from various tours, including a boat trip and a tour of the back roads' historical sites.
If you're looking to hit the links, Kiawah Island is famous all over the world as a golfing destination. The resort has hosted the PGA Championship twice and is renowned for its 90 holes of golf and luxurious spa. The island with the spa facility is around 25 miles from Charleston.
Industry and Economy in Charleston
Oceanic shipping has always played a key role in the success of Charleston, and it continue to be a top-10 port for international imports and exports. This, coupled with the city's digital corridor, has led to Charleston earning the moniker of "Silicon Harbor."
The city's labor force has enjoyed a decade of strong growth and low unemployment, often coming in below 3%.
Beyond shipping, other major area industries include military, healthcare, tourism, aerospace manufacturing, automotive manufacturing and construction. Boeing, Volvo, Roper St. Francis Healthcare, Trident Health System, and the Medical University of South Carolina have been some of the largest contributors to new jobs in recent years.
A selection of specialty colleges make it a great place for students to build a bright future. Charleston is home to The Citadel, The American College of Building Arts, the Medical University of South Carolina and the Charleston School of Law.
Communities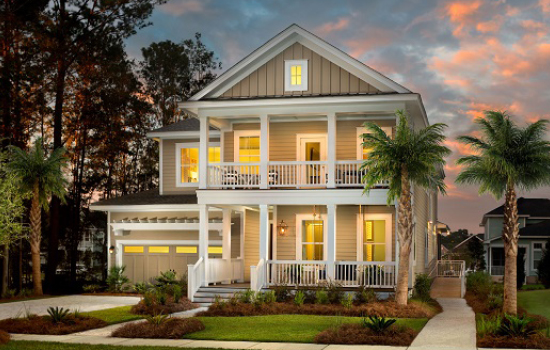 Charleston Build on Your Lot
David Weekley Homes is ready to build the home of your dreams in the Charleston, SC, area. Choose from one of our expertly designed floor plans and build on a lot that you own in the Tri-County Area. We'll help you along the way with home selection, surveys, permits, construction loans and all other building details.
Available floor plans offer a range of features and styles as appropriate to the location and homesite it will be built on. Select floor plans can be built on with standard slab, raised slab, crawl space or elevated slab.
David Weekley's World-class Customer Service will make the home construction process a delight while we build your dream home on your own lot in the Charleston, SC, area.
Browse our award-winning floor plans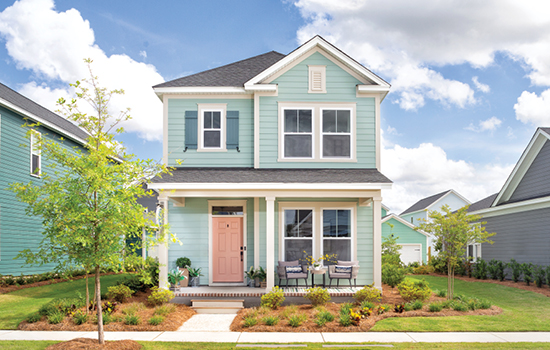 Nexton
New 1- and 2-story homes are under construction in the beautiful community of Nexton – Midtown from David Weekley Homes. You'll love living in the heart of this beautiful master-planned community in Summerville, SC.
Homeowners will enjoy living close to the Central District and strolling along the scenic lakeside walkways. In the Charleston-area community of Nexton – Midtown, you'll experience the best in Design, Choice and Service from a top home builder and the benefits of living in a leading-edge 10-gigabit community.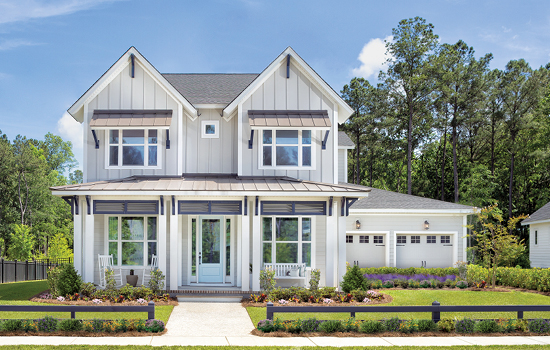 Point Hope
This Lowcountry Charleston, SC, community presents delightful outdoor recreation spaces and a variety of floor plan collections. Experience the top-quality construction and innovative designs from one of Charleston's top home builders.
Community amenities include parks and play structures, miles of nature trails, convenient shopping and dining at Point Hope Commons, and easy access to I-526, Daniel Island and Mt. Pleasant.
Start your family's next chapter in Point Hope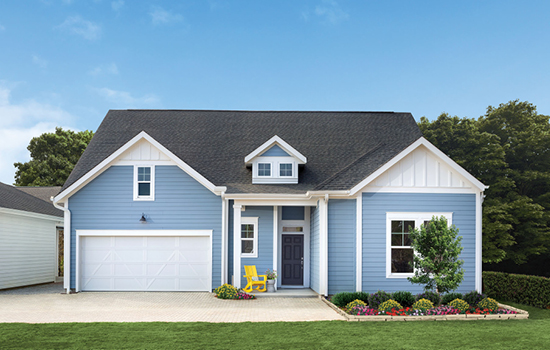 Restore at Carolina Park
Encore by David Weekley Homes is building in the master-planned community of Restore at Carolina Park. These 55+ lifestyle-driven home designs are being built in a delightful Mount Pleasant, SC, location.
These homes offer an ideal balance of livability and design with beautiful spaces ideal for entertaining elegant fixtures and finishes. Experience top-quality craftsmanship from one of Charleston's top home builders in this 55+ section of the Carolina Park master-planned community.
Build your future in Restore at Carolina Park
Find Your New Home in Charleston
Start enjoying the culture, great outdoors and business opportunities of Charleston, SC! From searching for the ideal home and signing the contract, to long after move-in, the David Weekley Homes Team will keep you informed and feeling confident with every step.
Start your homebuying journey in Charleston, SC, today with our help.
Get in touch with us to view our unique collection of new homes in Charleston, SC, and find one close to everything there is to love in Charleston.
---