Home Buying by Design
While many Homeowners might argue that there's something truly magical about building a home from the ground up, others may find a great deal of fulfillment in purchasing a resale and making it their own. Before deciding on the best option for you and your family, you should determine the most suitable route to explore in your home buying journey from a design standpoint by considering your needs, distinctive tastes and lifestyle.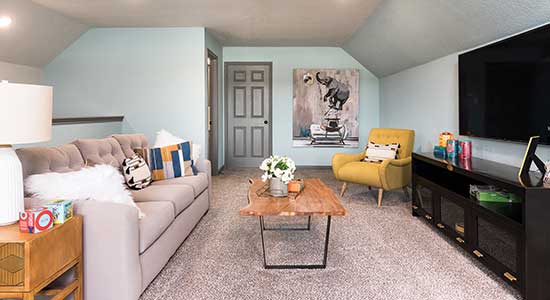 Designed with You in Mind
New homes are built with today's family and their needs and desires in mind – many featuring floor plans to foster family togetherness and flexible living spaces. For instance, an upper level loft retreat ideally situated between a couple of secondary bedrooms can offer a much-needed, and well-used, media space or playroom where the kids can gather while the parents stake a claim in the Family Room. Another example might be an enclosed Flex Space™ that could serve as anything from a colorful craft space where creativity reigns supreme, or a home office for the telecommuting professional to a swank wine room for sampling a crisp Sauvignon Blanc with friends.
On the flip side, an older home can offer some very special and unique elements that might be cost-prohibitive – or unavailable – in a new home such as custom woodwork, stained glass windows, mid-century sunken living rooms and more. Keep in mind that older homes may require some structural modifications to the floor plan if you are looking for a family-friendly open layout, which means you'll be in store for a bit of remodeling. It's all about deciding which home will prove the best fit for your family and the way you live.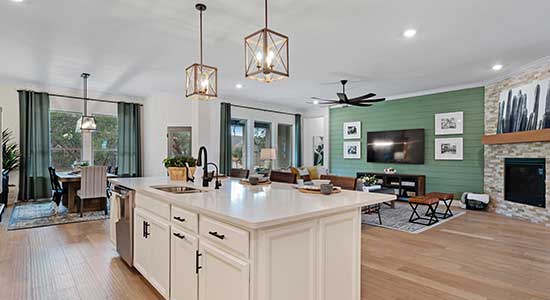 Finishes and Fixtures
Another important factor to consider when you aren't the first person to live in a home is the fact that you're going to inherit the design choices that the previous owner selected. You may be fortunate to find the unicorn of resales in which the previous owners' tastes are right in line with yours. If not, that means you may need to consider the costs to upgrade any items that you may not like such as fixtures or flooring, and then factor that overall cost into your budget.
However, with new construction, many buyers can select the finishes and fixtures they want in their home, such as coffered ceilings for a touch of luxury, spa-inspired Super Showers, shiplap accent walls, sliding barn doors and much more. Today's home builders are in step with the latest trends and those are reflected through the selections available in their Design Centers – from flooring to fixtures and everything in between. This option gives the buyer an opportunity to personalize the home to suit their individual needs and tastes from the start.
Whichever way you decide to go in your home buying journey, we wish you the best of luck. If you opt to research new construction, we hope you'll add David Weekley Homes to your list of possibilities!
---