Home Sweet Home
So many different factors are considered before buying a new home, but quite possibly the most crucial ingredient to your home buying decision is location. Find out which location best suits you and your lifestyle!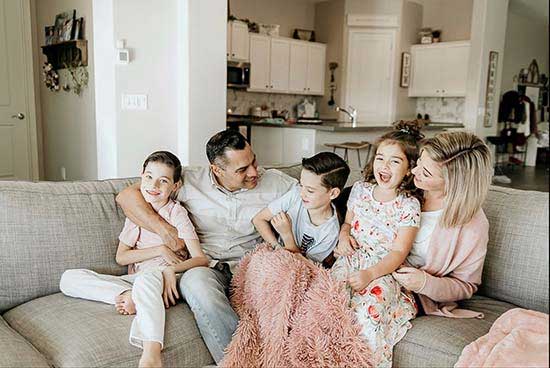 Suburban
If you're looking for a larger home and want to live in an atmosphere away from the city's hustle and bustle, a home in the suburbs is for you. Advantages of living in a suburb include:
1. Affordability: According to the San Francisco Chronicle, on average, the median price for a home in the city is $431,000, compared with $230,000 in the suburbs.
2. Size: Homes are larger in the suburbs, allowing for families to have enough room to live comfortably. You will probably get more Outdoor Living space, too.
3. Schools: Graduation rates are typically higher in the suburbs. This is all based on location, so do your research on a school district beforehand.
4. Quality of life: There tends to be less traffic congestion and more open space for public use, creating a slower, more relaxed environment
Eastmark, a community in Mesa, AZ, was ranked by the RCLCO Real Estate Advisors as #7 in the nation among top-selling, master-planned communities in 2018. Summer Alvarez, a Homeowner in Eastmark, loves this suburban community.
"Living in Eastmark is honestly a dream," she said. "The kids run from house to house playing and raiding the pantries, the neighbors all stop to chat and block parties have become how we spend our holidays. We feel like we've won the lottery everyday we drive down our street."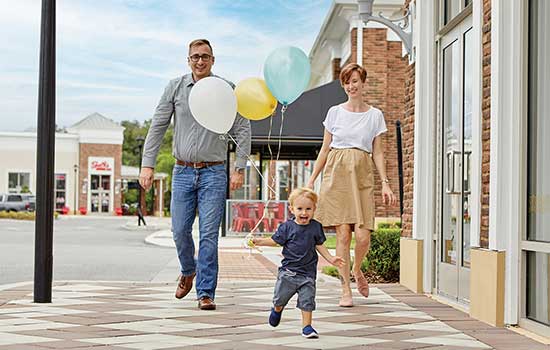 Mixed-use Developments
Suburbs have recently begun refashioning its image to become more like metropolitan areas, creating new "downtowns" bubbling with all kinds of activity. This allows Homeowners to live an urban lifestyle in a suburban location – all at an unbeatable price. Mixed-use communities offer:
1. Walkability: Walking distance to restaurants, shopping, entertainment, hotels and more.
2. Live, work and play: There's not just amenities nearby… Park once and take care of your entire to-do list from buying groceries and working out to finding a new outfit and going to the dentist.
3. Job opportunities: If you're tired of commuting to work, several mixed-use developments plan to have office spaces right in the community.
Waverly, a popular mixed-use development in South Charlotte, was named Community of the Year at the 2017 MAME Awards.
"We're always striving for a work-life balance and Waverly has certainly made that a little more attainable for me and my family," said Homeowner Heather McNamara. "We bought a David Weekley home in Waverly and I now own and operate Fab'rik, a women's boutique located right in the development. We couldn't be happier with our decision to live here!"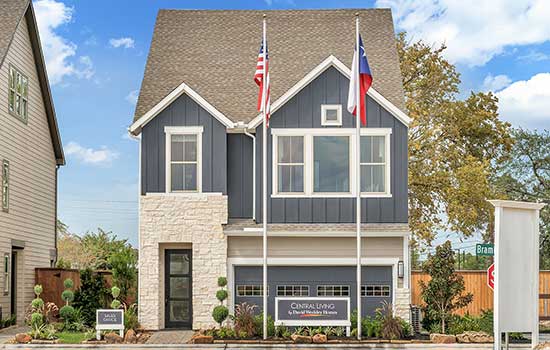 City
Cities are thriving areas full of entertainment at your feet. Living in an urban center is great if you want to be close to action and new possibilities. A few benefits to living in the city are:
1. Public transportation and walkability: While parking and gas costs can be expensive in the city, many urban dwellers can travel by foot, bike or public transit.
2. Attractions and entertainment: Whether it's green space, museums, theater, sports venues or other cultural attractions, cities have a variety of options for spending your free time.
3. Networking: With thousands of people living nearby, cities have never-ending opportunities for socializing, networking and professional development.
"Our family absolutely loves the close-knit nature of our community and how we have been able to make fast and lasting friendships with likeminded neighbors," said Sarah Savard, a David Weekley Homeowner in Village at Spring Branch. "The proximity to excellent public schooling and daycare options were a big selling point for us."
Whatever your preference, you can find an incredible home to fit your unique style in a location of your choosing!
---