Flip the Switch on Buying New
Ready to make a move? There are a lot of compelling arguments when it comes to buying a resale home or new construction. Design and lifestyle factors aside, other important considerations may not be as visible but relate directly to the inner workings of your home – behind the drywall, tucked away in the attic and based in the very foundation upon which your home is built. Take a look at some of the things you should know about new vs. used homes in regard to energy efficiency.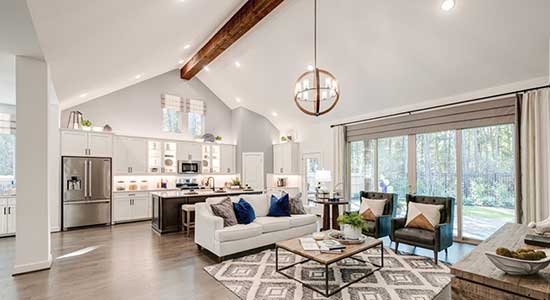 Homebuyers Seeking "Green" Homes
Have you ever wondered why more and more Homebuyers are opting for new homes? One big reason is that many new homes feature "green" construction elements that help minimize your environmental footprint and can save up to 30% on utility and water bills. In fact, a new home can save enough energy to power a coffee maker for 32 years, a TV for 11 years or a washing machine for four years, according to NewHomeSource.com.
In a survey conducted by the National Association of Home Builders (NAHB), builders reported that a growing number of consumers are seeking features that provide higher indoor air quality and a draft-free, comfortable indoor climate.
While a more temperate environment is definitely a selling point for many, higher indoor air quality and less dust and pollen is a huge plus, too, especially for those suffering from allergies and breathing problems. By creating this thermal envelope for your home that's built to be tighter and quieter, you will have a well-built home designed to save energy and promote comfort.
Energy Efficiency Comes Standard
A few well-planned renovations and the purchase of energy-efficient appliances can positively impact the energy efficiency of a resale. However, the big investment comes when you need to update and retrofit an older home as these are major – and costly projects.
With a new home, you don't have to worry about these big-ticket items because they are already built this way. According to the U.S. Department of Energy, a typical new home built today is 30 percent more energy efficient than a home built just five years ago — and no comparison to homes that are 10, 15 or 20 years old or more.
Many energy-efficient building techniques are designed to make your new home quieter and tighter while saving on energy usage. For example, depending on the city where you live and the climate, your new home could include green building elements like low UV windows, a wall system with a thicker blanket of insulation to better maintain your home's indoor temperature, or a high-performing AC system to keep your home cooler.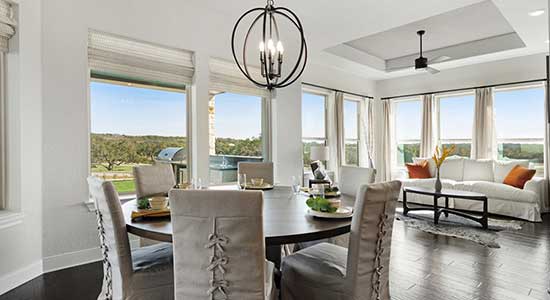 The Importance of HERS
When considering a new home, you should also ask about a home's Home Energy Rating System (HERS®), which is a score developed by Residential Services Network (RESNET) to measure the energy performance of a home.
So, what does the HERS Index Score mean? It will tell how well the home performs energy-wise, with a lower number indicating a more efficient home and lower energy usage. According to the RESNET HERS Index, 130 HERS is the typical score for a resale home and 100 HERS is the typical score for a standard new home. Anything below a 100 reflects a more energy efficient home.
For instance, if a new home scores a 70 HERS rating, that means its 30% more energy efficient than a typical new home and 60% more efficient than a typical resale. You can request a HERS report from your builder, which will outline the energy features of the home and the expected cost of energy usage. After all, beyond the mortgage itself, heating, cooling and water heating often constitute a large cost of homeownership.
From lower energy usage to improved air quality and comfort, energy efficiency can greatly enhance the enjoyment of your home for years to come and can also help to save you money. You can learn more about our energy-efficient building techniques in your area by clicking on a city near you.
---
Recommended
---
Stay In Touch
---
Get the Latest from David Weekley Homes
Sign up to receive our email updates, and be the first to know what's happening in your area!
×
Get the Latest from David Weekley Homes
Sign up for our Newsletter and you'll discover..
Current Sales and Promotions
DIY Projects
Home Design Trends
Maintenance Advice
Seasonal Tips
Homebuyer Incentives
---