Updated May 2, 2023
Designing and Building New Homes with Mother-in-Law Suites
Mother-in-law suites are a growing trend in home design. And, yes, David Weekley builds homes with mother-in-law suites!
What Are Mother-in-Law Suites?
The term "mother-in-law suite" is used to describe a set of private rooms for live-in family members or guests.
A mother in-law suite can range from a bedroom and private bathroom situated away from the rest of the home's living spaces (commonly referred to as a "guest suite") to an entirely separate structure built on the same property. These separate structures are often called "casitas," "guest houses," or, in real estate parlance, "accessory dwelling units" (ADUs).
Other options include the "garage apartment" and "basement suite" configurations, which allow for more privacy than a main-level guest suite without requiring additional permitting and plumbing.
All of these options relate to the growing trend in home design that allows for additional residents to live comfortably on the same homesite.
Why Are Mother in-Law Suites so Popular?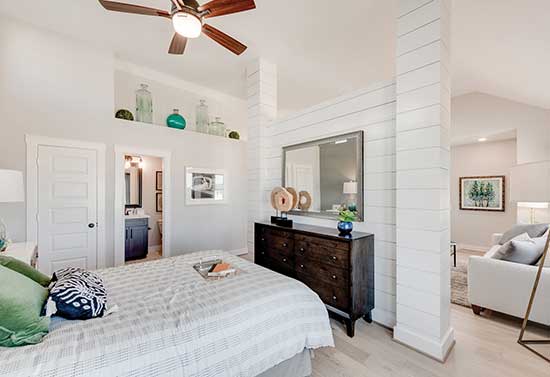 Demand for homes with mother in-law suites has steadily increased in recent years. With that demand, the value of homes that include the feature has also increased. The reasons for this growing popularity are complex and can vary by region, but these are a few of the factors that may be increasing the demand for mother-in-law suites in your area.
More Older Adults are Moving in with Their Adult Children
A Pew Research Center survey found that 14% of adults living in another person's home are parents of the household head. That compares to just 7% in 1995, making the extra space and autonomy a valued addition in these arrangements.
It can be expensive and stressful for aging parents to adjust to senior living communities. A mother-in-law suite can allow a family to stay connected while saving money on housing and making it easier for senior family members to maintain a greater degree of independence.
Mother-in-Law Suites Add an Extra Room to Host Guests
Many Homeowners enjoy hosting friends and family for holidays and special celebrations. A mother-in-law suite provides extra space for out-of-town visitors and overnight guests.
A room set away from the resident's bedrooms, especially one with a private bathroom, can be a major source of comfort for guests trying to decide between staying with you or booking a hotel. The more amenities and space a mother-in-law suite includes, such as a kitchenette and living room, the more welcome your guests will feel during their stay.
This kind of guest room is also popular because of the versatility it can provide. If you know you won't have guests in the near future, the room can be temporarily converted with easy-to-move furniture into a home office, gym, or other special-purpose room best suited to your day-to-day life.
Multigenerational Living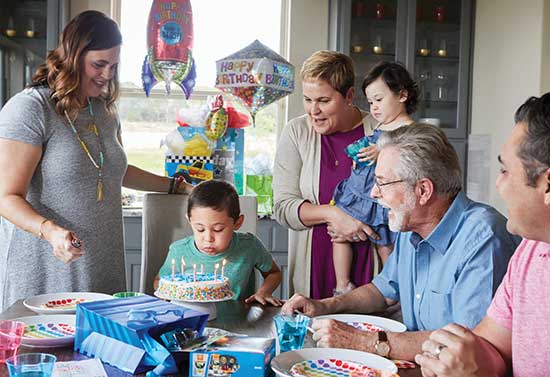 Multigenerational living refers to households with more than two generations living under the same roof. According to another Pew Research Center study, multigenerational living has quadrupled in the last 50 years and now accounts for 18% of U.S. households.
For some, multigenerational living is a reaction to financial issues. A mother-in-law suite can provide much-needed comfort and relief for family members in times of financial hardship.
For others, the choice comes down to comfort and family bonds. Whether it's from cultural tradition or an individual decision, many find maintaining close day-to-day ties with their family to be rewarding. Families across the globe attest to the benefits raising children in the same home as their grandparents.
Types of Mother-in-Law Suites
Mother-in-law suites come in a variety of designs, each suited to different circumstances and budgets.
The Front Mother-in-Law Suite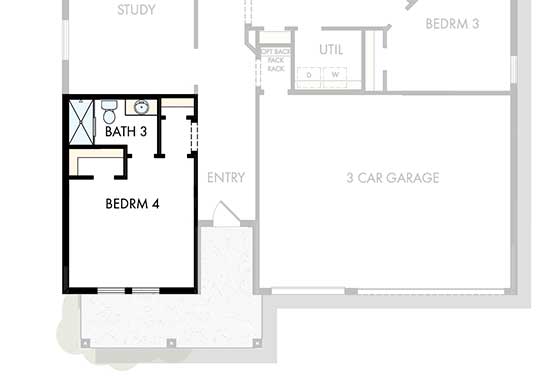 This bedroom and en suite bathroom arrangement is located at the front of the home, allowing ample privacy and access to the garage and front door without having to traverse the family gathering spaces. This design is particularly suitable when different schedules need to be accommodated without inconveniencing guests or family members.
The Kitchen Mother-in-Law Suite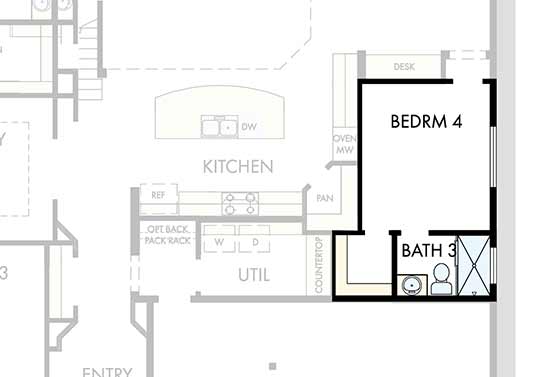 This popular design features a mother-in-law suite tucked away behind the kitchen with an en suite bathroom. The low-profile placement makes the room less noticeable to guests and provides unique special-use possibilities. Multigenerational families with certain caregiving needs may find this style of mother-in-law suite floor plan particularly beneficial.
The Downstairs Mother-in-Law Suite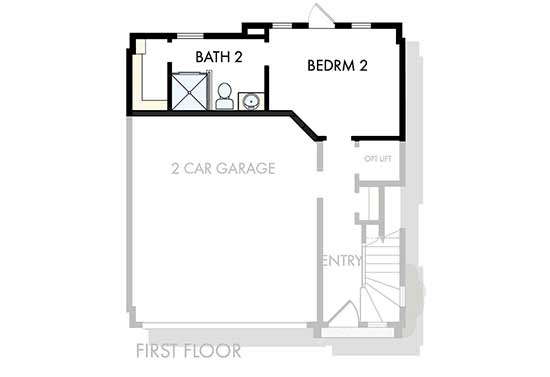 Particularly popular in our Central Living homes, this type of floor plan often features the primary living areas on the second floor, with the mother-in-law suite on the first level. This arrangement makes it easier for guests to come and go without disturbing family members on the upper levels of the home.
The Basement Mother-in-Law Suite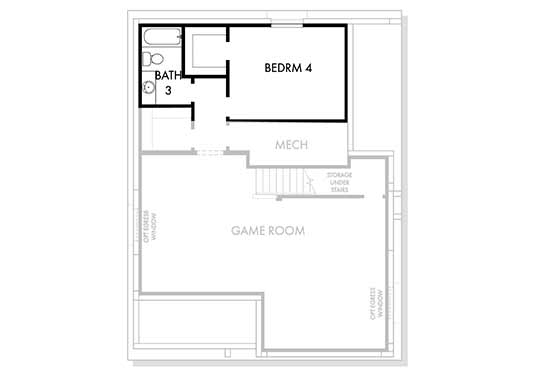 This type of mother-in-law suite floor plan is particularly popular with multigenerational families. Nestled in the basement, these suites often rest next to game rooms, offering personal living room space away from the main-level family areas.
The Casita or Detached Mother-in-Law Suite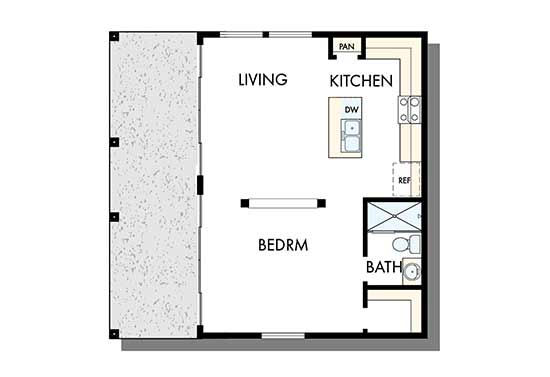 A casita is its own structure on the same homesite as the primary residence. This detached mother-in-law suite often requires a larger homesite, additional plumbing installation, and special approval related to any relevant zoning or HOA restrictions. Despite these challenges, casitas have become a hit because of the added privacy, space and versatility.
How to Find a New Home with a Mother-in-Law Suite
David Weekley Homes designs and builds homes to suit a variety of living arrangements. We've updated several of our home designs to feature mother-in-law suites, casitas and other add-ons that accommodate multigenerational living or hosting guests.
Chat with our Internet Advisor today to learn more about available homes with mother-in-law suites!
---
Recommended
---
Stay In Touch
---
Get the Latest from David Weekley Homes
Sign up to receive our email updates, and be the first to know what's happening in your area!
×
Get the Latest from David Weekley Homes
Sign up for our Newsletter and you'll discover..
Current Sales and Promotions
DIY Projects
Home Design Trends
Maintenance Advice
Seasonal Tips
Homebuyer Incentives
---