The Ultimate Owner's Retreat: Upstairs vs. Downstairs
Your Owner's Retreat offers so much more than a simple place to rest your head at night. Rather, this space is a multifunctional room, tucked away from the busier parts of the home, that provides Homeowners with a quiet place to step away, hunker down or just have a moment to themselves.
As we get to know your family and your home needs, determining whether your Owner's Retreat is upstairs or downstairs will be a choice for you to make. During your homebuilding process, our Team will guide you and offer insight into the advantages and disadvantages of both options, allowing you to make the best decision for your family.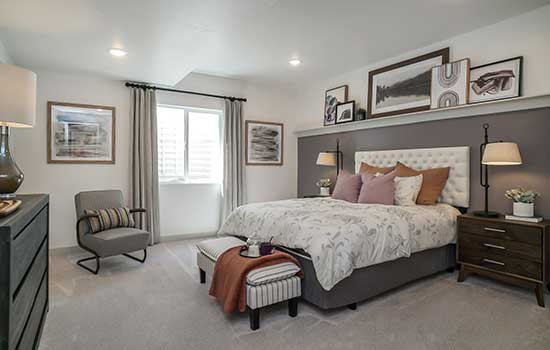 Owner's Retreat Located Upstairs
All for Upstairs
Second floor primary bedrooms generally provide a broader view of your property, making for a more enjoyable experience and creating an added safety feature. While it's not something we ever want to think about, being one level up helps you to have more time to react to a potential intruder coming in from the ground level.
Being upstairs separates Homeowners from the everyday traffic of common spaces throughout the home, such as the living spaces and kitchen area. Take the guesswork out of room placement by utilizing our unique LifeDesign℠, which puts careful consideration into where rooms are located within the home.
Rather Not
For Homeowners who prefer to be centrally located in the home, having an Owner's Retreat upstairs might not be ideal. Sometimes the convenience of having all your primary needs in your home just a few steps away is more of a priority.
Another consideration when choosing an upstairs Owner's Retreats is that getting up and down the stairs can become difficult as you age. If you're planning to stay in your home for a long time, you might want to prioritize your Owner's Retreat being on the first level.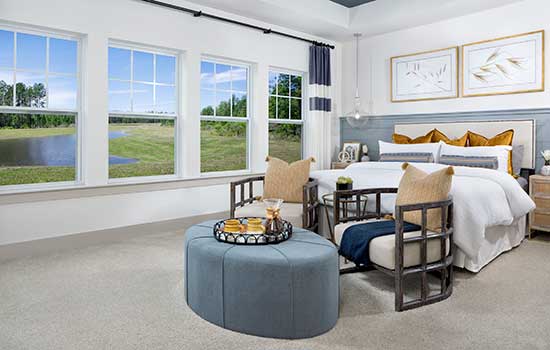 Owner's Retreat Located Downstairs
Low-down on the Down Low
Having your Owner's Retreat located downstairs is ideal for empty nesters who do not have to be concerned with privacy. Being close to the main living spaces makes for easier mobility.
You can increase your resale value by residing nearly entirely on the downstairs level of your home. Between the two options, downstairs locations open possibilities for a larger market, including those looking for their forever homes.
Maybe Not
Owner's Retreats located downstairs mean that you might be separated from your children upstairs. This divide may cause unrest for some, in which case a grand suite downstairs would not be recommended.
If you will have people living upstairs while you reside downstairs in your Owner's Retreat, keep in mind that it can get noisy for you. Depending on what rooms are directly above yours, it might not be the ideal location for your primary bedroom after all.
A newer trend that is becoming increasingly popular is double Owner's Retreats, which includes one primary bedroom on each level of the home. A double primary bedroom allows you flexibility for your personal preferences while being able to use the unused room as an incredible guest bedroom.
However, you envision it, David Weekley Homes is here to help you find and create the home of your dreams!
---
Recommended
---
Stay In Touch
---
Get the Latest from David Weekley Homes
Sign up to receive our email updates, and be the first to know what's happening in your area!
×
Get the Latest from David Weekley Homes
Sign up for our Newsletter and you'll discover..
Current Sales and Promotions
DIY Projects
Home Design Trends
Maintenance Advice
Seasonal Tips
Homebuyer Incentives
---