Super Showers – Coming to a Bathroom Near You
At David Weekley Homes, you will find many homes offering the ultimate Owner's Bath feature, also known as a Super Shower. Our Custom Choices™ offer a wide variety of personalized selections to make the journey of designing your home a fun and exciting process for you!
Super Showers are high-end, luxurious showers featuring an array of amenities. Popular features include a rain shower, digital water temperature you can control from your smartphone, multiple showerheads and even steam options. We've seen different integrations of Super Showers continuing to gain popularity, including waterproof speakers and special lighting effects.
Here are a few top reasons we've found upgrading your Owner's Retreat to include a Super Shower might be worth considering: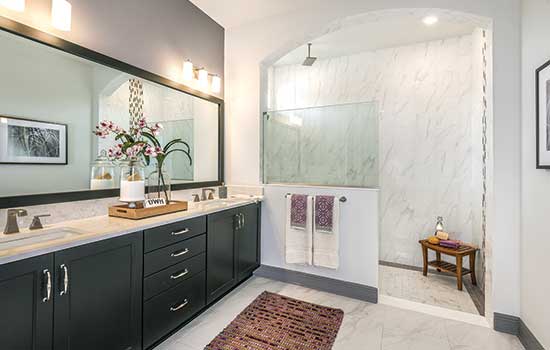 Less Can be More
Upgrading to a Super Shower doesn't necessarily mean forgoing a bathtub, but it might be the better option in some circumstances. Especially in more efficient spaces, a single large shower can actually take up less space than a traditional tub and shower combination. Extra space in your Owner's Bath means more freedom to add in other luxury features such as dual vanities, a private toilet or additional storage space.
More Energy Efficient
When you decide on a Super Shower, you are not only treating yourself, but you're also treating the environment by potentially reducing both your water and energy consumption. Tubs can require anywhere from 50 to 100 gallons of water to fill. Alternatively, a 10-minute shower consumes 25 gallons with a standard showerhead flow rate, according to information from the United States Environmental Protection Agency.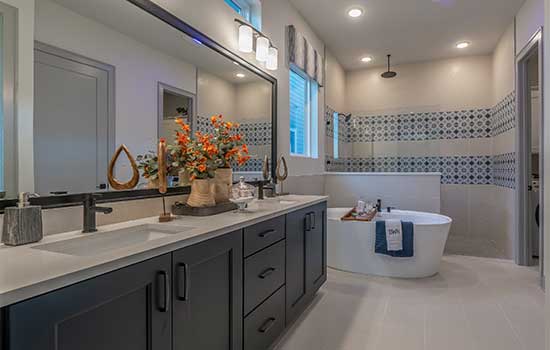 The Sky's the Limit
Depending on your design style, you can find the luxury bathroom and Super Shower that's best fitted for you and your family. If you choose to forego a tub, you might want to consider adding in a seat for an inviting, relaxing spot to unwind at the end of the day. Another customization could include a walk-in entrance with frame-free glass or skipping the door altogether.
Improve Resale Chances
Although many Homeowners are hesitant to remove bathtubs for fear of impacting their resale appeal, the latest trends show that a modern en suite with a spa-like shower can improve your resale value.
While the decision to upgrade your Owner's Bath to a Super Shower is up to you, you can see why this trend is continuing to gain popularity. At David Weekley Homes, we are here to help you design the Super Shower of your dreams. Get started by taking a look at our swoon-worthy Bathroom Inspiration Pinterest board today.
---
Recommended
---
Stay In Touch
---
Get the Latest from David Weekley Homes
Sign up to receive our email updates, and be the first to know what's happening in your area!
×
Get the Latest from David Weekley Homes
Sign up for our Newsletter and you'll discover..
Current Sales and Promotions
DIY Projects
Home Design Trends
Maintenance Advice
Seasonal Tips
Homebuyer Incentives
---