New, Innovative Home Designs in Dallas, Texas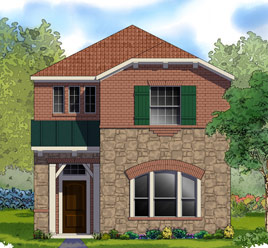 When it comes to buying a new home, we know thatthere are several elements that go into making the purchase! From community location, homesite size, floor plan and curb appeal – all of these are crucial to finding your dream home! But, when you've found the right builder, all of these elements just fall into place. It's important that your new home builder is at the forefront of home design trends, incorporates energy-efficient building techniques and knows how to build a home to fit the way you and your family live!
And, just like the ever-changing fashion trends, new home designs are constantly evolving. Here, we show a floor plan and exterior of a Patio Home that incorporates some innovative styling and design elements such as:
Heavy masonry (brick and stone) with wood detailing
Use of Spanish, eclectic architecture – low-pitched tile roofs, quaint side courtyards, balconies, secondary metal roofs, decorative wrought iron and arched entryways
Narrow floor plans with a maximum width of 25'
Alley-loaded garages, that help create a stunning streetscape
Lots of volume space created through unique design features such as: a 2-story Family Room, oversized garage, ample storage, a drop zone with built-in workspace open to entertaining areas and concealed behind a ½ wall, and a utility room located off the Owner's Retreat along with Retreat space
Take a tour of the McNeily, David Weekley's model home in the Dallas community of the Villas of Escena
Stay tuned for more new home design trends and tips from David Weekley Homes.