Multi Generational Living Trends
Current housing trends from Pew Research Center confirm that buyers are looking for homes that will accommodate more than just one single family. Shifting demographics, longer lifespans, economic climate and increasing ethnic diversity are all contributing factors to the rise of multigenerational households throughout the country.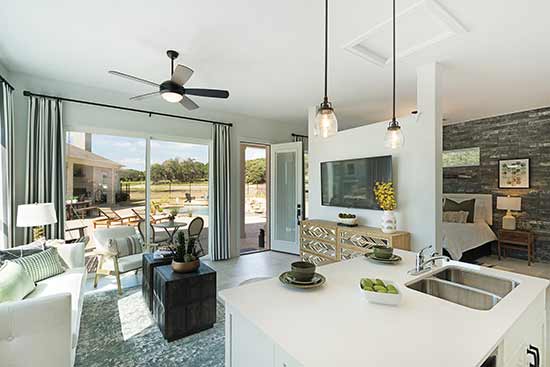 Roommate Wanted
To be clear: it's not just millennials returning back home after college that accounts for this new housing trend!
Research by the nonprofit organization Generations United confirms retired, older generations are moving in with their children for care assistance or to provide childcare for their grandchildren and great grandchildren. Regardless of the situation, according to Pew Research Center, 60.6 million people, or 19 percent of the U.S. population, live in multigenerational homes, including 26.9 million three-generation households.
Multigenerational households cross over to all racial and ethnic groups, with Asian families having the highest percentage of 26 to 28 percent, according to Pew Research Center.
Floor Plan = Your Plan
The shift toward multigenerational living is creating a demand for architects and home builders to offer functional, yet separate living spaces, and the industry has answered the call. One of the most popular "add-on" features is a casita, or mother-in-law suite, above the garage. With two separate entrances, kitchens, bathrooms and clearly defined living and bedroom spaces, this arrangement provides the convenience of shared expenses and a joint location while allowing for each party's privacy.
There is also an increased presence in the market of NextGen communities, which offer a diverse range of floor plans that include a second Owner's Retreat and private kitchenette, separate from the main living space.
Won't You Be My Neighbor?
The benefits of multigenerational living make this a trend that is here to stay. In addition to it being easier to split caregiving responsibilities (for children and elderly adults) and financial advantages of shared expenses, there are other advantages that might not be as obvious. Children in multigenerational households have the opportunity to form bonds with older family members. Furthermore, studies indicate children in single-parent households that also include grandparents exhibited improved school performance.
Multigenerational living is a trend from the past that is experiencing a resurgence due to a host of benefits, and the housing industry is more than happy to shift in this direction.
---
Recommended
---
Stay In Touch
---
Get the Latest from David Weekley Homes
Sign up to receive our email updates, and be the first to know what's happening in your area!
×
Get the Latest from David Weekley Homes
Sign up for our Newsletter and you'll discover..
Current Sales and Promotions
DIY Projects
Home Design Trends
Maintenance Advice
Seasonal Tips
Homebuyer Incentives
---