Go with the Flow... of Traffic
Is your home designed with you in mind? Do the main rooms in your home have multiple ways to enter and exit? In other words, does your home's Traffic Patterns – how you move through your home – match your family's day-to-day living? No matter the size and location of your home, some amount of space should be devoted to high traffic areas, to avoid wasting square footage.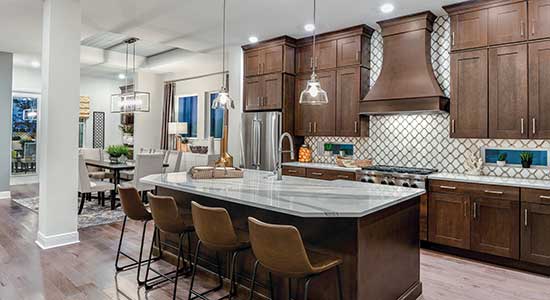 Movement Interrupted
Traffic Patterns are just one component of the David Weekley Homes LifeDesign℠ concept. Our designs feature Traffic Patterns that don't interfere with the intended use of the room. Instead of hallways, David Weekley floor plans use other rooms as passageways. This concept makes rooms seem larger and improves Sight Lines.
And, when it comes to the kitchen – the heart of the home – we don't settle for just one-way in. The more ways to enter the kitchen, the better! A good rule of thumb is having at least three ways into the kitchen at a minimum.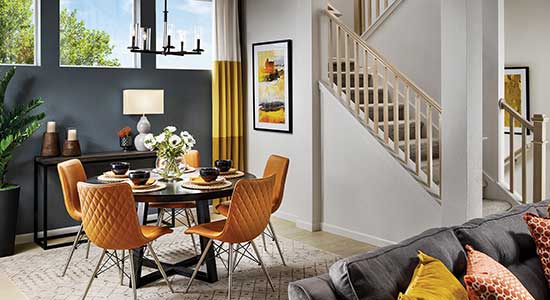 From Room to Room with Ease
The right traffic flow can improve the energy of your home and the look and feel of your favorite rooms. If you're planning to build your dream home, take into account a full day's activity so that you can see exactly where to expect the lightest and heaviest traffic. Once you realize how your family travels through a room, you can also decide how and where to place furniture and if the floor plan is designed with you in mind.
While we love the thought of you moving into a new David Weekley home, we also take special pride in how easily you'll move through it. We consider good traffic patterns a fundamental element of our designs and another way your new home lives as good as it looks.
---
Recommended
---
Stay In Touch
---
Get the Latest from David Weekley Homes
Sign up to receive our email updates, and be the first to know what's happening in your area!
×
Get the Latest from David Weekley Homes
Sign up for our Newsletter and you'll discover..
Current Sales and Promotions
DIY Projects
Home Design Trends
Maintenance Advice
Seasonal Tips
Homebuyer Incentives
---