Design Details for Holiday Dining
The holidays will be here before you know it, and that means sit-down meals with the family. Although it's not yet time to start planning, it's never too early to begin thinking about ways to set a beautiful table. After all, it's the small details that help set the mood for a wonderful meal.
Start with the Foundation
Cut a thick piece of heavy cotton or felt to fit the size of your table top to help buffer the noise of clattering silverware. Add decorative linens as an opportunity to enhance your holiday decor. Here's a quick design tip. Be sure that your table cloth hangs down approximately eight to 16 inches over the edge of the table.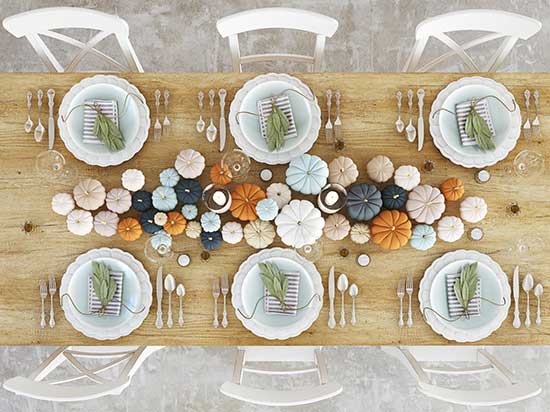 Texture and Layers
Adding color and texture to your table is another layer to designing a beautiful table. Achieve this look by:
Adding chargers, which are oversized decorative plates, in a variety of materials and colors, including straw, pewter, gold, china and more
Opting for small flower arrangements across the table create a bigger impact without obstructing the view across the table
The Dish on Dishes
Here are a few table setting basics that are ideal for any occasion:
Placing silverware one-half inch from the edge of the table
Putting forks to the left of the plate, knives on the right
Positioning a water glass just above the knife, with wine glasses to the left
Arranging silverware in order it will be used – from the outside in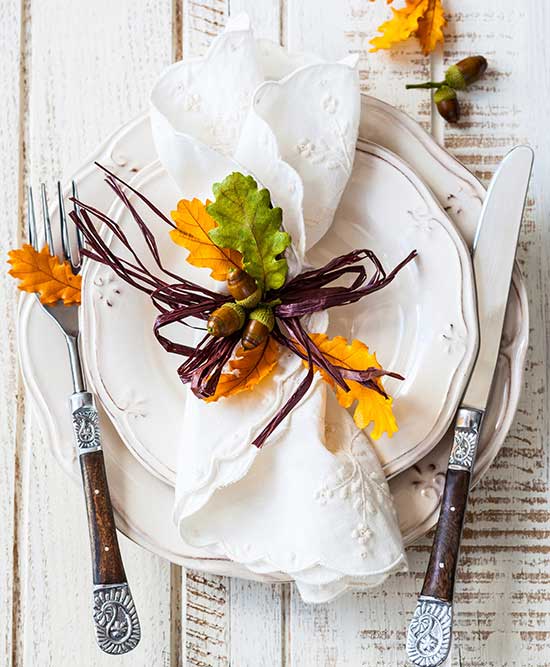 Bring in the Fold
A beautifully folded napkin will make an elegant statement. A variety of folding techniques can be found online, but if intricate bends and folds aren't your forte, consider these other options:
Placing napkins on the plate or inside the largest glass
Using colorful napkin rings or create your own using ribbon
Hitting the right holiday note by adding a decorative candy cane or pinecone
Find Your Seat
Place cards not only make it easier when you are ready to sit down for your meal, but it can also become part of your overall décor or a thoughtful gift by:
Checking out Pinterest for fun, seasonal place cards that are ready to print
Putting homemade candy in a decorative box or a jar of homemade jam with a cute name tag
Remember that the memories you create during a meal will remain long after the turkey leftovers are gone!
---