Sea of Blue in 2020
The color experts at the Pantone Color Institute® and Sherwin Williams® each revealed their selection for Color of the Year. As always, these highly anticipated announcements set the stage for all that we expect to see in homes in the coming months. Both industry color authorities are kicking off the new decade by paying homage to rich and opulent shades of dark blue.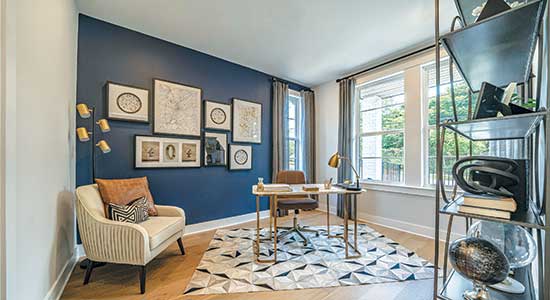 Get Swept Away
Described as a timeless and enduring blue that's suggestive of the sky at dusk, Pantone's Classic Blue is touted as a versatile color. Naval SW 6244 from Sherwin Williams is a rich navy that creates a calm and grounding environment with a nod to Art Deco influences.
Redefining a Neutral
Here are a few ideas to help you integrate this updated classic into your home – whether you want to go big and bold or you're interested in just a few, well-placed accessories. Take a break from the popular neutral of gray or all-white décor and usher in the new year with a bit of change that includes this wonderful neutral by: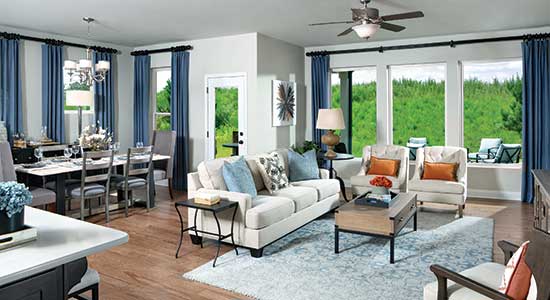 Adding an eye-catching accent wall in a bedroom or living space or a touch of sophistication with a blue study
Sprucing up a bathroom with a blue painted vanity
Pairing kitchen cabinetry in this primary color with luxurious black and white countertops and accents or light fixtures in striking metallics
Creating a distinct space in an open-concept design by adding a textured area rug in the Family Room
Going bold with blue accents like vases, blankets, kitchenware and pillows to brighten a room
Warming leather tones and luxe finishes like marble to add a high-end look
Introducing blue with shades of green for a down-to-earth presence and grounding effect
Integrating nautical décor and rattan for a coastal feel
Evoking a classic style with blue walls, white trim and traditional furnishings
Adding shades or touches of dark blue in your home will instantly update any space with a fresh splash of color – and the best part is that it works with any style.
---