Matte Black Finishes Outshine in 2020
The last few years have seen chrome, brushed nickel, oil-rubbed bronze and even a comeback from brass as the finishing touch on lighting fixtures, cabinet hardware and faucets. However, 2020 is taking it in a whole new direction with the classic look of matte black.
Keep reading for inspiring ways to add this hot new look to your kitchen or bathroom – and the best news – it works with any design style.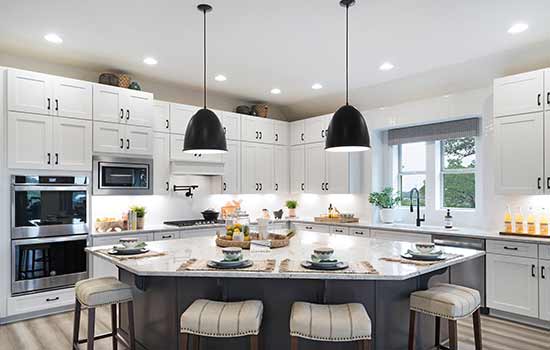 Go Bold in Your Home
You may be thinking black is better suited for modern spaces, but this velvety, graphic silhouette flawlessly straddles both the classic and edgy look – depending on the style of plumbing fixtures, cabinet hardware and lighting you select. Think of matte black as a staple for your home "wardrobe" whose chameleon-like qualities allow it to pair with anything and everything.
"We're seeing a trend toward light, bright spaces with black accents to create contrast that's very popular," said Jessica Pierce, Lead Design Consultant with David Weekley Homes in Austin. "Black plumbing fixtures, door and cabinet hardware, lighting and even tile, is helping to create this unique look."
Stir it Up
In the kitchen, white upper cabinetry looks gorgeous next to black lower cabinets finished with a simple black cabinet pull. This combination makes a bold statement compared to a chrome handle that might fade into the background.
Take it a step further with a black faucet that accentuates the subtle shades of veining that can be found in many granite or quartz countertops. While shinier finishes tend to reflect the light of its surroundings, black focuses the attention on the unique characteristics of this kitchen workhorse. Top off the space (literally) with a beautiful statement chandelier or pendant lighting in matte black to pull it all together.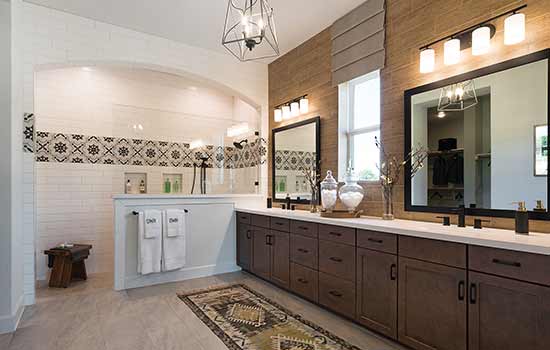 Lavish in Luxury
When it comes to adding this ultra-luxe style to your bathroom, a black showerhead adds a striking graphic element against white subway tile punctuated by dark grout for those loving streamlined and minimalistic looks. Or, opt for a subdued stone finish for a simple look or a fun, printed tile to ramp up the drama. Another huge plus is that the finish doesn't show water spots or fingerprints and it's easy to clean.
If you're looking for a rich look that adds more color to your space, consider rich, saturated hues like a deep blue or rich purple paired with a sleek black faucet and complete the look with floor-to-ceiling geometric-shaped tile behind the vanity. For a softer look, paint the walls a neutral pink and incorporate a sophisticated matte black chandelier for the ultimate glam space.
Today's look is all about an eclectic appearance and feel. And, since matte black is neither warm or cool, it works well with many other finishes. So, go ahead and go bold in 2020 with a fun addition of this high-contrast look in your home.
---