Home Offices that Work
Whether you work from home or just need a place for the family computer, the home office has become a "must-have." With these simple home office design tips, you can create the ideal office anywhere in your home.
Keep it Neutral
The best office design is a neutral one – in reference to the walls, of course. It's easy to add complementary colorful accessories and window treatments, but keeping the walls a neutral color adds to an open and airy feel, while also limiting the distractions!
Limit the desk clutter by utilizing decorative open and closed storage shelves or file cabinets for your books, media, file folders and other office supplies. Using an armoire or a decorative hat box for your office supplies can add that special designer touch you've been looking for to hide those everyday office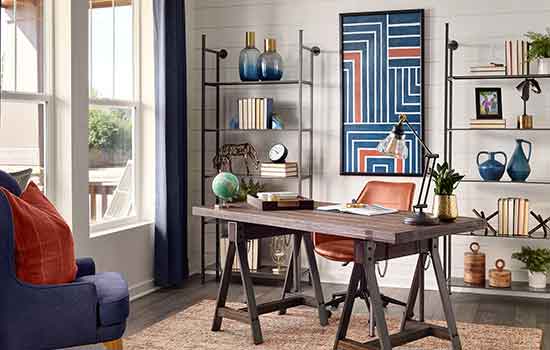 Comfort is key
You'll spend the most time in one spot in your office: sitting in a chair. Choose something sturdy, supportive and comfortable. It may seem obvious, but if the seat is not just right, your lower back will let you know. You may also decide to opt for a standing desk to enhance your work day.
Now that your desk, chair and storage areas are taken care of, it's time to accessorize your office with your favorite art or paintings, family photos, decorative clocks or plants that complement, but don't overwhelm your space.
Looking for more design tips? Check out our Helpful Homeowner Tips here.
---