The Guide to Optimizing Your Home Entryway
They say it only takes seven seconds to make a great first impression. So why not Incorporate these ideas into your home's entryway to wow your guests from the second they walk in the door.
Paint Palette
Consider the paint colors used in the rest of your home before you choose a color for your entryway. Think about the mood you want to evoke in this space. Color is quite powerful and can lift our spirits, make a room feel larger or fill you with emotion.
For example, choose red to make a contemporary, bold statement. Or, go for pink, blue or gray for a calm, refreshing and natural environment. Yellows and oranges exert happiness, energy and optimism while browns and purples evoke relaxing memories of a cozy couch and warm fire.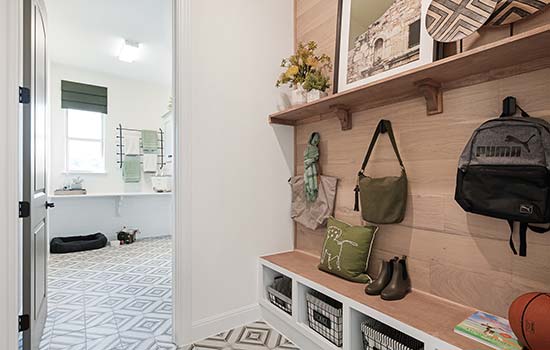 Convenience is Key
Not only should your entrance be inviting, but it should also be functional as it's a busy spot. This tends to be the place where people take off their shoes, leave their coats, hang up umbrellas, etc.
Accent tables, for instance, are an appealing statement piece as well as a convenient place to rest your keys or stow the mail. Or, if you take off your shoes as you enter the home, purchase a storage bench that can act as a place to sit while serving double duty as a spot to store your shoes.
Enhance Your Entryway
Lighting and artwork can brighten up your entrance, too! If you have higher ceilings, consider adding a statement chandelier. A table lamp will work well, especially if you are adding an accent table, and, it's an opportunity to infuse some artistic style and design.
An oversized piece of artwork or a mirror can also create a striking look. Clustered frames with pictures of family is an excellent addition to your family home, too.
With a few of these simple changes, you can elevate the look and feel of your entryway for a welcoming and functional introduction to guests.
---