Unique Accent Color Ideas
An accent wall in a statement color is definitely a great way to bring some excitement to your home. But, if you're searching for new ways to incorporate a dash of pizzazz, take a look at these unexpected possibilities you can try throughout your home.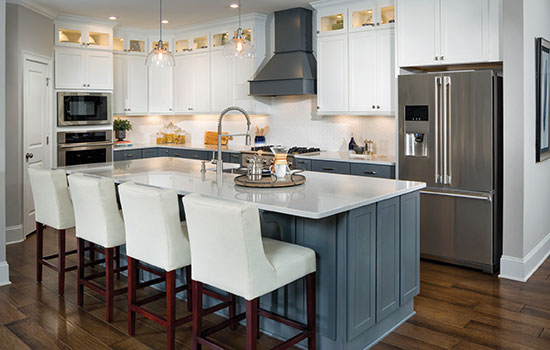 Cook up Charm in the Kitchen
The ways to freshen up your kitchen with an accent color are endless! Liven up the room by painting the outside of your cabinets in a new shade, such as cobalt blue or deep navy. But if you're a fan of surprises, you should instead paint the inside of your cabinets a bright hue, like turquoise or yellow, to see a pop of color every time you go to grab your favorite coffee mug.
An often-forgotten spot that could probably use some flair is the toe kick, the recessed space beneath your lower cabinets. Highlighting this little cove will make it an interesting focal point. Think about creating a striking contrast with white cabinets against a black toe kick. Not much effort is required to update this small area, yet it makes a drastic difference!
Make your kitchen appliances a standout with a non-neutral color, such as a warm, rustic red or a calm, mint green to evoke a hint of nostalgia. Not only will they reenergize the room, but you'll have some shiny, new gadgets to use, too!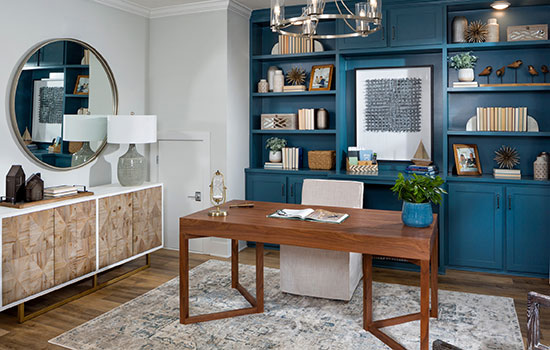 Create a Superior Interior
You can also go all-in by invigorating the interior space of your home. To do so, apply a new coat of paint to your bedroom or closet doors, storage cabinets, dressers or other wooden furnishings for a splash of color. Or, spruce up your main living areas with bold, colorful pieces of art.
If you have bookcases, add a pop of color to the inside of the shelves with paint or wallpaper. To make it more striking, group books and accent items by color.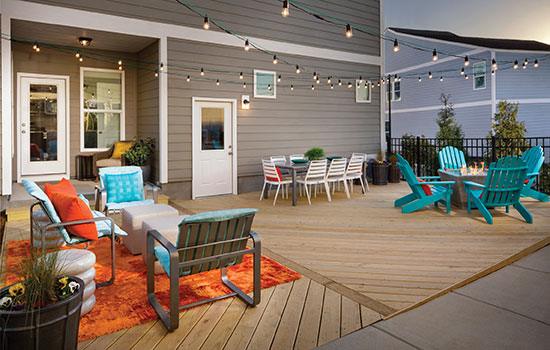 Go Outdoors
If you'll be spending more time outside enjoying the warmer weather, you may be yearning for an outdoor setting that reflects the brightness of the spring and summer seasons. Use weather-resistant paints in a hue that contrast against the greenery of your yard and apply to patio furniture, wooden planters or a select amount of wood deck or concrete patio tiles. Be sure to research for a long-lasting paint that will not wear away easily and work for your surface.
By choosing to accent areas of your home in often-unexplored ways, you'll make your home feel brand new!
---
Recommended
---
Stay In Touch
---
Get the Latest from David Weekley Homes
Sign up to receive our email updates, and be the first to know what's happening in your area!
×
Get the Latest from David Weekley Homes
Sign up for our Newsletter and you'll discover..
Current Sales and Promotions
DIY Projects
Home Design Trends
Maintenance Advice
Seasonal Tips
Homebuyer Incentives
---