Get the Hang of Vertical Gardening
Vertical gardens are growing on Homeowners as a beautiful addition to Outdoor Living Areas. Whether you're looking to add a focal point to a patio wall or you want an option that requires less time and maintenance than a traditional in-ground garden, this is an idea you're sure to really "dig."
Another benefit to this attractive choice is that it's easier on your back since you won't have to bend over to water or pull weeds. Plus, it is almost a guarantee that you'll spend less time dealing with unwanted pests, like slugs, as they won't have easy access to the plants, which will also result in healthier plants.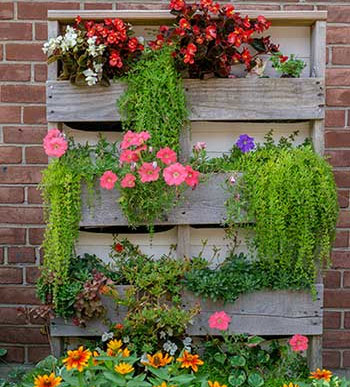 Ready to start planting the seeds for your new garden? Here's what you'll need:
Supplies:
Wood pallet
Sandpaper
Staple gun
Staples
Hammer
Nails
Landscaping paper
Potting soil
¼ inch thick medium-density fibreboard (MDF)
Circular saw or jigsaw
Plants (succulents or herbs are preferable)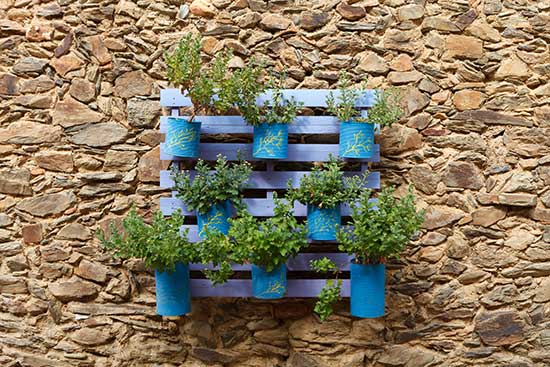 Instructions:
1. Sand down rough patches on the pallet – especially on the corners. If the pallet has no back, you'll need to cut a piece of MDF board to size and nail into place using nails. This will prevent the soil from spilling out of the back of your new wall garden.

2. Use landscaping paper and a staple gun to secure the backing along the sides, bottom and back of the pallet, create a pouch for the soil. Double up your paper to provide more support for the soil.

3. Lay the pallet on the ground and add potting soil through the slats. Don't overfill as you'll need to leave enough room for each plant.

4. Starting at the bottom of the pallet, begin planting in the open spaces between the wood. Work your way up to the top to ensure the plants are packed in tightly before moving to the next row until you reach the top.

5. You're done! Water your new garden and leave the pallet horizontal for two weeks to give the plants time to take root.

6. Stand your new garden against a wall or add hangers on the back of the pallet to hang.
Get ready to reap the rewards of a show-stopping garden that you can put together in just a few hours!
---