How to Store Holiday Lights
It seems as though jolly old St. Nick just made his list and checked it twice, and now, the holidays are almost a wrap. What goes up, must come down, including the tree, decorations and Christmas lights. Here are some tangle-free storage tips you'll appreciate when it's time to deck the halls with decorations next year.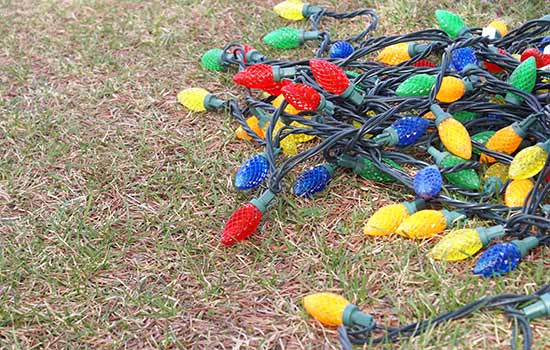 No Knots, for Reel
Purchase a Christmas light storage reel from your neighborhood hardware store and follow the directions to properly coil your lights around it. This will keep your strand of lights knot-free until you use them again. Also, they'll be easy to unwind when the time comes. You can even unspool them from the reel right onto the tree!
Do it Yourself with a Cardboard Cut-out
You can create our own storage reel with a sheet of cardboard. Cut some grooves at the top and bottom of the cardboard. Then, wedge the beginning of the light strand into the top groove and wind the string around the cardboard, wedging the end of the same strand into a groove on the opposite end of the cardboard. Continue this process until your entire strand is wrapped snugly enough so that it doesn't unravel while in storage.
Wrap your homemade reel in newspaper or tissue paper to provide cushion to keep your lights from getting broken.
It's a Wrap
Another idea is to wrap your lights in large loops by holding an end of the strand in one hand, then wrapping the strand around a bent elbow and again back into your hand. When the entire strand is wrapped, use a small piece of masking tape to secure the strand as a loop. Next year, you'll be able to unwind the strand without battling knots by simply removing the masking tape and unwrapping the strand.
Taking a few extra minutes to organize your decorations neatly will save you time and frustration the next time you use your lights. These tangle-free Christmas light storage tips will help protect against breakage and cord fraying, which is sure to make your spirits bright.
---