Updated August 9, 2023
Sell Your House Faster with These Expert Home Staging Tips
Help your home appeal to more Homebuyers and sell faster with these professional home staging tips from the experts at David Weekley Homes.
Visit any David Weekley Homes community and – chances are – you'll walk through one of our professionally decorated model homes. By highlighting the home's most outstanding features and use of space, our model homes are designed to evoke powerful emotions and inspire you to envision yourself living there.
If you are a Homeowner getting ready to make a move, you can employ some of the same methodologies when staging your own home for resale. Here are a few insider tips to help you get started.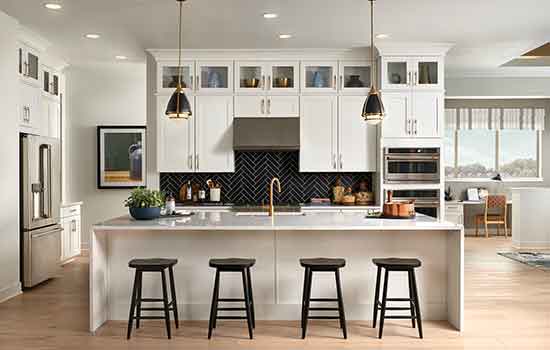 Declutter, Depersonalize and Define to Improve Your Home's Resell Value
One of the easiest mistakes when selling your home is to simply stick a for sale sign in the yard and hope for the best. By investing a little time and energy to reimagine your living spaces, you can present your home in a manner to help it sell quickly.
Homebuyers want to find a home they can imagine themselves living in, not someone else's house they feel like they're visiting. Anything that makes rooms feel messy or small should be removed.
Do the bedrooms feel small? The only things blocking your view of the floor boards should be the bed, a night stand and a dresser. Your night stand shouldn't look like your night stand, it should look like an unused night stand ready for a guest's use.
Does it feel like nothing else will fit on the kitchen countertops? Clear the countertops of all but a few choice fixtures, such as a coffee pot, fruit basket, or plate of cookies.
Homebuyers may look in your cabinets and cupboards to see how big they are, so it's important to make sure your kitchen storage spaces are clean and showcase how much room is available.
Do the gathering spaces feel busy or crowded? Remove as much furniture as is reasonable to ensure the living room feels spacious. Make sure all remaining furniture is clean, dust-free, and clear of evidence of day-to-day use. There shouldn't be much left out beyond a pleasantly scented candle or a coffee table book of classical art. Homebuyers should never have to squeeze past furniture to move through a space.
Does the primary bathroom look like you use it every day? Once you get everything sparkling clean and unquestionably hygienic, it's important to hide personal items before Homebuyers tour the home. Make sure all toothbrushes and medications are stowed away and that the trash bin is empty.
Homebuyers should feel like a guest in a place meant for them, not like they're intruding into someone else's privacy.
Pack away any framed photos and personal items that serve as reminders another family lives here. The occasional piece of art on a wall, valet, or book shelf can enhance some spaces if used sparingly.
A Few Simple Upgrades Can Help Your Home Sell
While it would be great to spruce up all the rooms of your home, the key rooms potential Homebuyers are looking at are the living room, primary bedroom and kitchen. If you have limited time or resources, place the lion's share of your efforts in those rooms to help your home make a strong first impression.
Find ways to play up and draw attention the most outstanding architectural features of your home. For example, a beautiful stone fireplace will look even better with a few well-placed candles.
Explore model home photography for inspiration and do your best to emulate looks that will appeal to a broad audience. The David Weekley Homes Pinterest is a great place to start your home staging inspiration journey.
Spruce up the furniture you'll be keeping on display. Older, worn out furniture should be removed. Consider freshening up furniture with a new throw.
Replace outdated area rugs with new ones that emphasize the home's spaciousness.
In the kitchen, consider upgrading your fixtures and accessories to make the home feel more luxurious. Updating the cabinetry can greatly increase a home's appeal, as can a new range, sink, or dishwasher.
Even small touches can make a difference, such is making sure there's bright, fresh apples and oranges in the fruit bowl.
If you're going to keep a coffee pot out, it's a good idea to have one that looks a bit higher-end and spectacularly clean. For many people, the smell of a fresh pot of coffee in the morning is the surest sign that the house they've walked into is their home.
Make sure your bedroom looks as inviting as you'd want your room at a bed and breakfast to look. Clean, white linens on a crisply-made bed will always be a crowd-pleaser.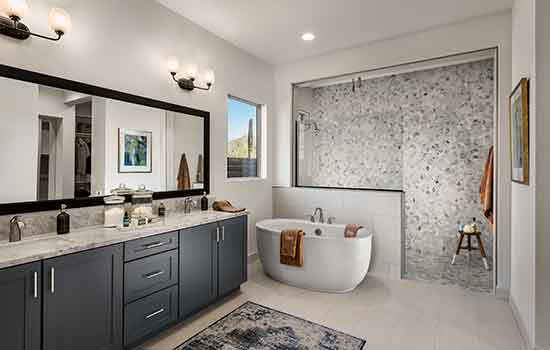 How Sunlight Will Help You Sell Your Home Faster
Our designers stage our model homes with a careful eye on allowing natural light to shine. Open windows make a space seem larger by extending the view to the outdoors.
Rearrange your furniture to provide easy-to-navigate traffic patterns and maximize the reach of natural light throughout your home.
Ensure that windows are clean inside and out. Dirty windows draw unwanted attention and can turn a great view into a reason to buy someone else's house.
Make sure the blinds are open and the curtains drawn away from the windows. Replace heavy or dated window treatments with timeless airy curtains.
Add mirrors where appropriate to help open the space and allow sunlight to reflect further into your home. Fluffy white towels in the bathrooms can catch the sunlight and enhance the home's sense of cleanliness.
Stage Your Home with Natural Touches to Create a Lasting Impression
From color schemes to décor, the natural world offers more than its fair share of inspiration that appeals to Homebuyers across the board.
Neutral walls, furniture and floors that reflect earthy tones like ivory linen, sandstone beige, slate gray and mahogany brown help create an alluring backdrop, allowing pops of color to heighten visual interest.
Live plants enhance the allure, add to the décor and help bring a space to life. A vase filled with fresh flowers can bring an inviting aroma along with the unspoken sense of a special occasion.
From cutting down on clutter to enhancing your living spaces in meaningful ways that will appeal to a broad audience of Homebuyers, we hope these tips are a game-changer in the quick sale of your current home.
If you're interested in touring one of our model homes, please fill out a contact form below to schedule a tour in one of our 19 markets.
---