Show-stopping Home Staging Tips
Visit any David Weekley Homes community and – chances are – you'll walk through one of our professionally decorated model homes. By highlighting the home's most outstanding features and use of space, our model homes are designed to evoke powerful emotions and inspire you to envision yourself living there. If you are a Homeowner getting ready to make a move, you can employ some of the same methodologies when staging your own home for resale. Here are a few insider tips to help you get started: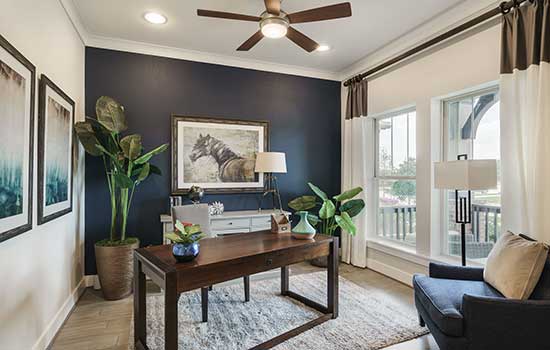 Declutter, Depersonalize and Define
One of the easiest mistakes when selling your home is to simply stick a for sale sign in the yard and hope for the best. By investing a little time and energy to reimagine your living spaces, you can present your home in a manner to help it sell quickly.
Remove unnecessary clutter that makes rooms feel messy or small – particularly in the kitchen and bathrooms.
Pack away any framed photos and personal items that serve as reminders another family lives here.
Define every room by making the use of space clear; rearrange your furniture to provide easy-to-navigate traffic patterns.
Find Your Focus
While it would be a great idea to spruce up all the rooms of your home, the key rooms potential buyers are looking at are the living room, Owner's Retreat and kitchen. Place the lion's share of your efforts in those rooms to create inviting spaces.
Find ways to play up the most outstanding architectural features. For example, a beautiful stone fireplace will look even better with a few well-placed accents on the mantle like candles or artwork.
Comb through websites for inspiration and do your best to emulate looks that will appeal to a broad audience.
Set the scene with cozy furniture in the living room. Add some new throw rugs and pillows to heighten the sense of comfort.
In the kitchen, get rid of clutter like that stack of food-splattered cookbooks or collection of rarely used small appliances. Make it a priority to clear off countertops to showcase all the amazing workspace available for creating gourmet meals
Convey a sense of luxury and tranquility in the Owner's Retreat with a well-dressed bed in soft neutral hues; if space allows, create a cozy reading nook or chair near a window.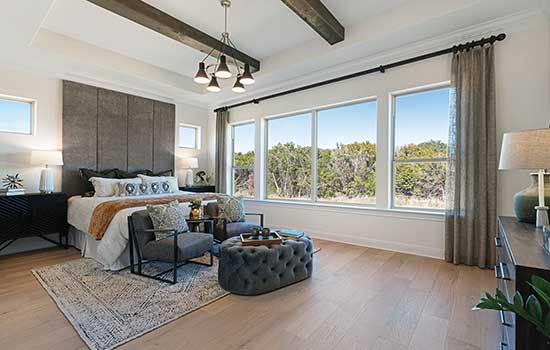 Keep it Light and Bright
A trick many designers use in homes they stage is to let the natural light in. Open windows make a space seem larger by extending the view to the outdoors.
Ensure that windows are clean inside and out. Dirty windows can really obscure a great view.
Replace heavy and/or dated window treatments with timeless airy curtains.
Add mirrors to help open the space and reflect light.
Add details in the bath with fluffy white towels, which suggest a sense of cleanliness.
Look to Mother Nature
From color schemes to décor, the natural world offers more than its fair share of inspiration that appeals to homebuyers across the board.
Neutral walls, furniture and floors that reflect earthy tones like ivory linen, sandstone beige, slate gray and mahogany brown help create an alluring backdrop, allowing pops of color to heighten visual interest.
Live plants enhance the allure, add to the décor and help bring a space to life. A vase filled with fresh flowers can bring an inviting aroma along with the unspoken sense of a special occasion.
From cutting down on clutter to enhancing your living spaces in meaningful ways that will appeal to a broad audience of home buyers, we hope these tips are a game-changer in the quick sale of your current home.
---
Recommended
---
Stay In Touch
---
Get the Latest from David Weekley Homes
Sign up to receive our email updates, and be the first to know what's happening in your area!
×
Get the Latest from David Weekley Homes
Sign up for our Newsletter and you'll discover..
Current Sales and Promotions
DIY Projects
Home Design Trends
Maintenance Advice
Seasonal Tips
Homebuyer Incentives
---