Good, Clean and Simple Solutions
Homemade cleaning solutions are becoming increasingly popular, and for a good reason! Not only is it more than likely you have these ingredients already in your pantry, but they can also save you some cash, too. Not to mention, most DIY cleaning solutions are powerful and effective using simple, organic ingredients.
So, if you're wondering how to make your own cleaners, look no further! We've put together a quick list of DIY cleaning solutions for your home.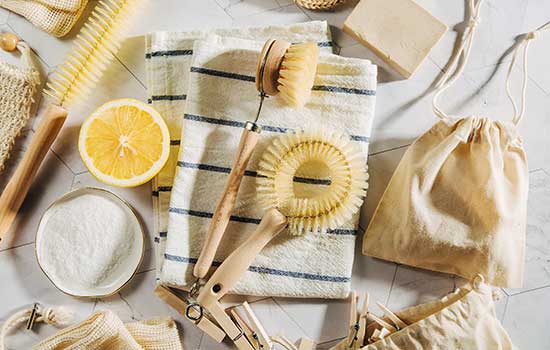 For All Intents and Purposes
We'll start things off with a good, old-fashioned all-purpose cleaner. This is a simple cleaning solution that can be used in several place within your home. From your bathrooms to the kitchen, this all-purpose cleaner is easy enough to whip up one for every room of your home.
Here's What You'll Need:
Rosemary sprigs
Lemon rind
One-part water
One-part white vinegar
In a spray bottle, combine all the listed ingredients. For maximum scent, be sure to let everything diffuse in the bottle for at least a week. Then, shake it up and you're all done! This homemade cleaning solution is great for wall smudges, freshening trash cans, and removing hard water stains on shower doors.
One thing to note about this all-purpose cleaner is that it should never be used on granite. The acidity from the lemon, which helps boost cleaning power, can etch away stone countertops.
Rock Solid Cleaners
Your countertops – whether it's in the kitchen or bathroom – get a lot of use, which means they often need a good cleaning to keep them clean and looking fresh. To help maintain the appearance and condition of your quartz or granite countertops, try out this simple cleaner.
Here's What You'll Need:
2 cups warm water
2 drops mild dish soap
The next time you need to clean your countertops, mix dish soap with warm water. That's it! Use a sponge to spread the mixture across the countertops and rinse thoroughly once you're done. Let the countertops air dry to complete the cleaning.
As a word of caution, never use homemade cleaning solutions that contain lemon, vinegar, or other acidic ingredients, as they can damage the surface.
Grease? Tell Me More, Tell Me More
Are you looking for something a little more heavy-duty to help with those caked-on grease stains that build up on stovetops? Check out this recipe for a DIY grease cleaner, perfect for the kitchen.
Here's What You'll Need:
1 gallon of water
1/2 cup sudsy ammonia
In a one-gallon container, mix water and 1/2 cup of sudsy ammonia. This type of ammonia is powerful enough to remove even the toughest grease and grime. Use this grease cleaner by dipping your sponge into the mixture and applying it to the surface. Follow by rinsing thoroughly with clean water. For caked-on grime, let the solution soak on the sruface and add more ammonia, if needed.
So, when it comes time to clean, check your pantry before heading to the store for name-brand cleaning solutions. You could save money by using readily available ingredients to clean your home. At David Weekley Homes, we're here to help provide you with solutions to keep your dream home looking its best!
---