Get Your Home Ready to Hit the Books
It's hard to believe, but it's time for kids to go back to school. Between school supply shopping, stocking up on quick snacks, and organizing schedules, this time of year can be hectic. But with a little preparation, you can give your kiddos a great space at home to complete those daily assignments.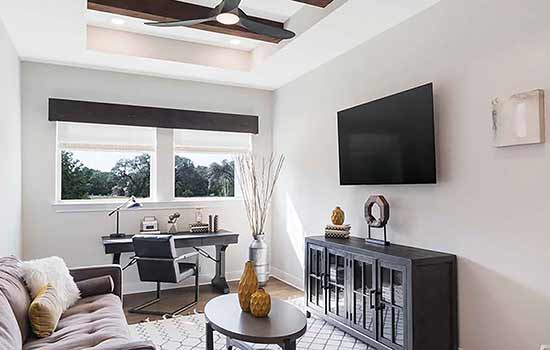 Create a Study Space
If you don't have a home office setup, or maybe it isn't the most kid-friendly zone, it's a good idea to create a designated area in your home for a study or workspace. Whether you prefer minimal decor or you tend to go all-out creating an elaborate style or theme, what's most important is ensuring your child has the right resources available.
Pay attention to the way your child concentrates best – whether it's being in a quiet, tucked away place or near more of the activities happening in the home. While the ideal area should allow them to focus, it's important to keep comfort in mind with an ergonomic workspace following these basic guidelines, including:
Waist-high work surface
Ability to rest elbows on table without hunching over
Feet flat on the floor
Rolled towel behind the back
Computer monitor 18 to 30 inches away
Anti-glare computer screen
For younger children, the kitchen or adjacent home office area can be an ideal space where parents can keep a close eye. Alternatively, for older children, more privacy might be necessary due to their need to be more focused on projects or homework.
If you are limited in space, consider building a desk in an open closet as a viable solution for your family. Be sure to include the essentials like a chair, lamp and shelving as needed.
Organize Supplies
A spacious work space is key when tackling assignments by ensuring there is ample room for supplies, books and notebooks. Make sure your child can arrange his work so that he's not drowning in a stack of papers. If he has a computer on the desk, position it off to the side to make space for pen-and-pencil work, too.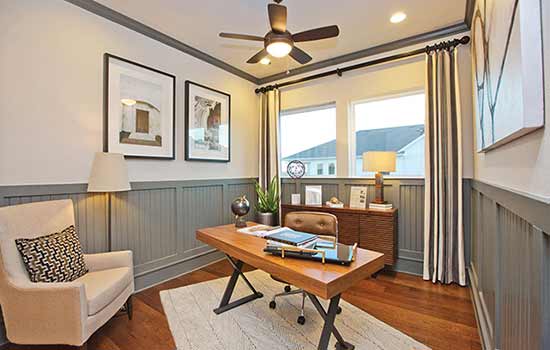 Establish a Communication Center
Most of us have some type of family calendar. Maybe it's on the fridge or in the entryway, but how about taking it one step further and developing a communication station for the entire family?
Identify an area of your home in plain sight and establish it as a communication center. Here, all the family calendar details, necessary paperwork, assignments and activities can be condensed into one area of your home. Everything can be reviewed here and marked for completion.
Your family communication center can be a pantry door, behind your front door, or an erasable chalkboard in your laundry room. Make it a design that makes sense for your family and as detailed or simple as you choose.
At David Weekley Homes, we are here to help you get organized for the school year. By following these simple steps, you can help set your family up for success and minimize homework distractions.
---
Recommended
---
Stay In Touch
---
Get the Latest from David Weekley Homes
Sign up to receive our email updates, and be the first to know what's happening in your area!
×
Get the Latest from David Weekley Homes
Sign up for our Newsletter and you'll discover..
Current Sales and Promotions
DIY Projects
Home Design Trends
Maintenance Advice
Seasonal Tips
Homebuyer Incentives
---