2021 Cabinet Trends: Go Natural in the Kitchen
Whether you are building a new home and making cabinetry selections or you're in the middle of planning a kitchen remodel, it's important to be forward-thinking with your design strategy. After all, cabinetry is a big investment and a major focal point for years to come. To help navigate your decision, we're sharing the latest information about a cabinetry trend that's sure to be a natural winner for the heart of your home in 2021.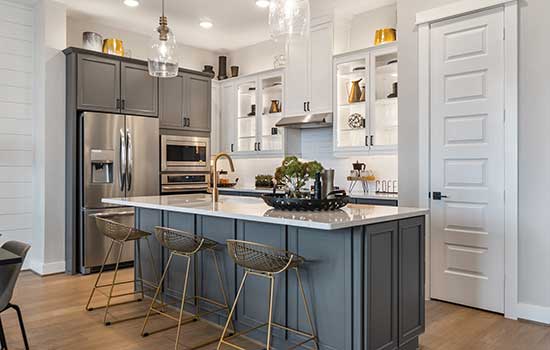 A Natural Choice
There are lots of options out there, with color reining supreme in recent years. For example, white cabinetry has been a solid option offering a classic and timeless appeal that's sure to stand the test of time. Additionally, we've also seen the growing popularity of grey or other statement-making hues like navy and black, but there's an interesting development this year. Light-colored wood cabinetry is back and it's turning heads by playing off the organic style that's a top trend right now!
Hygge characteristics are continuing to lead the way this year, with inspiration from the Danish design trends evoking a comfortable, cozy quality in the home. To achieve this charming feeling of contentment, families are bringing in light, warm wood details – often paired with solid color countertops. At the same time, Japandi/Scandinese design elements are coming onto the scene to mix dark and blonde wood tones.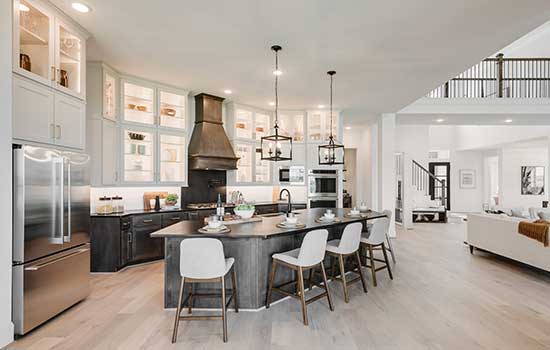 Go With the Grain
For years, light wood options were out of fashion, but they are definitely enjoying a revival. For example, subtle-grained ash is a great choice – it's paler than walnut or oak and complements warm tones in man-made stone. Another fun combination to consider is lighter-stained wood paired with black accents and solid countertops for a modern look.
While the deep cherry tones of the '90s scream out-of-date, the warmth and dark hues of walnut cabinetry are increasing in popularity. The dark tones, fine grain, and natural warmth create an environment of luxury unmatched by other materials.
Regardless of the type of wood you choose, the finish is the detail making all the difference. Designers recommend a natural wood grain with a matte finish – glossy is out of style.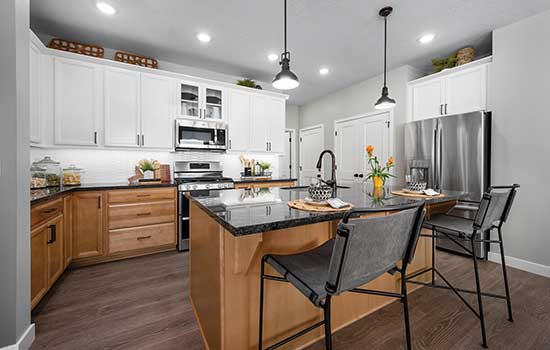 Connection to Nature
As Homeowners prioritize sustainability and a connection to nature in the home, we'll continue to see natural wood (often unstained) as a key material for cabinetry, flooring, wall designs, and even furniture. These colors create a feeling of well-being in the home by evoking safety and comfort. To further enhance this style, minimize contrast with paint colors by selecting a soft, neutral palette and add matte or brushed finishes.
Ultimately, these design styles celebrate Earth's natural beauty, bringing us back to our roots by creating a more relaxed environment and lifestyle.
Staying Ahead of the Design Curve
While you may still be drawn to the hues of painted cabinetry, don't foget that you can enjoy the best of both worlds with a combination of wood and painted cabinetry. Wood creates an organic style in your home and looks great when paired with either white or dark paint colors. It's a fresh take on the popular farmhouse trend. You can even create this look without a full renovation by sanding and painting either the top or bottom cabinets for a kitchen refresh.
David Weekley Homes will help you stay up-to-date on the latest design trends to spice up your home.
---
Recommended
---
Stay In Touch
---
Get the Latest from David Weekley Homes
Sign up to receive our email updates, and be the first to know what's happening in your area!
×
Get the Latest from David Weekley Homes
Sign up for our Newsletter and you'll discover..
Current Sales and Promotions
DIY Projects
Home Design Trends
Maintenance Advice
Seasonal Tips
Homebuyer Incentives
---