What's New for Home Décor in 2021?
The Fall High Point Market in North Carolina once again delivered tons of ideas, predictions and insight into what we can expect in 2021 in terms of home décor styles. While there are lots of design details that are a standout, this year's overall trend revolved around creating a nesting environment by incorporating natural finishes, textiles, lively colors and hand-crafted looks. It's no surprise that we all live busy lives and people want their home to be a quiet respite to relax. Keep reading to learn about a few elements you may want to consider adding in your home.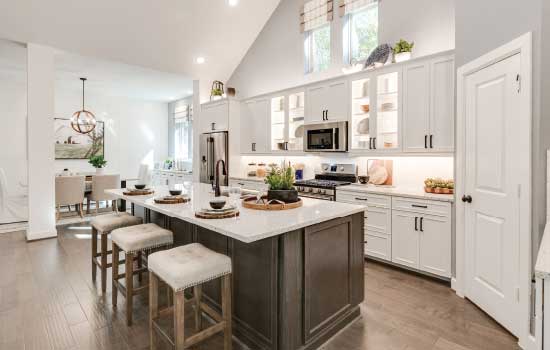 Go Natural
We're seeing a return to natural looks in both wood finishes and the use of natural textures. Whether you're looking to bring the outdoors in or update your outdoor space, woven materials like jute, bamboo, rattan and burlap add texture while seamlessly blurring the distinction between the inside of your home and your Outdoor Living Area. Incorporating woven products instantly brings a natural vibe to any space. You can add these new looks by:
Updating your Family Room with a traditional armchair that combines an unexpected element like a rattan back
Making your space visually larger with mirrors that feature textural details on the frame
Installing woven light fixtures above the dining room table is a show-stopping accent
Using area rugs with unique shapes and raised patterned details in the design for a surface where texture reigns supreme
Choosing accent tables in warm, natural wood finishes like maple or hickory
Add Joy with Color
Vibrant shades of color are being added to furniture, accents and artwork to create bright and welcoming spaces, while keeping the "base" of your space (aka the walls and floors) a neutral hue. Go all in with some unexpected and bold color choices in a variety of ways, including:
Starting your day by waking up to a pink tufted headboard
Cozying up in a rich eggplant purple velvet armchair
Enhancing your accent choices with a few well-placed colorful pieces such as a bright orange vase or geometric-shaped lamp base in a bold green
Bold isn't the only way to go, as warmer neutrals are back in the spotlight, too. Think ivory, off-whites, tinted greys and tangible beige as a new option from the cool grays and light blues that have been so popular. These new neutrals are being jazzed up with decorative details like statement hardware with brass.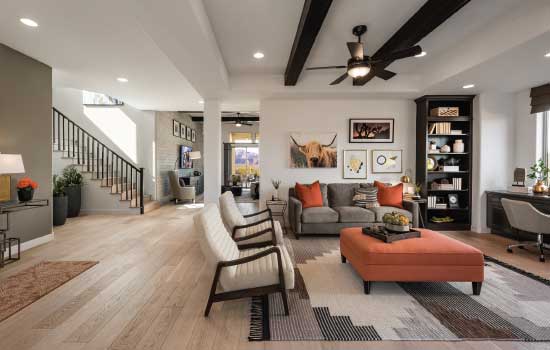 Soften the Edges
Furniture silhouettes are seeing some changes, too, by showcasing clean lines and rounded corners. This is a sure-fire way to take your style back in time with an updated minimalism look that's more livable for today's lifestyle by:
Mimicking the allusion of the beauty found in nature in natural state with sinuous curves
Showcasing rich colors and textures for added interest to this vintage-inspired design
Inspired by Sculpture
Sculptural pieces are making their way from your garden and patio to your interiors. Reminiscent of an old English manor or a Mediterranean villa, these metal pieces with intersecting geometric lines and ornate designs are an ideal option that effortlessly fuse function and artistic form. Add this flair to your décor by:
Including swirl-back bar stools at your kitchen island
Making a memory point in your Family Room with a coffee table featuring a unique metal base and a top showcasing a raw wood edge
Not ready to tackle all of these ideas at once? It's okay, start small by adding one or two small elements to keep your home looking in style with the latest trends!
---