Load Up Your Laundry Room
Ah, laundry – one of life's constants. Unless you've given up on all clothes, sheets and towels, chances are there will almost always be a basketful ready to be washed, dried, put away and dirtied all over again. Luckily, design trends in the laundry room are moving toward creating a room that is as welcoming as it is "utility."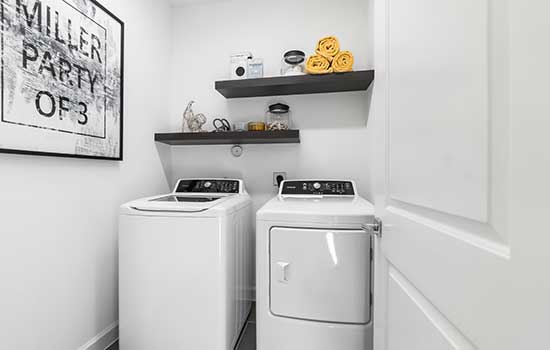 Stowaway Storage
Laundry rooms are expanding to offer ample storage ideal for keeping detergent, the iron, and other odds and ends close by. Some of the larger utility rooms even offer surprising storage alternatives, such as pull-out cabinets that hold removable laundry baskets or a shallow wall cabinet that opens to a fold-down ironing board.
Animal Kingdom
In many households, pets are a beloved member of the family, but their food bowls, litter boxes, leashes and muddy footprints can create clutter throughout the home. The utility room is ideal for a pet palace where your furry friends can be pampered with every item having its own place.
For pets (or children) that have a tendency for getting into sticky situations, a simple washing station with drain and faucet provides a convenient location to clean up before entering the rest of the home.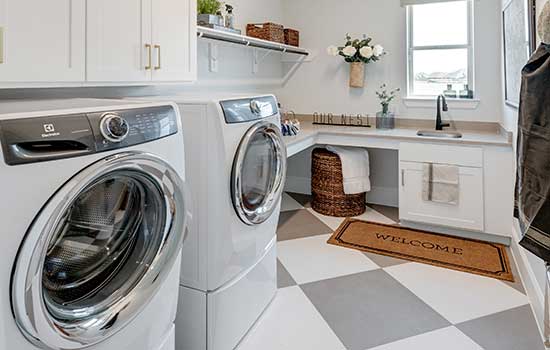 Return to the Fold
Thanks to spacious, modern laundry rooms, it's no longer necessary to haul warm piles of laundry to another room to be folded and hung. Incorporating a granite or marble counter above a front-loading washer and dryer is a trend that allows you to do every aspect of your laundry in the room, while adding a pop of color and style. For larger spaces, incorporate a separate countertop and sink that will make pre-treating a pleasure!
Smaller spaces can still provide added function with a hanging rod to maximize ceiling space. For a trendy twist on the option, embrace farmhouse style with a wooden ladder suspended horizontally from the ceiling, or take an industrial approach with metal pipes.
While the laundry pile may not stop growing, having a beautiful and utilitarian space to accomplish one of life's chores will keep things fresh.
---