The Revival of the Roaring '20s
Make way for the roaring '20s! Rich colors, lively prints and statement pieces are coming your way. From "The Great Gatsby" to the illustrious jazz clubs, art deco influence is making a big impact in modern society, just like it did in the past with its futuristic vision of the 21st century. With sophisticated boldness and timeless charm, channel the '20s throughout your home with these hot trends for the start of the new decade!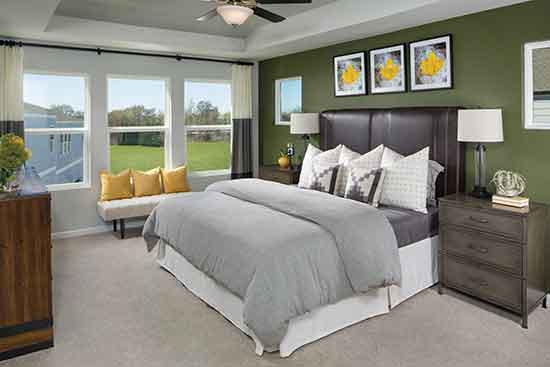 Paint the Town (or the Walls)
Paint colors go in and out of style with the seasons. Last year, we said goodbye to cool gray as the default neutral color. Now, warm tones and classic combos are the bee's knees, like Pantone's 2020 Color of the Year – Classic Blue. One key to incorporating the roaring '20s in home décor is using striking, rich colors, according to our Indianapolis Design Consultant Kim Cantou.
"I'm seeing Homeowners step outside the box with lush colors like bold blues, dark green hues and smoky grays," Cantou said. "They're incorporating these colors on walls, kitchen cabinets and backsplash."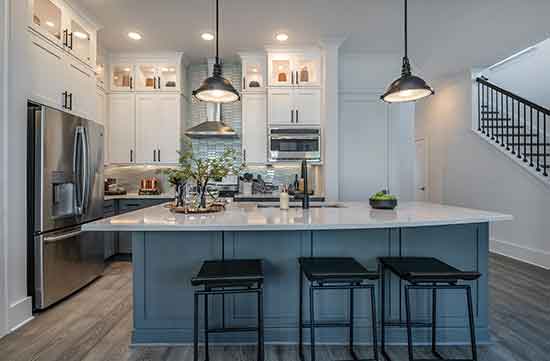 Not Your Mother's Kitchen
While all-white cabinets and countertops will always be a classic choice, more personalized and vibrant kitchens are trending in 2020. Welcome daring color choices and warm accents that add sophistication and visual contrast – it's the cat's meow!
"Statement-making backsplashes and cabinets are on the rise, so many buyers are going bold with eye-catching colors and patterns," Cantou said. "One of our most popular cabinet colors right now is blue. I am even seeing Homebuyers incorporate blue into their kitchen islands."
One-of-a-Kind Statement Pieces
Art deco style has also reappeared in one-off statement pieces you can add for extra flair. Intricately detailed iron staircase railings and glamorous fireplaces are trending. Or for a simple addition, incorporate Art Nouveau-inspired framed prints or an elegant chandelier that would make Jay Gatsby proud.
Whether it's paint, kitchen finishes or signature pieces, 2020 is about creating a home that is personalized and unique to you!
---
Recommended
---
Stay In Touch
---
Get the Latest from David Weekley Homes
Sign up to receive our email updates, and be the first to know what's happening in your area!
×
Get the Latest from David Weekley Homes
Sign up for our Newsletter and you'll discover..
Current Sales and Promotions
DIY Projects
Home Design Trends
Maintenance Advice
Seasonal Tips
Homebuyer Incentives
---