Published July 19, 2023
A Guide to Living in Atlanta, GA
This guide to living in Atlanta offers a great place to start if you're relocating to this beautiful Georgia city.
Atlanta Overview
Are you thinking about moving to Atlanta? This thriving metropolis' gleaming skylines crown the rich history, world championships, world-class dining experiences, lovely Appalachian foothill scenery, and outstanding entertainment and arts of the Hollywood of the South.
This culturally diverse city is constantly reinventing itself without losing touch with its famous Southern hospitality. The ATL is famous for its cuisine, its role in entertainment media, and its bustling business and employment scene.
Culture in Atlanta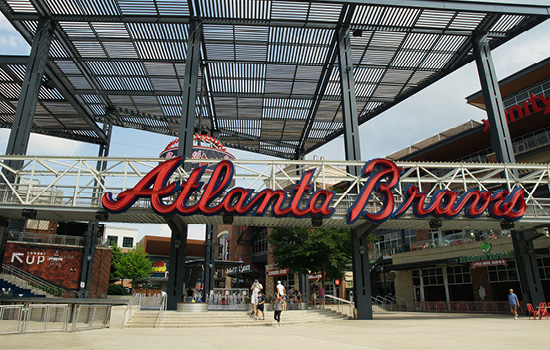 Living in Atlanta, GA, means there's always something fun to do around town! Whether you're into sports, the restaurant scene, or museums and performing arts, there's something great happening nearby.
Sports fans will find great home teams to cheer for, including the Atlanta Falcons of the National Football League, the Atlanta Hawks of the National Basketball Association, the Atlanta Dream of the Women's National Basketball Association, the Atlanta United FC of Major League Soccer, the Georgia Tech Yellow Jackets and Georgia State Panthers in the NCAA Division I, and the oldest continuously operating professional sports franchise in America, and home of Hammerin' Hank Aaron, the four-time World Series champions the Atlanta Braves of Major League Baseball. In addition, the Atlanta Motor Speedway plays host to two annual NASCAR race weekends.
Atlanta is one of the major culinary hot spots of the American Southeast. Each neighborhood has something unique to offer. In particular, Buford Highway is famous for world cuisine and specialty grocers, Buckhead is known for its upscale dining establishments and steakhouses, and Southwest Atlanta serves some of the world's finest Southern cuisine
Try the tilapia with fried green plantains and treat yourself to fig empanadas for dessert at the Venezuelan restaurant Arepa Mia. The pink Bon Ton keeps the good times rolling with exquisite Viet-Cajun specialties, such as spicy jicama and papaya salads and crab cake sandwiches. K&K Soul Food has been serving traditional Southern fare for decades, creating a comfortable place to enjoy some of the best whiting, gizzards, fat back and egg sandwiches, and oxtails in the state of Georgia.
Buckhead is the center of Atlanta's nightlife. It doubles as the uptown commercial and residential district in Atlanta, GA, and is home to some of the most popular bars, clubs and restaurants in town. You can enjoy a drink at Biltong Bar, savor Asian-inspired cocktails at Himitsu or sip your drink while enjoying live music at the Buckhead Saloon.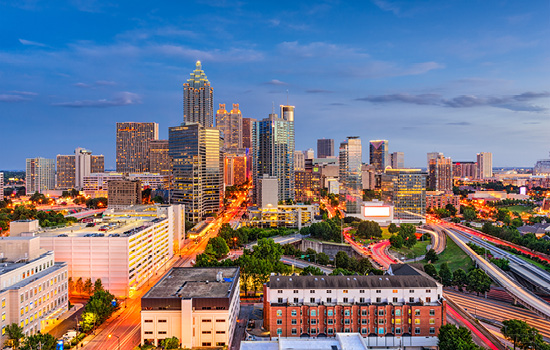 Atlanta is a major music destination, especially within the genres of hip hop, R&B and country. The Trap Music Museum celebrates the first 50 years of hip hop in the city and showcases the artistry and history of trap music pioneers and innovators.
The High Museum of Art is located on Peachtree Street in Midtown Atlanta. The High showcases extensive art collections, including more than 18,000 artworks across seven exhibition areas that include African art, American art, decorative art and design, European art, folk and self-taught art, modern and contemporary art, and photography. The Museum of Design Atlanta (MODA) is located in Midtown Atlanta at the corner of 16th Street and Peachtree Street and features an exhibition space of 6,500 square feet dedicated to the study and celebration of all designs.
Atlanta is home to all the major performing arts disciplines, with an opera company, ballet, symphony orchestra and theater. The historic Fox Theatre often hosts traveling Broadway shows, and the Woodruff Arts Center offers a variety of plays, musicals and concerts. Located in Midtown Atlanta, the Center for Puppetry Arts is the largest puppetry education and performance organization in the United States.
Outdoor Activities in Atlanta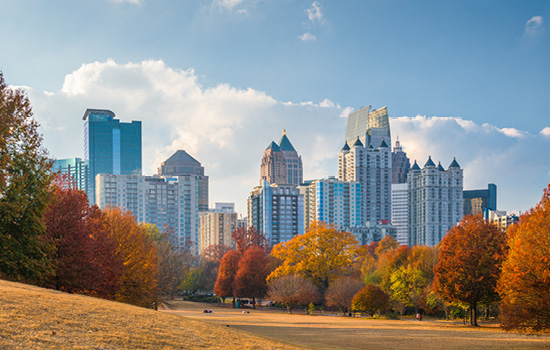 Atlanta is home to great outdoor activities and world-famous annual events. The city features more than 300 parks and 150 miles of off-road trails, offering plenty of opportunities to fully enjoy the four distinct seasons that people relocating to Atlanta tend to appreciate.
Centennial Olympic Park in Downtown Atlanta was built for the 1996 Summer Olympics and continues to host events, including concerts and a 4th of July fireworks show. Piedmont Park offers scenic space for picnics and jogging, a dog park with three acres for dogs to run off-leash, and ongoing activities, such as a weekly walking club, trivia nights, a bike club, gardening classes, figure drawing and more. A canopy-level skywalk, themed gardens and a selection of exhibitions can be found next to Piedmont Park at the Atlanta Botanical Garden.
Most Atlanta residents live within 10 minutes of public park space, and45 neighborhoods in Atlanta will be connected via trails, parks and a modern streetcar system when the Atlanta BeltLine is completed.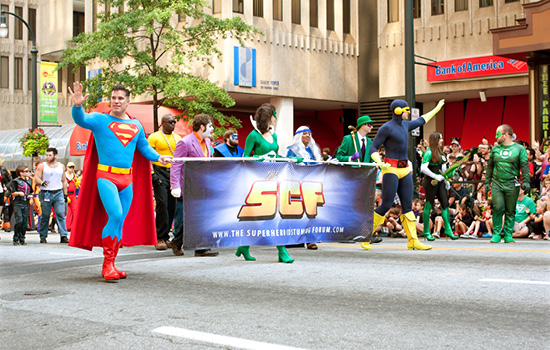 A variety of cultural and ethnic events draw locals and tourists alike to Atlanta. These celebrations include Festival Peachtree Latino, the National Black Arts Festival, the Atlanta St. Patrick's Parade, JapanFest, the Atlanta Korean Festival, the Atlanta Caribbean Carnival, the Atlanta Greek Festival, Festival of India and the Atlanta Turkish Food Festival.
In April, the Academy Award-qualifying Atlanta Film Festival showcases about 200 films and awards prizes for screenplays, narrative features, documentaries, audience favorites and other special recognitions. In September, Dragon Con lands in the city and draws tens of thousands of people from around the globe to enjoy fan culture panels, seminars and workshops. In October, the city hosts Atlanta Pride, one of America's largest and longest-running pride celebrations.
If parks and events aren't quite your thing, there are plenty of other outdoor attractions to love for those moving to Atlanta. Six Flags Over Georgia and Six Flags White Water offer thrills in the sun and great ways to cool off. Zoo Atlanta features nature exhibits of African Savanna wildlife, an amphibian and reptile complex, giant panda conservation center, and a rainforest habitat for gorillas and other animals.
Industry and Economy in Atlanta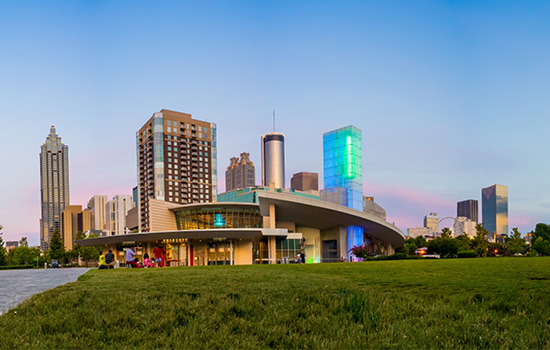 The City in a Forest is home to one of the largest economies in the world, making Atlanta a great place to relocate for those starting their careers. Atlanta is home to 15 Fortune 500 company headquarters, giving it the third-highest concentration behind only New York City and Houston.
Coca-Cola, Home Depot, Delta Air Lines, AT&T, Georgia-Pacific, Chick-fil-A, Equifax, Inspire Brands, Mercedes-Benz USA, NAPA Auto Parts, Porsche and UPS are some of the major companies with corporate headquarters in Atlanta. In addition to these headquarters, more than a thousand other multinational corporations hold offices in Atlanta in part thanks to the city's highly educated workforce.
One of Atlanta's major reinventions was becoming a top 10 location for television and motion picture production and filming, making the Atlanta metropolitan area a go-to destination for film crews. Healthcare accounts for a significant demand of the local workforce, with Emory Healthcare, Northside Hospital, Piedmont Healthcare, Wellstar Health System, Children's Healthcare of Atlanta, Centers for Disease Control and Prevention, and other organizations staffing more than 100,000 employees in the area.
Atlanta is also home to a thriving tourism industry thanks to the Georgia Aquarium, major sporting events, rich culinary scene, large-scale festivals and concentration of high-quality history museums.
New Home Communities in Atlanta
Ashbury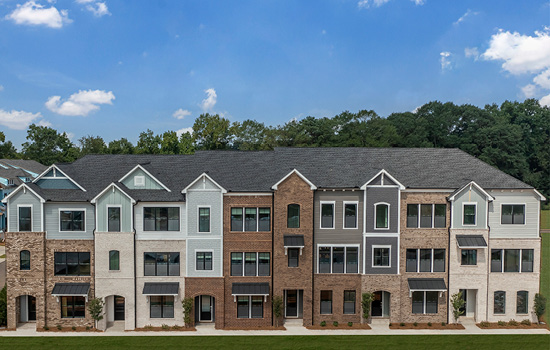 Enjoy the top-quality construction and industry-leading warranty of a Central Living by David Weekley home in the beautiful community of Ashbury. Nestled in Alpharetta, GA, Ashbury offers luxurious new townhomes with open-concept floor plans, high-end finishes and a great location close to everything you know and love. In this gated community, you'll discover the best in Design, Choice and Service from an Atlanta home builder with more than 45 years of experience and delight in amenities, such as a pool, open-air cabana and central mews.
While living in Ashbury, you'll be able to enjoy shopping at nearby Avalon and North Point Mall, dining at South Main Kitchen and Branch & Barrel, and the great outdoors at Webb Bridge Park and Big Creek Greenway.
Explore dream homes in Ashbury
Crescent Pointe at Great Sky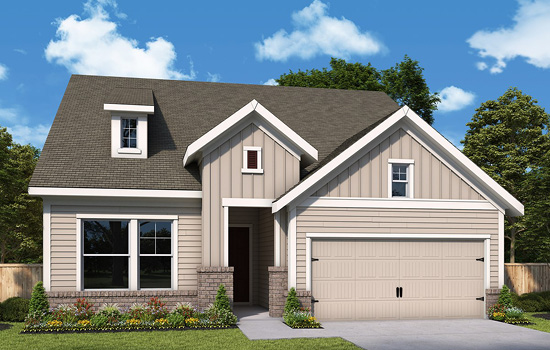 Encore by David Weekley Homes will soon begin building new homes in Crescent Pointe at Great Sky. This 55+ lifestyle master-planned community will feature our award-winning home designs and top-quality craftsmanship in a delightful Canton, GA, location. These ranch-style homes will offer an ideal balance of livability and luxury by incorporating beautifully accommodating spaces ideal for entertaining, along with current fixtures and finishes. In Crescent Pointe at Great Sky, you'll soon enjoy innovative energy efficiency and an industry-leading warranty from one of Atlanta's top home builders.
In addition to a wealth of community amenities and services, residents will enjoy proximity to local attractions, including outdoor recreation at the Chattahoochee-Oconee National Forest, performances at the historic Canton Palace Theatre, and local goods and produce at the Canton Farmers Market, exquisite dining experiences can be found nearby at Riverstone Corner Bistro, Frosty Frog Creamery and Goin' Coastal.
Build your future in Crescent Pointe at Great Sky
Ellis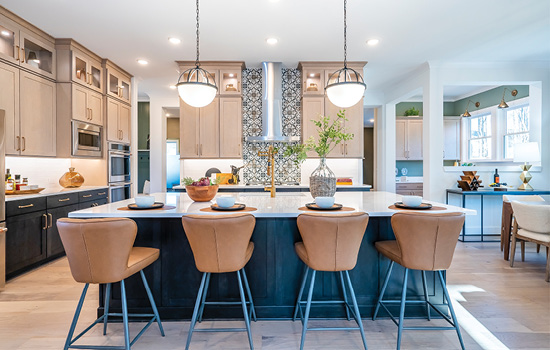 Live your dreams with an open and spacious two-story home situated on an 85-foot homesite in this beautiful Marietta, GA, community. Here, you'll enjoy the best in Design, Choice and Service from a top Atlanta home builder, as well as miles of walking trails and thousands of acres of greenspace in nearby Kennesaw Mountain National Battlefield Park.
Other nearby attractions include the Marietta Gone with the Wind Museum, Marietta Square Farmers Market, Six Flags White Water, Sope Creek Trail, museums, historic sites, and great restaurants, such as Drift Fish House & Oyster Bar, Australian Bakery Cafe and Paulee's Place II.
Start your family's next chapter in Ellis
The Retreat at Sterling on the Lake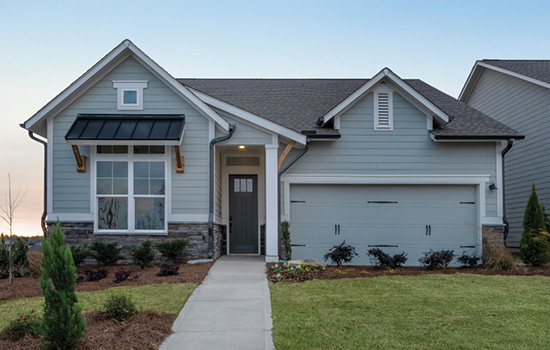 Encore by David Weekley Homes is now building new homes on manageable 48- and 58-foot homesites in a 55+ section of the master-planned community of Sterling on the Lake. These low-maintenance homes feature top-quality craftsmanship from a trusted Atlanta home builder.
In addition to the greater community's amenities and private access to The Retreat-exclusive amenities, residents can enjoy everything the lovely Flowery Branch, GA, area has to offer. Start living the lifestyle you've been dreaming of with golf at Royal Lakes Golf & Country Club, games at Meeple Madness, exciting water sports, and delicious eats at Juke N Jive Creamery, Fish Tales Lakeside Grille, Antebellum and 37 Main.
Find your new home in Sterling on the Lake
Find Your New Home in Atlanta
Start enjoying the culture, great outdoors and business opportunities of Atlanta, GA! From searching for the ideal home and signing the contract to long after move-in, the David Weekley Homes Team will keep you informed and feeling confident with every step.
Start your homebuying journey in Atlanta, GA, today with our help.
Get in touch with us to view our unique collection of new homes in Atlanta, GA, and find one close to everything there is to love in Atlanta.
---