A Guide to Living in Denver, CO
This guide to living in Denver offers a great place to start if you're relocating to this beautiful Colorado city.
Denver Overview
Denver is the capital and population center of the state of Colorado. It's famous for its stunning Front Range views of the Rocky Mountains, unparalleled winter sports, thriving economy and renowned education opportunities.
Culture in Denver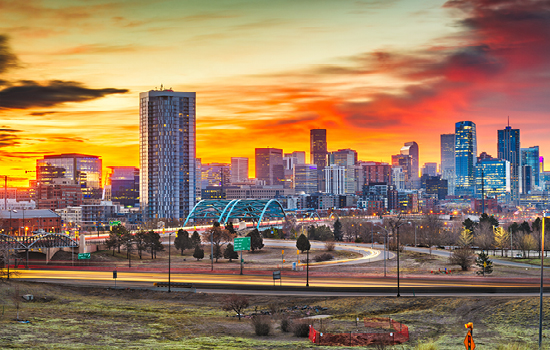 There is never a dull day in Denver. From theaters and museums to world-class restaurants and major sports, Denver offers a grand variety of pastimes and ways to make new friends.
The Denver Performing Arts Complex is one of the largest in the United States, and includes 10 performance spaces for theater, ballet, opera and concerts by popular musicians. In addition to the "Arts Complex," Denver and the surrounding area is home to a variety of smaller performing arts establishments, including the JCC Mizel Arts and Culture Center, RISE Comedy, the Town Hall Arts Center in Littleton and the Arvada Center for the Arts & Humanities. You will find that Denver's storied poetry scene offers a vibrant selection of readings and workshops thanks to the city being home to many college poetry programs and the Poetry Society of Colorado.
Residents hoping to expand their horizons will find Denver's plethora of museums especially rewarding. The Denver Art Museum creates a visually compelling impact on visitors well before they enter thanks to its unique, world-famous architecture. The Museum of Contemporary Art is just one of the museums nestled in the artsy and growing LoDo neighborhood. Students and visitors find the Denver Museum of Nature and Science particularly interesting, such as the enormous dinosaur skeletons, a full-scale replica of the Mars Exploration Rover and one of the nation's largest collections of wildlife dioramas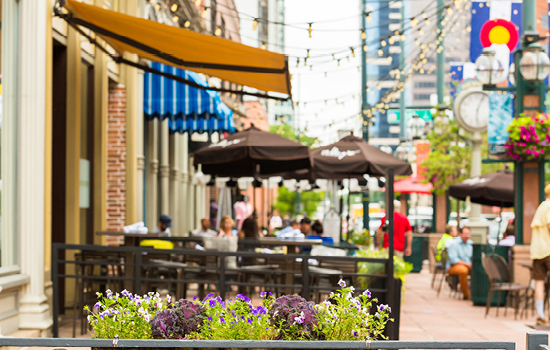 Food-lovers will find every tasty treat is within reach in the foody paradise of Denver! Of course, you'll find all your favorite chain restaurants around the corner, but the Denver dining scene truly dazzles around its local eateries and experimental diners. Super Mega Bien, El Five, Los Dos Portillos and Señor Bear are just a few of the Mexican and Latin American cuisine locations sprinkled across the city. Patio restaurants, such as Happy Camper, Potager's and Barcelona Wine Bar allow diners to pair delicious eats with Denver's seasonal weather. Fans of BBQ, Asian cuisine, pasta, vegan delicacies and farm-to-table concepts will have an easy time finding their new favorite restaurant in Denver.
Sports fans are sure to feel right-at-home in Denver. John Elway, Terrell Davis and Peyton Manning are just a few of the legendary names to grace the uniforms of the three-time Super Bowl-champion Denver Broncos. The Denver Nuggets represent the city in the National Basketball Association and have earned 11 division titles in their nearly 60 years in the league. The Colorado Rockies call Denver home and are one of the newest teams in Major League Baseball. Both the Rockies and the Nuggets are still in pursuit of their first league championships, making now a great time to become a new fan.
Additionally, Denver is represented in the NHL by the Colorado Avalanche, in the MLS by the Colorado Rapids, in the National Lacrosse League by the Colorado Mammoth, and by teams in the Pacific Rugby Premiership, USA Rugby, and by multiple teams in the U.S. Australian Football League.
Outdoor Activities in Denver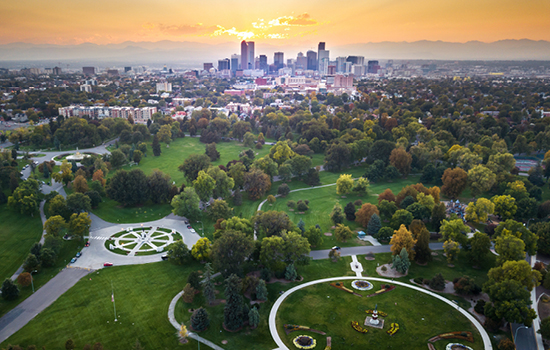 Like other cities in the state, Denver has about 300 sunny days per year. The semi-arid and high-desert climate allows for snowy winters and warm summers, though the Rocky Mountain peaks are home to year-round skiing and snowboarding.
Denver has over 200 parks, so residents can fully enjoy the city's beautiful weather. The 330-acre City Park is located east of Downtown Denver, includes the Denver Zoo and Denver Museum of Nature and Science, and rests adjacent to the City Park Gold Course. The Denver Botanic Gardens offer a study in micro-climates and is of special interest to the city's many biology students.
In addition to the parks, Denver is home to great hiking and biking trails, scenic camping and backpacking locations, and more kayaking opportunities than you can shake a paddle at.
The city hosts a variety of annual outdoor events and festivals, including the Great American Beer Festival each fall, a Cinco de Mayo celebration with over 500,000 regularly in attendance, and the Dragon Boat Festival every July.
Industry and Economy in Denver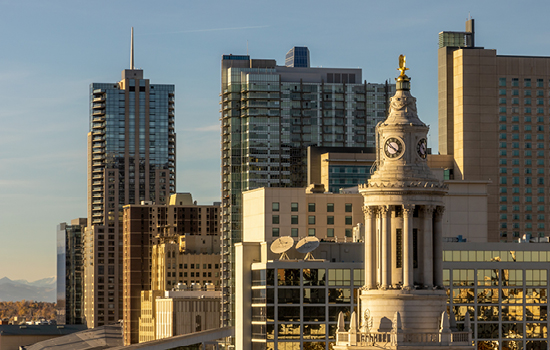 The city of Denver is home to over 700,000 residents, making it one of the top-20 cities in the United States by population. Historically, Denver served as a rich hinterland known for its ranching, farming, and mining industries. However, other sectors like tourism and hospitality have also thrived to create an economy that is strong in all aspects.
The city consistently ranks among the country's best for careers and business with the largest employers including the aerospace, telecommunications, and technology industries. The city is a manufacturing hub for spacecraft, helicopters, planes and medical instruments. And with the year-round winter sports, there are always opportunities in the tourism, leisure and hospitality industries.
In addition to the Denver's specialty careers, the city is home to roughly 200,000 government employees and over 200,000 education and health professionals, thanks in part to the 15 colleges and seminaries that call Denver home.
Communities
David Weekley Homes is currently building or will soon begin building new construction homes in several growing communities between Castle Rock and Fort Collins. In addition to enjoying our industry-leading warranty and LifeDesignSM floor plans, here are some highlights you can expect when you move into your new home in one of these beautiful Denver-area communities.
Baseline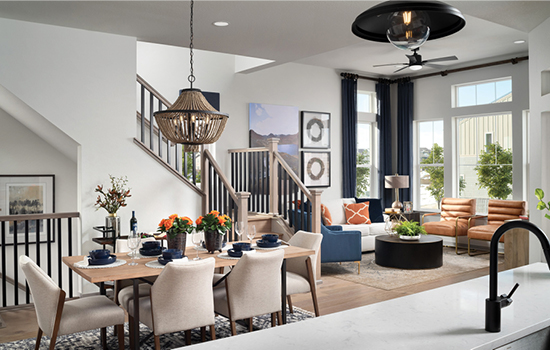 This Broomfield, CO, community is in the highly desirable area directly north of Denver and east of Boulder. A network of winding parks, trails and pathways connect the community's gathering lawn and amphitheater to playgrounds, natural areas and creek beds, all while offering remarkable views of the Rocky Mountains. Our two- and three-story single-family homes offer the best in Design, Choice and Service, making it easy to find your next chapter in style and comfort. This thriving community features an 80,000-square-foot, state-of-the-art invertebrate zoo and research center, as well as Center Street District, a synergic mix of business and attractions within the community. Students attend highly regarded Adams 12 STEM schools.
Start your dream home search in Baseline
Kinston at Centerra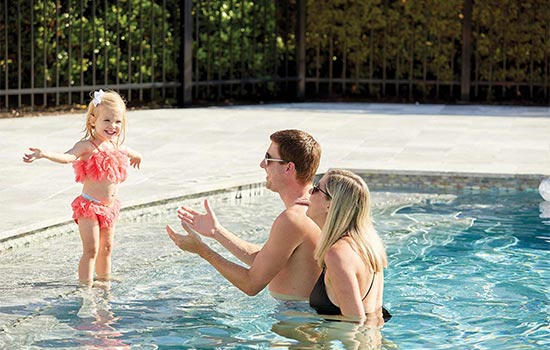 Welcome home to the beautiful Kinston at Centerra community in Loveland, CO! This North Denver-area community will feature our innovative single-family homes and townhomes, all built with a focus on livability, top-quality construction and energy efficiency. Experience the best in Design, Choice and Service, along with a calendar of events curated by Kinston's Community Life Team. This community features Kinston Commons, a central amenity campus, a future Community Center with pool and event lawn, and creative parks linked by miles of walking and biking trails. Students attend highly regarded Thompson School District schools and the whole family will enjoy nearby shopping, dining and entertainment at Promenade Shops at Centerra.
Start your family's next chapter in Kinston at Centerra
Macanta
This 1,100-acre community in beautiful Douglas County, CO, features a variety of delightful ranch-style and two-story homes built with our award-winning and energy-efficient construction. A paved, single-track trail system runs throughout the community, which also features a clubhouse with pool, indoor and outdoor gathering spaces, fitness center and attached bicycle repair shop. The lovely Castle Rock, CO, location provides easy access to miles of mountain bike trails, I-25, Downtown Denver and Denver International Airport.
Build your family's future in Macanta
Painted Prairie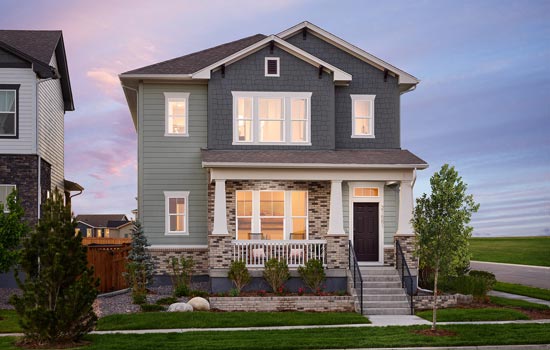 David Weekley Homes is now selling open-concept homes in the scenic and sustainable Aurora, CO, community of Painted Prairie! Community parks and miles of trails overlooking the Colorado plains and direct access to the Rocky Mountains make it easier than ever to achieve your outdoor activity and lifestyle goals. In addition to shopping and dining at the future town center, you'll find the best stores, venues and restaurants close to home with easy access to E-470, I-70 and I-225. This Denver-area community offers commuter convenience to Denver International Airport, Rocky Mountain Regional VA Medical Center, Buckley Air Force Base and Panasonic headquarters.
Find your dream home in Painted Prairie
Timnath Lakes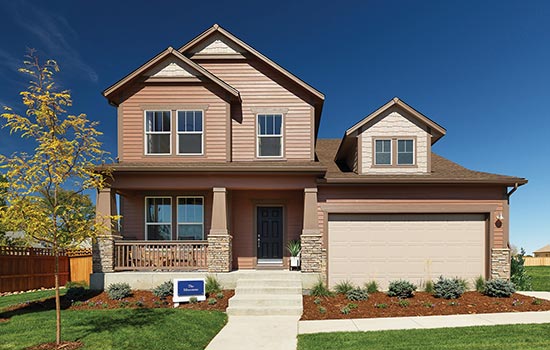 This former farming community is located on more than 490 acres near I-25, with trendy restaurants, local shopping, and major Denver-area employers like Intel and HP conveniently close to home. In this scenic community just east of Fort Collins, you'll enjoy award-winning floor plan design and top-quality craftsmanship from a top Denver home builder. Outdoor adventure awaits at the nearby Timnath, CO, regional trails and Horsetooth Reservoir's boating and fishing opportunities. Students attend schools in Poudre School District, including highly-regarded Fossil Ridge High School.
Find your new home in Timnath Lakes
Find Your New Home in Denver
Start enjoying the culture, great outdoors and business opportunities of Denver, CO! From searching for the ideal home and signing the contract, to long after move-in, the David Weekley Homes Team will keep you informed and feeling confident with every step.
Start your homebuying journey in Denver, CO, today with our help.
Get in touch with us to view our unique collection of new homes in Denver, CO, and find one close to everything there is to love in Denver.
---