A Guide to Living in Minneapolis, MN
Businesses and young professionals seeking big-city amenities with a dash of Midwestern charm have helped make Minneapolis a hot spot. If you're searching for new homes in Minneapolis, here is a detailed guide to what you can expect after moving to the Twin Cities.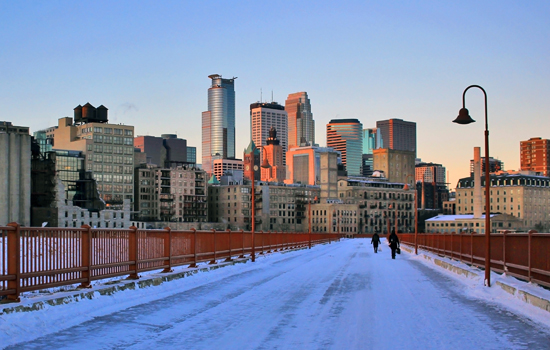 Minneapolis Overview
Are you thinking about moving to Minneapolis? The Twin Cities area includes Minneapolis proper on the west side of the Mississippi River, St. Paul on the east side, thriving business centers and more outdoor adventure opportunities than you could ever shake a hiking stick at.
This culturally diverse area expands beyond Minneapolis/St. Paul and includes a variety of smaller municipalities, such as Bloomington, Plymouth and Burnsville. The Twin Cities is famous for its water sports, exemplary employment opportunities and Mall of America®, the largest mall in the Western Hemisphere.
Minneapolis and the surrounding area experience all four seasons, meaning you'll need to be prepared for warm summers and icy and snowy winters if you're moving to the Twin Cities from a less-wintry climate. Temperatures in the winter may drop into the single digits, and an average of 55 inches of snow falls each year. Temperatures in the 70s and 80s and abundant sunlight make summer the perfect time to indulge in your love for outdoor recreation.
To move about town, you can use the Metro Transit system, which reduces the need for a personal vehicle. The Blue Line, the Red Line, and the Green Line light rail trains serve the remaining sections of Minneapolis not reached by buses. Depending on where you live in the Twin Cities, you may not need a vehicle since there are so many bikeable streets and walkable areas.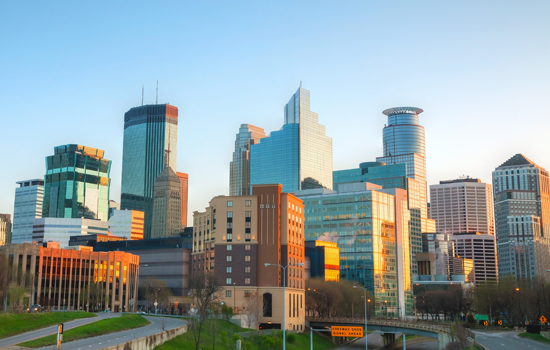 Culture in Minneapolis
Living in Minneapolis, MN, offers access to an exciting variety of activities that can enhance your day-to-day life, making it a great place to call home. Whether you're into professional sports, the foodie scene, architecture, museums and performing arts, or the great outdoors, there will be plenty to love about living in the Twin Cities.
The area offers a surprisingly robust variety of independent restaurants and cuisine experiences. Explore the Twin Cities' fine dining and gastropub scene by making reservations at Demi, The Lexington, Martina and Borough.
For those with an adventurous palate or simply looking for a family favorite, try Mama Lu's brown stew chicken at Nadia's Jamaican Kitchen, fried jerk chicken at West Indies Soul Food, a delicious crema at Emily's Lebanese Deli, pork belly and taro chips at Union Hmong Kitchen, or the traditional tegabeno at Mesob Ethiopian Restaurant.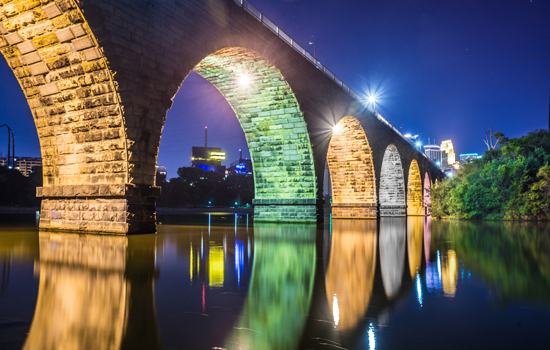 If you're hoping to cheer on your new home team after moving to the Twin Cities, you're in luck! Minneapolis/St. Paul is represented in the NFL by the Minnesota Vikings, in MLB by the Minnesota Twins, in the NBA by the Minnesota Timberwolves, in the WNBA by the four-time champion Minnesota Lynx, in the NHL by the Minnesota Wild and in MLS by the Minnesota United FC.
The Minneapolis area is a great place for those who love museums and the arts. The Minneapolis Institute of Art, Walker Art Center, Weisman Art Museum and Minnesota Museum of American Art offer impressive collections of classical and contemporary fine art. The Walker Art Center is connected to the outdoor Minneapolis Sculpture Garden, a great spot for those who enjoy a leisurely stroll surrounded by natural scenery and world-class artistry.
If you're hoping to take in a show after making the Twin Cities your new home, you'll find grand opportunities for opera, local plays and Broadway tours at the Guthrie Theater, Orpheum Theatre, Ordway Center for the Performing Arts, Park Square Theatre and the Fitzgerald Theater in Downtown St. Paul, which was the long-time home of Garrison Keillor's weekly radio variety show, "A Prairie Home Companion," and now hosts its successor series "Live From Here."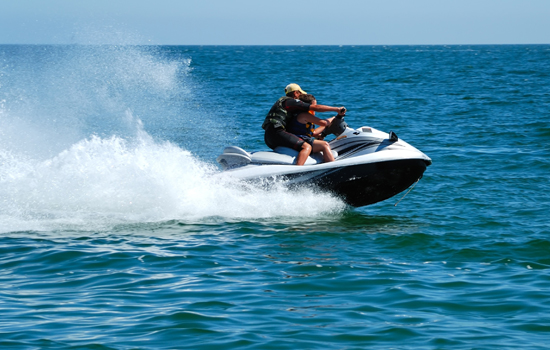 Outdoor Activities in the Twin Cities
Minneapolis is a great place to relocate if you love spending time outdoors and enjoy seasonal activities. The area is especially popular with fans of water sports, including swimming, canoeing and jet skiing, and winter sports, such as ice fishing, cross-country skiing and ice hockey.
The Chain of Lakes is especially popular for kayaking, canoeing, hiking and biking. Minnehaha Park presents scenic hiking trails and picnic spots. Residents enjoy mountain biking and cross-country skiing at Theodore Wirth Park. It will be easy to get outside and stay active with parks that provide great spaces for camping, rock climbing, backpacking, skating and more.
The lovely warm-weather seasons make it a great place for outdoor concerts and festivals. The annual Minnesota Fringe Festival celebrates the arts with a selection of musicals, improv, puppet shows, visual art and children's entertainment. Music celebrations include the Midtown Blues & Funk Fest and the Twin Cities Jazz Festival. Other area favorite events include Aquatennial, Twin Cities Pride, Grand Old Day, the Renaissance Festival, Oktoberfest and the State Fair.
Summer is a great time to take the family to Valleyfair, a 125-acre amusement park in Shakopee, Minnesota. It offers a family-friendly day trip near Minneapolis with more than 75 rides and attractions, including roller coasters, Ferris wheels, swings and Soak City: a 3.5-acre outdoor water park with body slides, speed slides and an interactive water play area.
Weekends and days off allow you to explore beyond the city and venture out into the beautiful Minnesota countryside.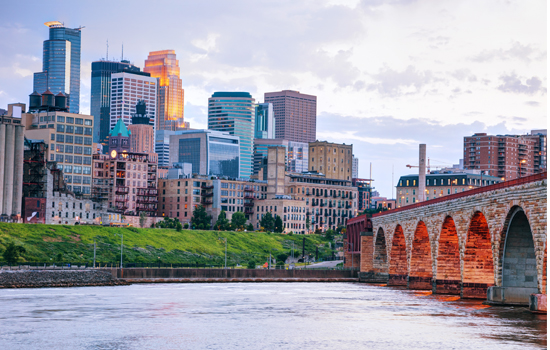 Industry and Economy in Minneapolis
The Twin Cities boasts a bustling and historic local economy anchored by major corporate headquarters and thriving local businesses. Dozens of major U.S. firms have made the Minneapolis area home to their corporate headquarters, including Cargill, UnitedHealth Group, Target, Best Buy, 3M, Radisson Hotel Group, U.S. Bancorp, General Mills, Land O'Lakes, Toro, Winnebago Industries and Sleep Number.
The Minneapolis area is the United States' 15th largest economy and the second-largest medical device manufacturing region. It is also one of the Top 5 banking centers in the country, counting Wells Fargo, U.S. Bancorp, Ameriprise Financial and RBC Wealth Management among its Top 10 places of employment.
The area is famously home to the Mayo Clinic, one of the most well-known medical institutions in the U.S. There are more than 30 colleges and universities in the greater metropolitan area, making it a great place to relocate for growing families.
With a growing footprint in the tech, healthcare, finance, retail, food/agriculture and manufacturing sectors, this diverse economy makes is a vibrant place to build a career.
New Home Communities in Minneapolis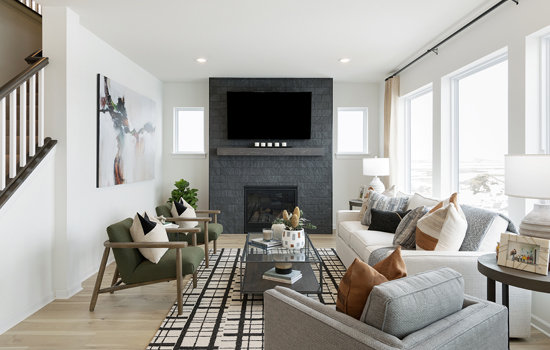 Amber Fields
New homes by David Weekley Homes are now selling in Amber Fields! Located in Rosemount, MN, this master-planned community offers stunning open-concept homes. Here, you will enjoy the best in Design, Choice and Service from one of Minneapolis' top home builders.
This Twin Cities-area community features a variety of great conveniences, such as parks, ponds, walking and jogging trails, local shopping, dining, entertainment, and a nearby golf course.
Build your future in Amber Fields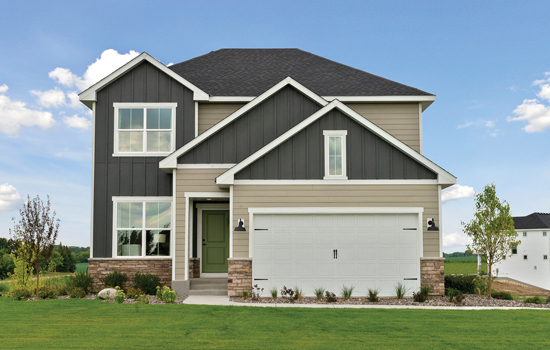 Brayburn Trails
Award-winning David Weekley homes are now available in Brayburn Trails! Nestled in Dayton along the northern boundary of the Sundance Golf Club, this stunning community consists of 256 single-family homesites surrounded by beautiful views of natural wetlands, open greenery, ponds and parks.
In Brayburn Trails, you can delight in many outdoor recreation opportunities and community amenities, including more than 75 acres of natural preserve, the Dayton Greenway Corridor Trail System that runs throughout the community and proximity to Elm Creek Park Reserve's 4,900 acres of outdoor activities, including biking, cross country skiing, tubing, fishing and more.
Start your family's next chapter in Brayburn Trails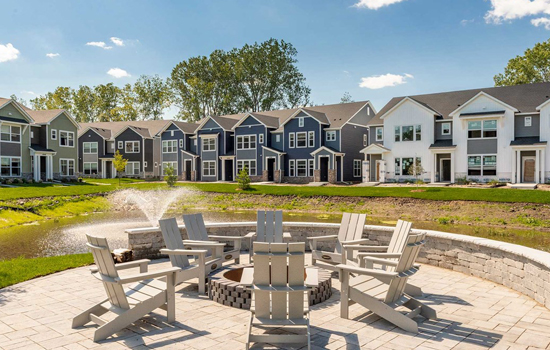 The Reserve at Twin Lakes
New townhomes from Central Living by David Weekley Homes are now selling in The Reserve at Twin Lakes! Surrounded by scenic trees and ponds in the vibrant city of Burnsville, MN, this beautiful community offers a luxurious, low-maintenance lifestyle in a prime location. Here, you'll be able to select from a variety floor plans featuring innovative, open-concept designs and distinct architecture.
In The Reserve at Twin Lakes, you'll also enjoy pond views and tree lines from select homesites, community fire pit and dog park, front and rear lawn maintenance included.
Find your new home in The Reserve at Twin Lakes
Find Your New Home in Minneapolis
Start enjoying the culture, great outdoors and business opportunities of Minneapolis, MN! From searching for the ideal home and signing the contract, to long after move-in, the David Weekley Homes Team will keep you informed and feeling confident with every step of your homebuying journey.
Get in touch with us to view our unique collection of new homes in Minneapolis, MN, and find one close to everything there is to love in the Twin Cities.
---