Bringing the Beach to Your Living Room
Make every day feel like a day at the beach by bringing in the sunshine all year round. These ideas are sure to make you feel relaxed and inspired – just like a day spent with the sand between your toes!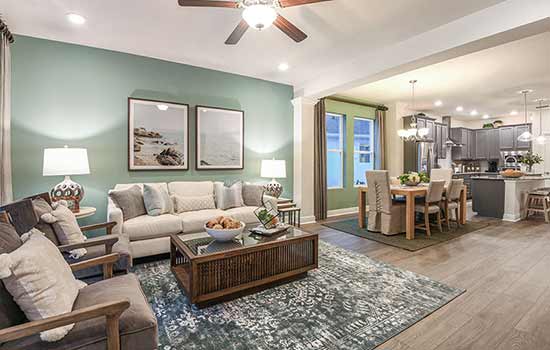 Determine Your Theme
Coastal? Beach Bum? Nautical? Beach décor can encompass a host of design themes and one may not mix well with another. The first step to creating a cohesive beach arrangement is choosing your layout. Bring in some coastal luxury with jewel-toned turquoise and sea glass greens to contrast with white-washed walls, shiplap and French doors.
Is Jimmy Buffet more your style? Bright pinks, sunshine yellow and the fresh 2017 Pantone Color of the Year, "Greenery" can create a beachfront bar environment sure to delight your next cocktail party guests.
Conversely, a Nantucket theme will add a more tranquil mood and include anchors, ship's wheels and buoys to reel in your inner captain. Navy and white ticking stripe fabrics, sheer window treatments, cozy throws and lighthouses are classic touches to bring the nautical motif to life in your home.
You Floor Me
The shore is a relaxing place to sink your toes in the sand, but inevitably, those toes track the grains inside. It's no wonder there's not a lot of wall-to-wall carpet in beach dwellings. The upkeep is simply enough to make one swear like a sailor. Channel your favorite beach house by keeping your flooring options simple.
A traditional wood floor provides a beautiful backdrop for any season. Wide planks reflect a beach-style flooring option. Keep the room elegant with a light-colored, uniform stain or go rustic with a weathered look incorporating different shades of green, blue or tawny brown.
If you're looking for low-key maintenance, tile is the option for you. Today's tile selections offer a vast array of choices and colors from mosaic beach scenes to traditional squares that come in your favorite coastal color. You can even find tile that looks like wide plank wood flooring.
Furniture Fix
Oversized comfortable couches fitted with slip covers tend to conjure up images of casual beach living. Combine them with wicker chairs and a jute rug for a relaxing shore look. Take it a step further with matchstick blinds and navy or coral accent curtains hung close to the ceiling and you can practically hear the waves crashing.
For going all in with this beachy design, antique maritime-themed furniture and accessories can easily be found on the internet. A captain's sea chest left open can show off beautiful blankets and extra throw pillows. Actual furniture rescued from retired ships are fun finds, as are the vintage accent pieces like a nautical spotlight or deep sea diver's helmet.
These ideasare sure to warm up your home and your spirits by bringing the beach to you.
---
Recommended
---
Stay In Touch
---
Get the Latest from David Weekley Homes
Sign up to receive our email updates, and be the first to know what's happening in your area!
×
Get the Latest from David Weekley Homes
Sign up for our Newsletter and you'll discover..
Current Sales and Promotions
DIY Projects
Home Design Trends
Maintenance Advice
Seasonal Tips
Homebuyer Incentives
---