In-Depth Looks at Different Design Styles: Coastal
There are a multitude of design styles to choose from when it comes to picking one for your home. As part of our design style article series, we're explaining the fundamental principles of a specific design style, such as maximalism and hygge, and providing practical tips for how to implement them. Let's take a look at coastal interior design.
Diving In
A beach-themed interior design, also known as coastal design, is recognized for its light and airy feel. This style is blissfully beautiful with a calming atmosphere.
Often confused with Hamptons or nautical interior design styles, coastal interior design is unique because of its laid-back, yet chic look. Through natural texture-rich furniture selections and thoughtfully selected neutral tones with pops of color, it embodies the atmosphere of a pleasant seaside retreat.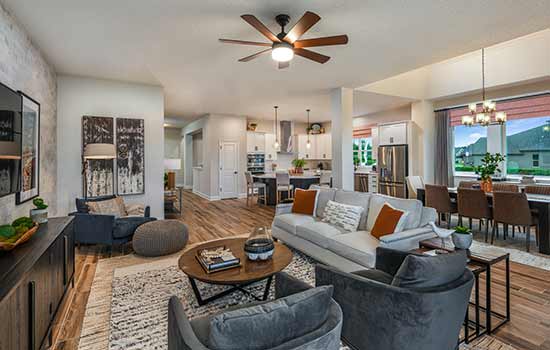 It's All in the Details
Beach interior design is known for its calming and casual décor overall. Instead of focusing on just one focal piece for a room, coastal interior design is characterized by integrating mixed colors and textures throughout.
Some signature marks of modern coastal design include:
Abundant natural light and minimal window treatments, such as wispy curtains
Wicker, rattan or weathered wood furniture along with comfortable and casual linen furniture
Layered crisp whites and neutral colors
One or two soft accent colors, such as pastel hues of blue, green or coral
Minimal amount of coastal accents like shells or glass bottles
Add Coastal Elements Without Going Overboard
Nautical décor elements can be whimsical as long as you keep them to a minimum. Think outside of the box when adding coastal elements, too. Rather than sticking to a traditional anchor, consider more natural décor like coral or driftwood.
Keepin' It Light
Part of feeling light and airy is having lots of natural light and sea breezes in your home. If sea breezes aren't possible, consider adding materials that light shines through, such as opting for natural lightweight linens over heavy silks, to create an airy feel.
"Sea" the Carpet Out
While carpet is inviting, it's not quite the look that goes with coastal design. Instead, opt for weathered wood, tile or even cork flooring. Think simple and elegant while also making it easy for you to maintain.
If you're wanting a serene and simplistic space, consider implementing coastal design into your home. With this easy, breezy style, you'll feel like you're living on island time!
---
Recommended
---
Stay In Touch
---
Get the Latest from David Weekley Homes
Sign up to receive our email updates, and be the first to know what's happening in your area!
×
Get the Latest from David Weekley Homes
Sign up for our Newsletter and you'll discover..
Current Sales and Promotions
DIY Projects
Home Design Trends
Maintenance Advice
Seasonal Tips
Homebuyer Incentives
---