Create the Ultimate Owner's Bath
While the heart of the home (the kitchen) garners a ton of attention, you shouldn't forget about those special touches to create your own personal retreat with a luxurious Owner's Retreat bath. After all, you can make every day feel like a trip to the spa with these ideas.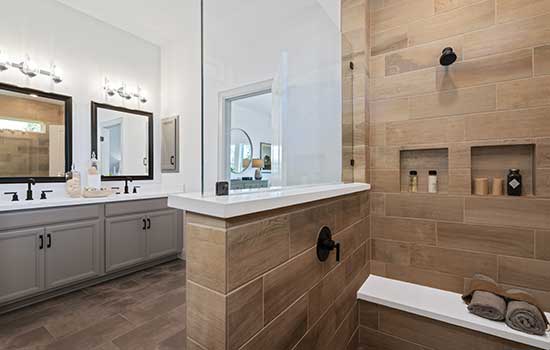 Soak Up the Luxury
Many of today's Homeowners are forsaking or removing their bathtubs in favor of Super Showers. Opting away from a tub doesn't mean you have to sacrifice on all those small touches that add a bit of indulgence. Super Showers can have just as many comfort-enhancing options as a tub – maybe even more – with multiple shower heads to create a spa-like experience with the relaxing flow of water coming from every direction.
The shower is also an opportunity to incorporate a bit of artistic flair with accent tile and intricate designs. Consider the space a blank canvas by mixing up your tile options to create an eye-catching work of art with fun patterns, texture and color.
Go Doorless
Hate spending time cleaning your glass shower door? No problem… one of the top bathroom upgrades is to skip the door and opt for a doorless shower in your owner's bath. Walk-in showers have several benefits, including taking up less space without the need for door swings or a frame. Don't forget to consider details like built-in storage nooks or a seating area in your shower, too.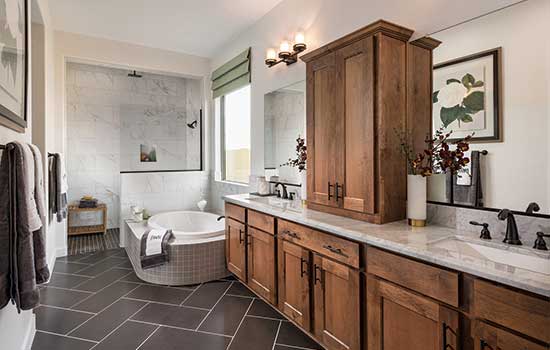 In Store for More
With storage space at a premium in the bathroom, designers are getting creative with utilizing space in new ways. One of the biggest trends is adding a vertical cabinet of drawers or shelves in between his and hers sinks. This tall feature can not only be striking when made of dark wood, its functionality is also a thing of beauty! Roll towels and place them on open shelves or use a variety of glass containers to store cotton balls, Q-tips and other daily essentials for a decorative pop.
Down the Drain
Having not one – but two- sinks in your bathroom is not only a great way to keep your morning routine moving along at warp speed, but it also gives you plenty of counter space for items like your brush, makeup and more. You can also personalize the area by selecting different mirrors in the finish – such as satin nickel – for a one-of-a-kind designer touch.
Soak up these ideas to help create a well-designed bath that's beautiful and functional!
---