The Roadmap to Building Your New Home
According to the latest data from the 2018 US Census Bureau, the average completion time for a single-family home is around eight months. However, there are many factors that can influence this time frame, including the weather. Read on to learn more about our 10 home building steps – from groundbreaking to closing – on a new David Weekley home.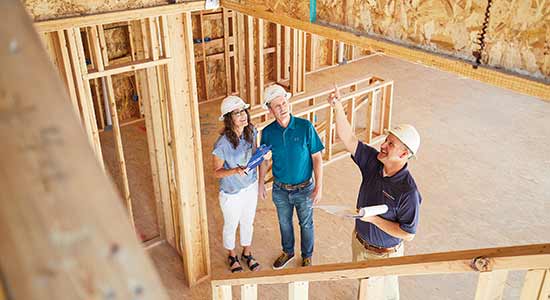 Stage 1: Foundation Complete
The homesite is prepared and the foundation is formed
In-slab plumbing is installed, and the concrete is poured
Stages 2 – 3: Frame and Shingles Complete
Exterior and interior walls, floors and roof rafters in place
Decking, flashing, shingles and windows are installed
Sheathing is applied to roof and walls, then covered in a protective barrier known as a house wrap to prevent water from leaking inside
Stages 4 – 5: Insulation and Drywall Complete
Plumbing, electrical wiring, insulation, air conditioning and heating equipment are installed
Exterior and interior wall surfaces are covered
Insulation installed in the walls
Drywall hung
Stages 6 – 8: Interior Trim, Doors Complete and Kitchen and Vanity Tops Installed
Interior doors, cabinets, moldings, built-in shelves and other carpentry completed
Countertops, flooring and wall tile placed
Plumbing and light fixtures connected
Exterior finishes progressing like walkway, driveway or brick
Stage 9: Personal Builder℠ Completes the Home
Thorough clean up to get ready for moving day
Personal Builder and others on the David Weekley Homes Team inspect home
Anything that does not meet our strict quality standards is noted and corrected
A final walk-through of your home is scheduled to familiarize yourself with all the unique features and systems
Stage 10: Accept Home
Final walk through with building Team
Construction of your home is officially complete
Cleaned and ready for Homebuyer Introduction Meeting
This timeline provides an overview of what to expect during each stage of the process. Plus, you can count on your home building Team to keep you actively informed and help you stay on top of things throughout your building journey. We even provide a personal buyer site where you can view photos of your home's progress, receive maintenance tips, research your design selections and more.
---