Get Set to Sell: Five Spaces to Showcase
So, it's happened! You've found your family's ideal next home and now it's time to prep your current home to sell. During your own home search, it's likely that you visited a model home or two that motivated and excited you. Channel some of that interior design inspiration to make your home as alluring as possible to prospective buyers. Here are several ways to highlight some of the hottest home features buyers are seeking.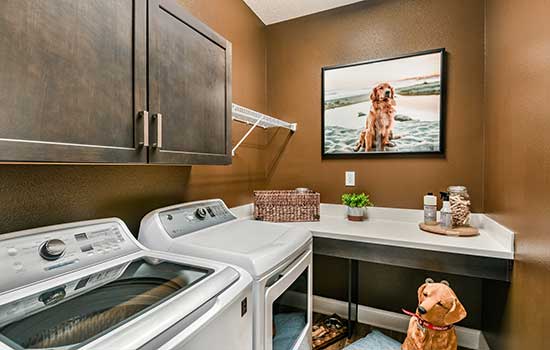 It All Comes Out in the Wash
Ninety-one percent of Homebuyers view a laundry room as an essential component of a home, according to a report from the National Association of Home Builders (NAHB). To make the most of your existing space, you will want to make sure it looks tidy and uncluttered. Consider dressing it up with an accent wall or laundry-related signage to make laundry time less of a chore. Take it a step further with a new countertop to instantly maximize efficiency when folding clothes, as well as shelving for all those laundry essentials.
If you don't currently have a room devoted to wash day, you may want to consider ways to maximize your current setup by adding shelves or opting for the pedestal base available for washers and dryers. Another space-saving idea is an over-the-door laundry board or drying racks.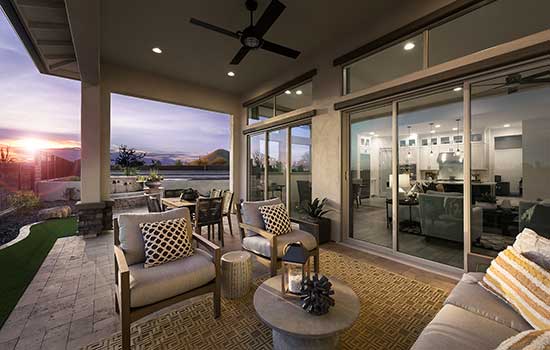 Highlight Your Outdoor Living Area
As the trend continues for Outdoor Living Areas to become an extension of the home, having a patio or deck really makes an impact with potential buyers. Remodeling Magazine's Cost vs. Value Report for 2020 indicates that you can expect to recoup up to 72% of the cost of a deck addition, and it may also be the detail that pushes a potential buyer to make an offer.
If you already have a deck or patio in place, be sure to merchandise it so it looks inviting. Invest in some plants and flowers in containers, purchase a firepit to place at center stage, make sure your throw pillows and outdoor umbrella are in excellent shape, and clear out any toys that might make it look cluttered or messy. If you have an outdoor kitchen area that's a great selling point, too, as it helps to further create the ultimate entertaining area.
Serving Up an Eat-in Kitchen
Particularly attractive to families with children, an eat-in kitchen is a great place to start and end each day – making it a must-have for many second-time buyers. After all, it's a space that will serve many functions, including where plans for the day will be discussed and stories of the day will unfold most evenings. Do your best to make it charming and comfortable with comfy barstools surrounding the central island. Use the space under the island to work for you by incorporating built-in shelving or cabinetry that can house cookbooks or keep bulky appliances from cluttering your countertops. Another idea is to add built-in banquette seating if you have a breakfast nook. This set up is a great space saver with an L-shaped restaurant-style set up and fixed-base table. And, bonus points for using the area underneath the seating for accommodating items not used daily. After all, there is never such a thing as too much storage space!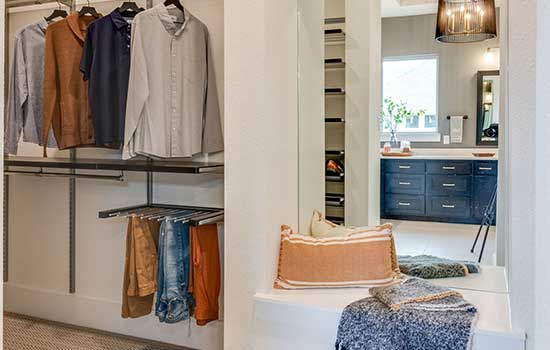 Focus on Fashionistas
According to the NAHB, both first- and second-time Homebuyers listed a walk-in closet in the Owner's Retreat among their top five desired features. Be sure to focus your energy on making it as organized and attractive as possible so buyers can envision their own wardrobe within those four walls. Built-in shelving will make this space even more tempting, and you may want to invest in matching sets of shoe and sweater boxes to organize any loose items that might add to the clutter.
If you only have a reach-in closet and a walk-in expansion is not in the cards, you may want to add a closet system – complete with shelving units and hanging rods.
Functional Home Offices
With more and more people working from home, a sophisticated study or functional home office is more important now than ever before. If you have a study, remove all the clutter and place an emphasis on updating its look to be on-trend while still flowing with the rest of your home's décor. You may even want to invest in built-in bookcases on the main wall. If you don't currently have a home office, consider converting an existing living room or bedroom – or even a closet – to serve this function.
With a few simple updates and a focus on on-trend interior design, it just might make all the difference in how quickly you can start packing those moving boxes. For even more great advice, be sure to read "Show-stopping Home Staging Tips."
---