Fundamentals for the Ultimate Kid Zone
The She Shed and Man Cave have become super popular the last few years, gaining a reputation as a sanctuary for adults. But, have you ever considered that your kiddos might need a refuge of their own from time to time? From a posh playroom for your pint-sized offspring to a magnificent media space for your more mature teens, you can create a dedicated place where they can do everything from entertaining friends to knocking out school assignments or watching TV. With a little planning and the incorporation of one or more of the following elements, you'll be well on your way to fashioning the ultimate kids' retreat.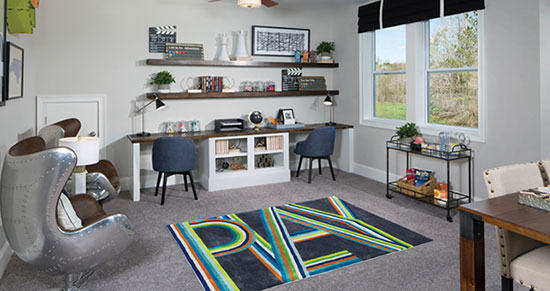 Purple, Puppies, Pirates… Oh My!
From accent colors to creative themes, look to your child's favorite things as design inspiration. For instance, if your little boy is really into sports, you could use the colors of their favorite sports team and create a locker room or stadium feel. For girly girls who are all about princesses, you might feature a mural with a far-off castle under blue skies and fluffy white clouds, a trunk filled with dress up clothes and accessories, and cozy furnishings perfect for the creation of blanket forts. Favorite cartoon or book characters, animals, hobbies and more can also lead to some truly original ideas.
Don't want to go too cutesy with a themed room? You could simply incorporate favorite colors with bold accent walls, throw pillows and rugs. As for an older child, your adolescent might appreciate being part of the design process and procurement of furniture and décor to make sure everything is on trend and in step with their own evolving tastes. It'll be excellent practice for their future college dorm room. TIP: High-performance fabrics are a must. We don't need to tell you… kids can be messy and accident-prone.
All Play and No Work?
One of the most important places to start is by determining the main function of this particular kid zone. Whether a craft room, video game space, mini movie theater or recreation room, the major aim here is a place for fun. And yet, a little work isn't necessarily a bad thing. Most experts agree that the bedroom – a place reserved for peace, quiet and sleep – is not a good place for children to do homework, and many other shared spaces of the home – like the kitchen – offer too many distractions. Instead, you may want to designate a quiet corner of the kids zone for a homework station – complete with a desk, chair, computer, printer, bookcase, good lighting and all the tools needed to complete assignments in a timely fashion. TIP: Add an accent wall coated with chalkboard paint or dry-erase board for a place to showcase their art, practice their letters or work out tricky algebra problems.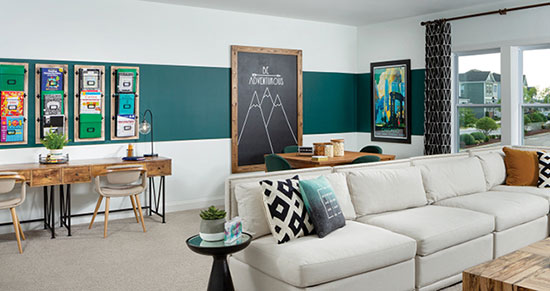 Fuel Their Fun
Unless you just love the pitter patter of feet up and down your staircase, you might want to stash some healthy snacks in the new space for snack time. A mini fridge might be a great addition where you can store juice boxes, yogurt squeezes, apple slices, baby carrots, string cheese and bottled water. A basket on the bookshelf dedicated to savory snacks like pretzels, trail mix and more is another great idea. TIP: If space allows, add a snack area with a kid-sized table and chairs to cut down on potential spills and crumbs between the cushions of the sofa.
A Place for Everything and Everything in its Place
To help keep the area uncluttered and orderly, you'll want to provide great storage solutions. For example, if you elect to go with a locker room theme for your sports fanatic – you could include some actual lockers, one for each child where they can drop their bookbags and maybe an extra or two for visiting friends. And you can never go wrong with ottomans that serve double duty as seating and storage.
Built-in bookcases or a media console with loads of cabinets and drawers could go a long way with providing lots of extra storage space to keep those video games and controllers stashed away when not in play mode. Lastly, if the room has a walk-in closet, make full use of the area by incorporating shelving to store art supplies, board games, puzzles and toys so they can be stashed away at the end of the day. TIP: Even if you don't have lots of drawers, cabinetry or a closet, you can add cute storage baskets to keep items tucked away and tidy on a bookshelf when not in use.
For even more kid zone inspiration, check out our Pinterest page with some great photos of retreat spaces in some of our David Weekley model homes throughout the nation. Take a peek below to see if one sparks an idea that might resonate with your child as contender for their ideal kid retreat.
---