Tips for Tidying Up After the Holidays
The holidays – while wonderful and magical – can take a toll. And once they're over, all the weeks of preparation – from the holiday shopping to the cooking and baking to the cleaning and decorating – are in the rearview mirror and now it's time to recover. While your body may be ready for some antacids and a few Pilates classes, your home likely requires a bit of an overhaul that goes beyond the removal of the Christmas tree and that intricate outdoor light display. The elves at David Weekley Homes have compiled a list of 5 tips to help you in your post-holiday home recovery: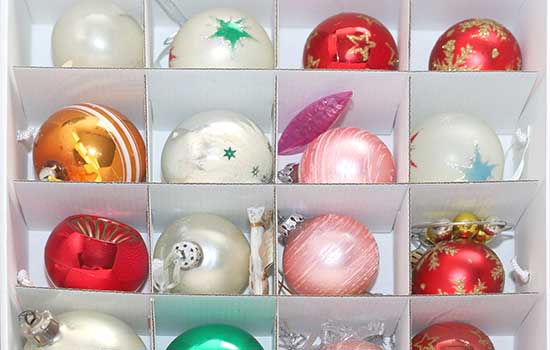 Organize Today for Next Year – If one of your New Year's resolutions is to become more organized, your post-holiday home recovery poses the perfect opportunity. Take advantage of after-Christmas sales and invest in storage solutions that will make packing and unpacking your holiday decorations easier for years to come. For a little sage advice regarding storage of your decorations (as well as some inexpensive storage alternatives), look to our Christmas and Holiday Décor Storage Tips. And – unless you like to wrangle those tangles – for string of lights solutions, take a peek at our blog dedicated to How to Store Holiday Lights. Not only will employing the right storage options protect your precious holiday memories from one year to the next, if done properly, they will go a long way in making next year's decorating day a gingersnap!
Un-deck (and Declutter) the Halls – Minimalism is a growing trend – clean, sparse and simplified in the face of a world that is anything but has become surprisingly comforting. As you remove holiday décor, including everything from the garland and wreaths to the baubles and bows, you may want to go one step deeper and try to minimalize your regular home décor, too. Clean off the countertops and stash as much as you can in the cabinets. Opt for one large focal point masterpiece on the wall instead of an entire gallery on every wall. If you find this look exciting and new, find a great consignment shop for your former décor pieces or donate them to a local thrift shop for someone else to enjoy.
Make a List… Check It Twice – It's likely that you spent the better part of the holiday season fulfilling the wish lists of others. Now it's time to make a wish list of your own. Did you have any shortcomings in regard to your home's décor or layout come to light during this time? Did you feel like you needed another space when the kids were all home? Consider converting a study to serve double duty as a makeshift guest room with a pullout sofa. Not enough table settings? Maybe it's time to look at the after Christmas sales and stock up on some much-needed entertaining essentials.
Holly Jolly Clean Up Now is the time to deep clean the bedrooms and bathrooms. Go room by room so you don't get overwhelmed. Wash all your linens, scrub the toilet and tub, and vacuum the carpet. Be sure to check the rugs and furniture for stains and treat anything you find as soon as possible. These steps will go a long way in giving a fresh start to the New Year.
Up on the Cooktop – There is likely no other room of the home that takes a beating during the holiday season quite like the kitchen. Serving as the heart of your home, it's much more than a room where meals are prepared and pies are baked, it's also where you take a seat on the barstools to share stories of holidays past. It's also where the refrigerator is opened and closed multiple times an hour in search of everything from hors d'oeuvres and leftovers to holiday snacks. Play it smart by starting the new year with a clean slate by scrubbing your floors and baseboards. It's also a good idea to disinfect your countertops and go through all those leftovers in the refrigerator and clean it out.
The holidays are a lot like a marathon. While you may want to stop and rest after it's all said and done, but there's a lot to be said for you to keep moving and keep cleaning so you can enjoy a fresh start leading into the New Year. Make it a new part of your holiday traditions and use the handful of days between Christmas and New Year's to reclaim your home and enjoy what remains of this "Most Wonderful Time of the Year."
---
Recommended
---
Stay In Touch
---
Get the Latest from David Weekley Homes
Sign up to receive our email updates, and be the first to know what's happening in your area!
×
Get the Latest from David Weekley Homes
Sign up for our Newsletter and you'll discover..
Current Sales and Promotions
DIY Projects
Home Design Trends
Maintenance Advice
Seasonal Tips
Homebuyer Incentives
---