100,000 Dream Homes Created and Counting!
Let the confetti fly! Thanks to our Customers, David Weekley Homes is celebrating over 40 years of Building Dreams, Enhancing Lives for 100,000 Homebuyers after recently closing our 100,000th home in the Dallas/Ft. Worth-area community of Viridian.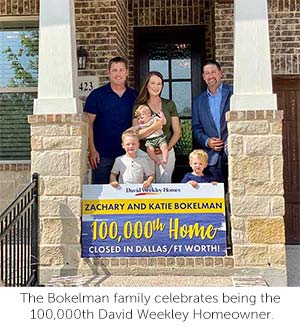 Making the Right Move
Our 100,000th home was sold to the Bokelman family of Zack, Katie and their three young children, who had decided to relocate from Pensacola, Florida, to the Dallas/Ft. Worth area for a new job opportunity for Zack.
Seeking an active lifestyle, the Bokelmans first fell in love with the stunning community of Viridian, which features many parks, nature trails, lakes and swimming pools. Their next goal was to find the best floor plan that could grow with their family as their kids – a 3-year-old, a 2-year-old and a 4-month-old – got older. After checking out each of the builders in Viridian, they were most drawn to The Luca floor plan from David Weekley Homes.
"The layout of The Luca was appealing because it offers a lot of different spaces," Katie said. "The floor plan provides a lot of flexibility for where our family is now and where we will be in the future."
Building from a Distance
With the floor plan selected, the Bokelmans chose to build from the ground up while living in another state, which meant the family had to expedite picking out their design selections.
"We came to Dallas/Ft. Worth for two days to make all of our choices for the whole house at the Design Center," Katie explained. "It worked out really well. Everybody was very helpful and understood our situation with moving from another state."
The family also couldn't physically see the progress of their home often and instead had to rely on a steady stream of communication and pictures from the David Weekley Homes Team.
"Throughout the building process, our personal Team ensured we were always in the loop by regularly giving us updates since we couldn't just stop by the home to see how the build was going," Katie said. "They always kept us well-informed."
A Momentous Occasion for a Celebration
The family has since settled in, and David Weekley Homes honored the Bokelmans as our 100,000th Homeowner with a commemorative plaque and a gift of their choosing – a patio furniture set.
"We were surprised and very excited to find out we were the 100,000th David Weekley Homeowner," Katie said. "David Weekley Homes was not building where we used to live, so we had no idea the company had sold so many homes!"
While they may be new to David Weekley Homes, the Bokelmans are now delighted David Weekley Homeowners.
"We're very happy with the service we've received from the whole David Weekley Homes Team and love our new home," Katie said.
For David Weekley Homes, it is an honor to know that the Bokelmans and 99,999 more Homebuyers chose us to make their dreams of homeownership come true. Such an incredible milestone shows we are a name you can trust to provide you with an exceptional home buying journey and a high-quality home you'll enjoy for years to come.
---