Behind the Builder Series: Sales Consultants
At David Weekley Homes, we know that buying a home is a big decision. Through our Behind the Builder Series, we're shining the spotlight on several Team Members who will be accompanying you on your journey from Homebuyer to Homeowner. While many of them are working behind-the-scenes to help you realize the home of your dreams, one in particular will feel most like a trusted travel companion – your Sales Consultant.
The First Impression
David Weekley Homes Sales Consultants are often the first person you meet when visiting our communities, serving as a welcoming host or hostess to our professionally decorated model homes. They seek to get to know you and your families to help find the ideal floor plan to fit your needs, then guide you through all the steps from contract signing to the closing table. They want to make the home buying experience as enjoyable as possible, while minimizing the stress by allowing you to rely on their expertise and experience to guide you through the entire process.
These Team Members are specially selected for their can-do attitudes and approach to providing exceptional Customer Service. They are also top notch when it comes to their knowledge about the many aspects of the home building and buying process so they can pass that knowledge on to you week after week.
They take pride in helping you find the right home for you and your family. One of the best ways to begin is to visit our model home in one of our communities you may have already researched online or started a dialogue about with one of our Internet Advisors. If it was the latter, your Internet Advisor can schedule an appointment for a tour and will likely introduce you via email to the Sales Consultant at the community you've shown interest.
When you visit, expect to be welcomed warmly as our Sales Consultant gives you a tour of the model and tells you more about the floor plans. Don't be surprised if your Sales Consultant asks a lot of questions as they get to know you, your tastes, your interests, your needs and your vision for the future. You may also tour Quick Move-in Homes to get a physical feel for the floor plan options available, as well as the community.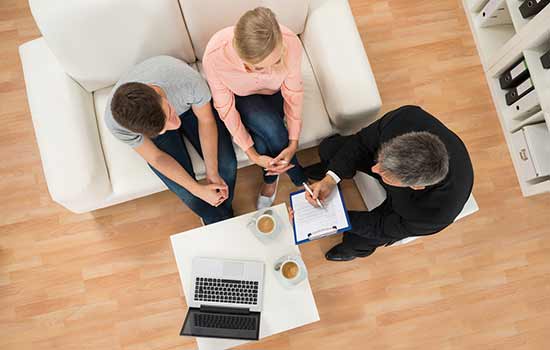 Staying in Touch
After your initial visit, your Sales Consultant will continue to communicate with you via email, phone calls, texts or even interactive virtual tours. A big part of their role includes sharing information to help you make a wise purchasing decision. With every communication, they are trying to help you find or build the ideal home to fit your family's budget, needs, size and collective personality. Of course, they are also your main point of contact to answer any questions or concerns you have along the way.
In the days and weeks following your initial visit, your Sales Consultant can help explore and narrow down your floor plan options and decide which FlexSpace℠ options will serve your needs. For example, are your kids getting to an age where they would really love a space of their own to hang out with friends? If so, an upstairs Bonus Room might make an ideal space for video gaming or binge-watching their favorite shows. If telecommuting has become part of your daily work routine, you may want to convert a first-floor bedroom into a home office to minimize noise and distractions.
Your Sales Consultant will also work with you on determining other key items for your new home like the best elevation to fit your taste and finding a homesite to accommodate your chosen floor plan. Perhaps most exciting, once the contract has been signed and construction is underway, they can share updates throughout build process, as well as regular photos of your home's progress.
Forming Lasting Connections
For Sales Consultant Kirk Ricketts in Atlanta, forming lasting connections is all about building a rapport founded in trust, candor and the conviction that his actions are in the buyer's best interest. He attributes much of his success to his genuine pursuit of enhancing the lives of his buyers in a way that impacts them on a personal and emotional level, then continues to build long-lasting relationships after the sale. This attitude has given him the highest referral rate in his market, along with a 100% Definitely Would Recommend score from his Homebuyers.
"Impacting the lives of our Homeowners and potential Homebuyers is our focus and our goal as we build our community one Homeowner at a time," Ricketts said.
At David Weekley Homes, we are always looking for opportunities to improve our home buying experience, which is why we survey new Homeowners about their experience. In fact, we survey them once during the building process and twice after closing at 1 month and 11 months.
Our Sales Consultants are dedicated to delivering a stellar Customer Service experience and maintaining relationships long after closing day. They are our Team Members who will be among the first to fill you with a sense of community, introduce you to other neighbors based on common interests, and give you the 4-1-1 on the best places to shop, eat and visit near your new home.
When measuring success at David Weekley Homes, it's about the Homeowners who would recommend us to their family and friends, not the number of homes closed. Our Sales Consultants welcome the chance to accompany you on this journey and want your new home to be a place where you will make memories to last a lifetime!
---
Recommended
---
Stay In Touch
---
Get the Latest from David Weekley Homes
Sign up to receive our email updates, and be the first to know what's happening in your area!
×
Get the Latest from David Weekley Homes
Sign up for our Newsletter and you'll discover..
Current Sales and Promotions
DIY Projects
Home Design Trends
Maintenance Advice
Seasonal Tips
Homebuyer Incentives
---