Updated September 18, 2023
Should I Buy a House Now?
These 6 reasons why right now is the best time to buy a home include increasing home values, interest rates and more.
Thinking about buying your first or next home? Whether you're looking forward to a home that better fits your family's needs, updated designs, a better location, modern amenities, or just making new memories with those who matter most, there's plenty of reasons to be excited when embarking on a homebuying journey.
In fact, you might be eager to start moving right this second, while also asking yourself, "Should I buy a house now or should I wait?"
If that sounds like you, you're not alone. The truth is that most homebuyers worry about figuring out when it is the right time to buy or build a new home.
A major cause of this concern can be news about home loan interest rates, among other things. It's normal for mortgage rates to fluctuate from time to time, but news coverage about this can make it seem more alarming than the reality.
It's a valid question for Homebuyers to ask and it's important to keep the big picture in mind. When you factor in home value appreciation, the history of interest rates, the value of home equity and other major considerations, it's easy to see the benefits to making the move sooner rather than later.
To help you make an informed decision, consider these 6 reasons you should buy a house now.
1. Buy Before Home Prices Trend Upward, Even if Rates are Fluctuating
While history shows you can't predict how much interest rates will change in the short term, it does indicates that they will fluctuate over time. Interest rates increase and decrease based on a variety of economic factors and, while they have increased in recent years, they are still lower than they have been in the past.
In 2022, mortgage interest rates peaked at just over 7% for a short time, which is still lower than the historical average of 7.75 percent (from 1971–2023), according to the Freddie Mac Primary Mortgage Market Survey®. Over the course of that 40+ years of historical data, interest rates have ranged between 18.53% and 2.67%.
Keep in mind that while interest rates will rise and fall, home prices will typically trend upward. Over that same period (from 1971-2023), the average sale price of houses has increased by over 1,500%, according to the Federal Reserve Bank of St. Louis.
After purchasing a home, you could have the option to refinance for a different rate during the lifetime of your mortgage (pending loan and lender specifics, of course). Many Homeowners who purchased their homes during times of higher interest rates were able to refinance their mortgage to take advantage of the interest rate lows while still enjoying their original purchase price.
Typically, the longer you wait to buy a house increases the likelihood that the home prices will also have increased, with an even greater likelihood that interest rates will not have decreased to any significant extent. There are, of course, outlier times in history, but they are impossible to predict, challenging to recognize, difficult to prepare for and often paired with surrounding financial conditions that can act as barriers to your ability to seize the opportunity.
And waiting to buy a home until interest rates go down can actually end up costing you more money than buying now because escalating home prices. For example, a $500,000 loan with a 6% interest rate will cost about $80,000 less over the life of the loan than a $600,000 loan at a 5% interest rate.
Add to that the potential to refinance your $500,000 loan if interest rates dip, and you can see how the savings can compound.

In this video, you'll learn about how quickly home prices increase and how much the price of a home you want to buy today may cost you in the coming years. (00:47)
2. Start Increasing Your Future Home's Appreciation Value Now
Homes are traditionally one of the most consistently improving assets. Most reputable financial advisors will agree that homeownership is a major advantage for building long-term wealth.
If you buy a home now, you will likely start adding to its property value, which becomes equity you'll benefit from when you refinance or sell at a later date. The average rate of home appreciation is 5.4 percent yearly, according to the U.S. Census Bureau.
For the same reason, waiting to buy can result in higher prices down the road. If you hold out on getting the home you want today, its value is still going up, so you could end up paying more for the same house in the future.
And buying a home before those prices increase doesn't just save you money on the purchase, it helps you build wealth as the value of the home increases after you've taken ownership of it. The amount you've paid on the principal combines with the increase in value to create your total equity in the home.

Buy a home now to start increasing your property value and building equity right away. Appreciation and principal paydown = maximum gains! (00:43)
3. The Home You Own Builds Equity for You, Not Your Landlord
You build equity when your home increases in value and when you make a mortgage payment with a dollar amount dedicated to the principal of the loan. You've helped build this equity and it benefits you.
When renting, your landlord builds equity when their property increases in value and when you make a rent payment that they use to pay down the principal on their loan. You've helped build this equity, but it doesn't benefit you. It benefits your landlord.
Building equity can help provide future financial security. You may be able to borrow from your equity to invest, cover unexpected expenses or fund your major life goals. The equity you have in your home could improve your buying power when you look to relocate or upgrade from a starter home to something more suited for your family's needs later in life. And, of course, you can leave your equity alone and just let it continue to grow.
Another major benefit of buying versus renting is that you can make your home your own or even build it from the ground up. When you start the new construction home process, you get all the benefits of homeownership that we already covered — appreciation, equity, re-negotiating your rate and more — while also enjoying the opportunity to create the ideal living spaces for your family.
And, you move into a new home with energy efficiency, design and safety feature considerations, as well as possibly selecting your home's paint, flooring, cabinetry, appliances, and all the other details that make a house a home.
"I'm a realtor and have sold several Weekley homes with all of my clients being extremely satisfied. My husband and I went out to see a model because he had never been before and within minutes he said to me "why aren't we building one ourselves." From the beginning of the experience with Chris throughout the whole building experience with our team, it was an amazing job well done. I sell other new builds to clients and they do not get the care that the team at weekly gives their clients . There was never a Friday that we did not get a phone call with an update from our team . That's above and beyond service. Our new home is the most beautiful thing we have ever purchased and we are thrilled. And meeting our team at our new build after closing they threw out the red carpet literally. Such a great decision."
– Barb V in Aurora, CO

Why should you become a David Weekley homeowner today? To start building equity in a home that you own, helping to provide financial security in the future. (00:47)
4. Move In Now, Before Major Life Events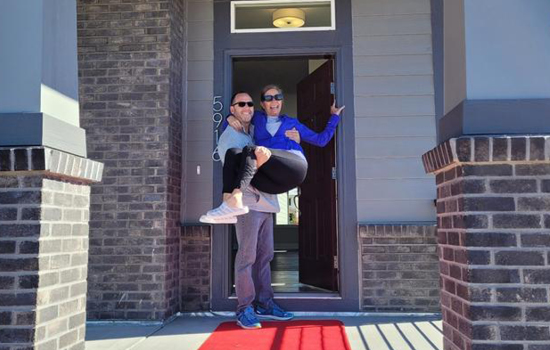 When considering whether you should buy a house now or wait to see what the market does later, remember that timing is everything. You may have a short-term timeline for when you want to move into your home.
Have a baby on the way and need some extra room? Retiring and looking to relocate? Starting a new job in a new area? If the kids are in school, you might want to plan your move around their schedules, during holiday breaks or summertime.
For whatever stage of life you're transitioning into next, it might be best to buy a house now and get settled in ahead of time. Waiting and having to figure it out during a more hectic time in your life can make the process less enjoyable, more stressful and more expensive.
Need to move right away? Explore Quick Move-in Homes in your ideal neighborhood and on your current timetable.
Similarly, you might have long-term goals for paying off your loan. Most home loans last 15 or 30 years, meaning you're likely to be in a different stage of your life by the time you've finished paying off the mortgage on your home. Many wise Homebuyers consider timing the end of their mortgage payments with major life events, such as retirement or sending the kids off to college.
For example, if you wait five years to buy a house. That's five more years of mortgage payments that might overlap with college tuition costs or retirement budgeting.
Planning out the life of your loan now may mitigate costs you know you'll have in the future.
5. Avoid Losing Out on Your Dream Home
Need an extra bedroom or a secondary suite? Looking for a place closer to work or school? If you wait, you could miss out on the best home for your family.
When demand is greater than inventory, you're up against the clock. Don't be surprised if the seller of the house you toured yesterday is considering a few offers from other Homebuyers today.
That's why starting the process sooner is better. You know what you want (and what you don't want ) and getting ready to buy now means you can get your loan approved, lock in your rates, and be ready for your dream home as soon as it hits the market.
This can help make the decision to put an offer on the right house much quicker and easier, so you don't lose out on the best home for you.
The same applies to new build homes: demand, inventory, the importance of timing and the cost of waiting are all vital considerations. The big difference is that when you wait, you're not just missing out on any home — you're missing out on your dream home.
Waiting to build the home you want in your desired location could also result in paying more to build the same home, and might mean you'll miss out on your ideal homesite.
"... Each one of our family members got what they most wanted in a home! My favorite is our front porch with rocking chairs, just perfect for a wind down from a tiring work day! My husband loves his media room and the kids are enjoying the activities of the neighborhood!"
— Gibby, Dallas/Ft. Worth
6. New Homes Can Be More Energy Efficient, Cost Effective, Personalized and Protected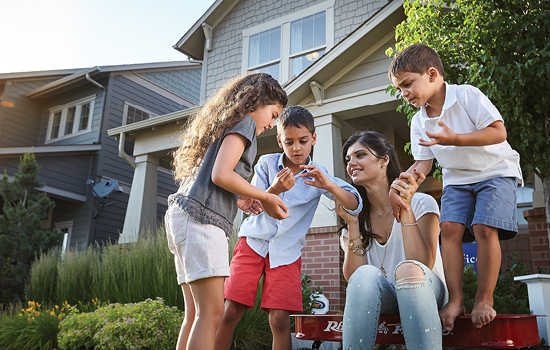 So, what if you're thinking about building a house right now? We recommend getting started early to build a dream home that stands the test of time while also being able to move in at the right time for you.
To boost home value and increase equity in a newly constructed home, make sure you go with an established, reliable builder that offers:
Quality construction with Advanced Framing (which is a better, more efficient building technique)
Energy-efficient features, such as low-E windows, formaldehyde-free insulation and fresh-air ventilation systems
Modern, "form-and-function" designs (we call it LifeDesign℠)
Robust warranties
All those features come with every David Weekley home, along with benefits like access to our preferred lender partners, open communication with your own Personal Builder, and more.
"Having been a real estate professional for nearly 30 years, the excitement of seeing a new construction project has lessened over the years. I was showing a client the Grand Central Townhomes, and fell in love! My client immediately decided that this was the community for them, and signed the contract. Having sold my previous residence, I was in the market for a new home. I thought I wanted to buy in a high-rise condominium home, but, as we all know, Buyers change their mind like the wind blows! I decided to join my clients, and purchase a neighboring townhome. From the minute I signed on the dotted line, my David Weekly team leaped into action! Weekly follow up meetings, texts answered in record time, and guidance throughout the whole process. I've since closed, and moved in. The team experience didn't stop there! Constant follow up, just to be sure they had a happy customer (me)! Thank you Lisa, Carson and Graig for a smooth transaction, before, during and after!"
– Dan C in St. Petersburg, FL
David Weekley Homes Will Be Here, Whenever You're Ready to Buy a Home
So, should you buy a house now? Should you wait? Should you build? We hope you have a better idea of all the reasons now might be the perfect time for you to buy or build your new home.
Whether or not you're ready to buy a house now, our Internet Advisor can help you explore Quick Move-in Homes and new construction home opportunities best suited to become your dream home in one of our 19 metropolitan regions, all with no commitment or obligation from you.
Fill out a Contact Us Form now to achieve the first step in your exciting new home journey!
*Disclaimer: David Weekley Homes is not a lender. This article is not intended to provide financial advice. You should always contact your lender with questions on qualifications and current marketplace specifics.
---
Recommended
---
Stay In Touch
---
Get the Latest from David Weekley Homes
Sign up to receive our email updates, and be the first to know what's happening in your area!
×
Get the Latest from David Weekley Homes
Sign up for our Newsletter and you'll discover..
Current Sales and Promotions
DIY Projects
Home Design Trends
Maintenance Advice
Seasonal Tips
Homebuyer Incentives
---