Staying Connected: That's Our Way of Doing Things
While you might have already purchased your dream home from David Weekley Homes, we make sure to stay connected through different channels, including monthly emails, warranty walk-throughs, and more! It is important to us that you are kept informed about your home through regular correspondence, including our maintenance reminder emails.
Whether you have new construction home maintenance or just need home maintenance schedule reminders, we are here to help by providing our Homeowners with all the tools they need to live happily and comfortably in their new homes.
Reminder Emails Worth Reading
As a David Weekley Homeowner, you receive monthly reminder emails, all of which are jam-packed with tips and tricks on properly maintaining your David Weekley Home. We also keep track of what climate zone your home is located in, so we can send you the latest and greatest for your area, including weather and seasonal tips personalized just for you and your home.
Best of all, during the entirety of your warranty with David Weekley Homes, you'll continue receiving these helpful emails every month.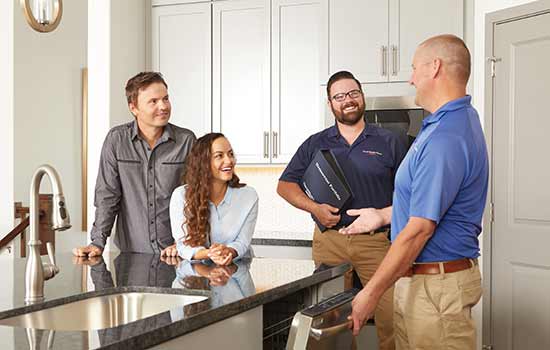 No Ordinary Warranty
Here we're focused on making your "happily ever after" come true in your new home, which is why your relationship with us is only just beginning when you get your keys. We have established our industry-leading, multi-level warranty program for new Homeowners, offering extended security to our Homeowners.
Level 1: one-year limited warranty, plus appliance manufacturers' warranties
Level 2: two-year mechanical systems warranty
Level 3: ten-year major structural defects warranty
Should you ever need to get in touch with the David Weekley Homes Warranty Department, you can expect a response within 24 business hours, followed by appointment within seven days of your initial request. It is our goal to exceed your expectations and provide an experience that continues to delight our Customers.
We Make the List, You Check it Twice
As a first-time Homeowner, your home maintenance schedule can become overwhelming at times. Thankfully, we're here to help by keeping in touch and sending you your monthly reminders, as well as providing you with a new Homeowner checklist. With our help, you can strategically anticipate what to expect after one year in your home.
Here are just a few examples of some of the helpful reminders included in the checklist to our new Homeowners:
Irrigation: adjust watering cycling seasonally
Roof: inspect annually and after severe storms
Heating and air conditioning: check air filters regularly
Exterior doors: check weatherstripping
Water heater: drain tanks or maintain tankless annually
Staying connected to our Homeowners is a part of our continued efforts to delight our Customers – past and present. Whether you are a new or long time Homeowner looking for monthly maintenance reminders, at David Weekley Homes, we are here to help you maintain the home of your dreams!
---